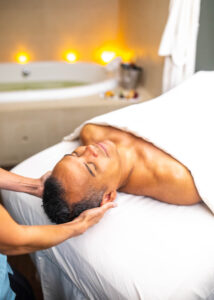 The lowdown: It's no secret in local spa circles that The Westin overlooking Fort Lauderdale Beach offers its own slice of heaven. Though intimate (with only six treatment rooms) compared to some of its sprawling counterparts, Heavenly Spa continues to resonate with rejuvenation enthusiasts on multiple fronts.
Reviewers on Tripadvisor, where Heavenly Spa is the top-ranked resort spa in Fort Lauderdale, point to everything from its soothing ambience and world-class (and highly knowledgeable) therapists to original offerings like the 100 Acres of Relaxation Cannabis Cure, which includes a CBD massage and eye mask, as well as a warm hemp foot treatment.
But appreciation isn't limited to the gender people most associate with pampering. Men also are having a moment at Heavenly Spa, thanks, in part, to Jack Black. To be clear, this has nothing to with the actor who starred in School of Rock and Jumanji. To further elevate its men's offerings, Heavenly Spa created original protocols and treatments that incorporated Jack Black skin-care products—one of the best-selling brands of men's scrubs, moisturizers, cleansers, and lotions on the planet.
The result is a world of healing and relaxation tailored specifically to the needs of the modern man.
Spotlight treatment: Though it sounds like the name of an experimental jazz fusion band from the 1980s, the Twin Turbo Body Booster with Hyperice Percussion Therapy is really an hour-plus ode to reenergizing. It starts with a full-body exfoliation incorporating a Jack Black scrub (with arnica, sea salt and shea butter) that leaves your skin, as accurately predicted by the Heavenly Spa therapist, "soft as a baby's behind." After showering off the scrub, a traditional massage with range-of-motion stretching receives a stimulating technology assist from Hyperice. The recovery device, with its three speeds of deep-pressure percussion therapy, reduces muscle soreness and improves flexibility in a way that even the best massage technician can't replicate. There's also a Hyperice recovery station at the resort's fitness center with handheld devices that guests can use after workouts.
Other spa highlights: Hands and feet receive their just due thanks to the spa's mani-pedi offerings for men. The Jack Black Hand Healer, in addition to nail grooming and hand/elbow massaging, features a hydrating eucalyptus CBD mask for the hands. Eucalyptus also is in the air (along with spearmint and rosemary) during the Cool Moisture pedicure and also boasts a therapeutic CBD foot massage. On the facial front, the Skin Defend & Men'd treatment draws on Jack Black's Pro Series of products, plus the men receive a scalp, hand and foot massage. For added relaxation, don't forget to ask your spa therapist for a cold Funky Buddha beer, or a glass of wine. … Heavenly Spa boasts eucalyptus steam rooms, hot tubs, and Swiss rain showers in both the men's and women's locker rooms. … For a more advanced facial treatment, ask about the spa's HydraFacial medical-grade skin-care offerings. … Looking to bring your significant other for a couples adventure? The Canna-Bliss treatment includes side-by-side CBD Swedish massages. … Obviously, the ladies have more than their share of treatment options as well. Visit the Heavenly Spa website to see the complete menu.
Prices: Twin Turbo Body Booster, $229 for 75 minutes; Skin Defend & Men'd Facial, $159 for 50 minutes; Better in the Buff (exfoliation with Mana'ia products and massage), $179 for 50 minutes, $229 for 80 minutes; Jack Black Hand Healer; $55 for 45 minutes; Cool Moisture CBD Sports Pedicure, $75 for 50 minutes; Canna-Bliss, $349 for 50 minutes, $449 for 80 minutes
Where: The Westin Fort Lauderdale Beach, 321 N. Fort Lauderdale Beach Blvd.; 954.245.3040; fortlauderdalebeachspa.com