Gregory Buscaglia
Catch him at: Buscaglia (main photo) favors the beach bar scene; his favorite spots to play include the Elbo Room in Fort Lauderdale (as a solo performer every Tuesday starting at 4:30 p.m.) and Briny Irish Pub in Pompano Beach (where he appears on alternating weekends with a drummer friend with whom he's been playing for nearly a decade; he also takes the stage there as a solo on certain nights). For the past six years, he's also been playing at Galuppi's in Pompano Beach. Plus, on a given Saturday, you might spot him at Even Keel Fish Shack in Lauderdale-By-The-Sea. Visit greggbmusic.com for more info.
Music roots: The native of Brooklyn picked up the guitar at age 5; a year later he played in front of an audience for the first time. It wouldn't be the last. He went on to earn a music performance degree from Parsons School of Design in New York; Buscaglia also studied music education in a graduate program at New York University.
The logical move: Buscaglia planted Florida roots in 2007. "What attracted me is that you can work year-round down here as opposed to being snowed in [for the] winter. Plus, Florida is a vacation destination; people come here seeking fun and excitement. Music has a chance to provide that."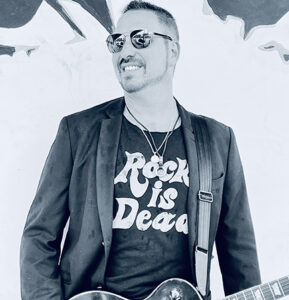 Taking the stage: "I first came to Florida as guitar instructor; that's where my training lies," he says. "Soon enough, through the contacts I made, I fell into the live performing scene—which had been my first love since I caught the bug at age 6."
The Florida effect: Buscaglia says performing in South Florida has pushed him to play music more "generously" and less self-indulgently. "It's really demonstrated the ethos of some my favorite legendary bands—the Beatles at the Cavern Club or the Grateful Dead at the Acid Tests—where they functioned essentially as dance bands. Though these bands became quite self-indulgent later on, the philosophy at that point seemed to be, 'Make the people happy first—then do whatever you want.'"
As the Worm turns: "[Former NBA star] Dennis Rodman came on stage to sing with our band one time. Our singer took his shirt off—and jumped into Rodman's arms. Dennis, [typically] the wild man, went running for cover."
The challenges: "It's finding the time to develop and market original music, which I am always at least 'thinking' about," Buscaglia admits. That said, he does have material recorded and ready; he's working to get it onto streaming platforms soon.
Source of pride: "I would say my biggest accomplishment so far has been my ability to write my own ticket so to speak. I don't deal with pickup bands or politics or agencies. I don't like to run all over the state to play gigs. I don't haul gear or do much of anything I don't feel like doing. Yet I work [daily] in top spots."
What's the buzz: "I do have a pre-performance ritual that involves having a smoke of a certain kind."
The last word: "Nobody's going to come to South Florida and say the music sucked, if I can help it."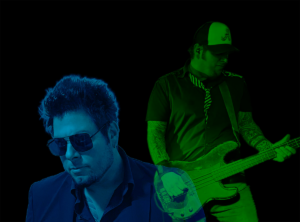 Adam Jason
Catch him at: The singer/songwriter/guitarist/bassist takes the stage at rooms throughout South Florida—and beyond. As an acoustic solo and with The Adam Jason Band (with Dorian Vaz and Peter Vega), he plays at Brewfish Bar & Grill in Fort Lauderdale; the Elbo Room and Bo's Beach on Fort Lauderdale Beach; Briny Irish Pub and Lucky Fish in Pompano Beach; and Loch Bar in Boca Raton. He also performs with the Gin & Tonics. Visit adamjason.com.
Music roots: The native of north Miami attended college at the University of Alabama, where he fell into the Southeastern music circuit. Prior to moving back to Florida for good more than a decade ago, Jason played with various cover bands and standout original acts including Edwin McCain, Sammy Kershaw and Beth Hart. In 2008-09, he toured as the front man for a modern rock group called Another Hero.
The underlying reason: "Like the majority of my peers, I saw that you got way more girls with a guitar than without one," Jason says. "I started playing professionally in August 1996—and have never looked back!"
Ripple effect: "I think your sound comes from your initial musical influences—mine being mostly rock giants from the 1980s like Bon Jovi and Def Leppard, as well as acoustic-based acts like Edwin McCain."
Dream gigs: Twice in 2006 at stops in South Florida, Jason's band opened for his favorite group and biggest musical influence—Bon Jovi. Jason says that rock became a kind of religion for him after hearing the band's "You Give Love a Bad Name" on the radio when he was 11.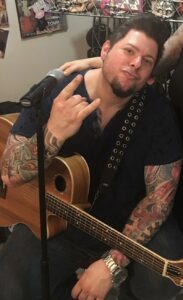 Favorite song to play: "Hysteria" by Def Leppard
The local scene: "We tend to be a very supportive musical community that will help each other out at the drop of hat," Jason says. "It's a beautiful thing. There are very few egos." When he's not playing, Jason enjoys catching other local groups in action—The Rios Brothers (with whom he plays in the Gin & Tonics), Havoc 305, The Smokin' Aces, The Flyers, Friday at 5 and Southern Blood, among others.
What distinguishes him: "My touring experience has allowed me to gauge numerous crowds and how to perform to them," Jason says. "It's also [taught me how to] keep my voice intact for multiple shows in a row. [Jason also credits the lessons gleaned from working with vocal coach Matt Kramer]. I also have an extensive musical repertoire that includes a lot of material most other acts don't perform."
The challenges: "It's keeping the G string on my guitar in tune. My fellow guitarists will get that one," Jason quips. "It's also being taken seriously. This is a very taxing, busy lifestyle that has more than its share of ups and downs. But it's done out of passion. I wouldn't trade it for anything else."
The last word: "We put on the most kick-ass performances on any level."
By Melanie Geronemus Smit and Kevin Kaminski