Willard Shepard is bobbing and weaving his way up and down a row of punching bags at UFC Gym in North Miami. Heavy bass music pounds the walls and fills the cavernous space, but it hardly muffles the crisp blows Shepard is landing with laser-beam accuracy.
There's the thwack-thwack of piston-like jabs, followed by the thwack-thwack-thud of powerful jab-jab, right-cross combinations. In between rounds, Shepard drops on his back for sets of ab-burning moves. This grueling series is the opening bell of an hour-long workout that would have brought fitness guru Jack LaLanne to his jumpsuit-swaddled knees back in the day.
During the past 30 years, Shepard's been a familiar face and authoritative voice to thousands of South Floridians through investigative reporting and anchor work at NBC 6 (WTVJ-TV) in Miami that earned him six Emmy Awards. His on-air segments often referenced a 28-year military career that included 52 missions as a Gulf War fighter pilot. Along the way, he also earned a law degree.
Shepard, 65, retired as a broadcast journalist last April, but hold the early-bird specials. As this particular morning's sweat session attests, Willard Shepard isn't slowing down anytime soon.
Aside from his daily gym routines, Shepard is now able to focus full time on his own legal practice (Willard Shepard Law & Media) as well as teaming with personal injury and maritime law attorney Brett Rivkind at Rivkind Law in Miami. While Shepard says he had other opportunities in the legal field, he was drawn to Rivkind's compassionate approach to clients often in desperate need.
As a reporter, Shepard witnessed all-too-many people whose lives were blindsided by tragedy.
"Unfortunately, in my line of work, I got a lot of experience in that," he says. "The important thing for them is to have someone that they can believe in and that they can trust. That's why I decided to help people in this area and do it with Mr. Rivkind."
His commitment to clients is to "bring them as much peace as I can."
One thing is certain. No matter the endeavor, Shepard is driven by an all-in attitude. Take his short-lived, but successful swing in the boxing ring. Nearly a decade ago, after doctors warned Shepard that his regimen of running, biking and pickup basketball would guarantee that his surgically repaired knee eventually would be replaced with an artificial one, he decided to condition himself through boxing workouts.
Shepard learned the nuances of the Sweet Science under Dwaine Simpson, the former boxing director for Miami-Dade County. But it wasn't enough to pound bags, and slip and deliver punches in sparring sessions. A hallmark of his many lifelong accomplishments, Shepard craved a challenge and competition.
At 58, he had his first bout in the USA Boxing Masters Division (ages 35 and over). Though the three-round bout resulted in a split-decision loss, the Atlanta fight was so competitive that the tournament directors still awarded him a title belt with the winner's blessing. He fought six more times in the Masters Division, always against opponents with vast boxing experience—and in all but one bout against younger fighters. He did achieve a literal crowning moment, earning a title in the 172-pound class in a tournament in Las Vegas. He was 62.
"One of the most rewarding things I've ever done," he says. "My purpose was to prove to myself that I could do it."
Shepard chokes up at the memory. He chokes up a lot while talking about mentors and critical junctures of a life driven by a passion to prove himself.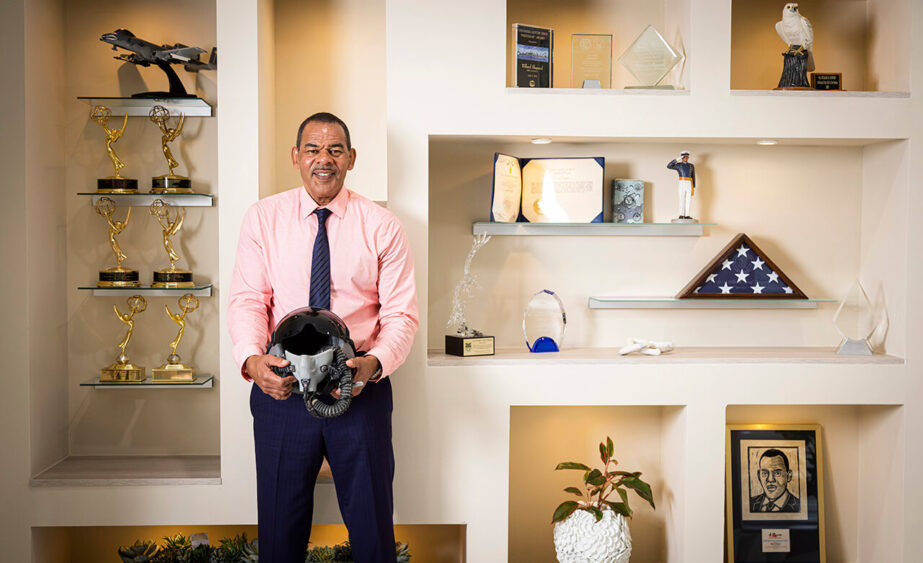 Inspired Examples
Growing up, Shepard had to look no further than across his family's kitchen table for daily doses of motivation and inspiration.
His father, Samuel, attended the University of Michigan on an academic scholarship, earning a degree in physical education. He returned to teach at his Kansas City, Missouri, high school alma mater, where he coached the football team to a state championship.
He rose to the level of superintendent in St. Louis, earned master's and doctorate degrees, and later became a superintendent in suburban Chicago. Samuel Shepard developed programs to boost educational opportunities for urban area students, efforts honored by President Lyndon Johnson during a trip to the White House.
Shepard proudly points out a framed black-and-white photo of his father with LBJ, then ushers a visitor to another wall frame in the office of his Biscayne Park home, this one featuring his maternal grandfather, Pope Leo Harrold, the only Black player on the University of Iowa's 1903 football team. (In 2003, Shepard emceed a luncheon for the Iowa-Southern Cal Orange Bowl and made sure to show the photo to Iowa coach Kirk Ferentz, who gathered his Hawkeyes around to make the point that their school was indeed a pioneer in diversity.)
In his day, Shepard's grandfather was a groundbreaker off the field, as well, becoming a physician catering to poor Black families. Says Shepard: "My mom's dad would treat people and sometimes just barter for payment. 'You got a rabbit?' "
Harrold later became the doctor for Wiley College in Marshall, Texas, featured in the 2007 Denzel Washington film The Great Debaters, which told the story of the historically Black college's 1935 debate team win over Harvard. Shepard's mother, Lois, earned a degree in education at Wiley.
"So, I was taught that there was no such thing as too much education," Shepard says. "On that one, I made out fantastically."
After graduating from Rich South High School outside of Chicago, Shepard attended Temple University on an academic scholarship and played football as a walk-on. An undersized defensive back, he broke a finger near the end of his freshman year. Shepard soon decided that he'd be better off focusing full time on academics and a career in broadcasting.
He ended up calling football and basketball games for the campus radio station; upon graduation, he landed a job as a TV reporter in Harrisburg, Pennsylvania. Shepard knew law school was in his future, but he took initial aim at a goal he sought since first obsessing over flying while traveling with his father on business trips.
He wanted to be a fighter pilot.
Willard Shepard is choking up again. He's standing in front of a framed poster of the 1995 movie, The Tuskegee Airmen, which told the story of the Army's first Black combat pilots who overcame racial barriers to play an essential role in protecting U.S. bombers during World War II.
The poster is signed by the late Tuskegee pilot, Leo Gray, who became friends with Shepard when he lived in Hollywood. Another member of the Airmen, Harry Stewart, signed Shepard's wings. Shepard is a member of Tuskegee Airmen Inc., a group devoted to keeping their legacy alive.
He points to the distinctive red markings on the tails of the Airmen's P-51 Mustangs, earning those pilot squadrons the nickname Red Tails.
"Those bomber crews were all Caucasians," Shepard says, "but they saw those Red Tails, and they knew they were gonna make it home."
Man on a Mission
Nearly four decades after the Tuskegee Airmen soared through racial turbulence and into history, Shepard didn't expect as much adversity of his own in attempting to get his aviation career off the ground. But it was a bumpy ride before finally landing in a cockpit.
While working in Harrisburg, he applied for a Pennsylvania Air National Guard spot to learn to fly C-130 planes. His reference letter came from someone he covered as a reporter, Sen. John Heinz, whose family owned the Heinz food company.
He passed his physical and eyesight tests and aced all but one portion of a general comprehensive written test, questions dealing with specific airplanes and instruments. Shepard said he wasn't aware that there would be questions about planes and aviation, but he later found out that the fathers of the other nine applicants were all Pennsylvania National Guard pilots.
"Naturally, they knew about the test," says Shepard, adding that he was the only minority candidate.
After taking a job at a TV station in New Orleans, Shepard applied to fly F-15s through the Louisiana National Guard. This time he prepared for the aviation questions and passed the test. However, he was rejected on a medical technicality. While Shepard had no health issues, he marked on a form that both parents were diabetics. His father was. His mother, who was borderline Type 2, wasn't.
After his mother's doctor confirmed to the flight surgeon that she was not diabetic, Shepard's appeal was nevertheless denied by the lieutenant colonel in charge of the unit. Shepard suspected discrimination and favoritism were again in play.
"I went home and cried my eyes out," he says.
Soon after, a Black fighter pilot and Vietnam War veteran suggested that Shepard apply to learn to fly A-10s with the Air Force Reserve in New Orleans. This time, Shepard was accepted and by June 1985 he had completed officer's training in San Antonio and pilot training in Lubbock.
Survival training took him to the ocean off Homestead and into the woods of Washington, where he ate bugs that he barbecued with a Bic lighter. While in the Air Force Reserve system training to be combat qualified, he went back on the air in New Orleans and then took another TV position in Cleveland.
As tensions grew in Iraq, Shepard's dream became a sobering reality in 1990. His unit was deployed, settling into a base in Saudi Arabia to fly sorties across Iraq.
"I was by far the youngest guy in the squadron," he says. "Many of the older pilots had been shot at in Vietnam. That was their advantage. My advantage was that they could pass on their knowledge to me."
Units of two or more A-10s would fly every other day with missions sometimes lasting six to eight hours, including refueling on the ground or in the air.
"We would fly, refuel, rearm and go back in," Shepard says.
He's standing before another frame in his home, this one the actual map he used for missions over Iraq, the country divided into boxes of potential targeted bombing zones.
"Our main job was protection," he says. "We were supporting the Army and Marines. We'd go after tanks, artillery sites, munitions storage facilities, and provide cover from being shot at."
Two sorties stick with Shepard to this day, The first, his initial precision-targeted bomb drop.
"You've seen Top Gun. You roll in and roll out," he says. "That's the real deal."
Shepard and another pilot, a Vietnam vet, had one shot to drop clusters of 200 to 240 bombs the size of tennis balls on an artillery site.
"It was my first set of live, no-kidding-combat ordinates," Shepard says. "When I came off the target and looked back and saw the destruction, it was unbelievable the way they all went off on time."
Willard Shepard is choking up again.
"I'm very proud of what I accomplished," he says. "When the moment arose, I really rose to that [occasion]."
His other most memorable sortie speaks more to the great fortune of surviving 52 missions over a two-month span. Shepard and his flying mates were often shot at, but one particular day "we could see the plumes of anti-aircraft rounds going off all around us." He earned six Air Medals flying over Iraq.
Before leaving Saudi Arabia, Shepard took aim at a group with some not-so-friendly fire. During an exercise at Gen. Norman Schwarzkopf's control center, he was one of several military unit specialists assigned to give immediate responses to hypothetical situations derived from intelligence.
Also in the room that day—pilots from the Pennsylvania National Guard, the first group to deny Shepard's shot at becoming a fighter pilot. Shepard didn't know if any of them had anything to do with the rejection he received years earlier, but he wanted them to know his story and that "now I'm flying my fighter plane."
After returning from the desert, he had an opportunity to settle another score. During flying exercises with the New Orleans National Guard, he was assigned to an F-15 with none other than the lieutenant colonel who years earlier had rejected his medical appeal.
"We were flying out over the gulf and he said, 'Captain Shepard, you have the aircraft,' " Shepard says. "And I said, 'Sir, now I'm gonna take you for a ride' and I pulled some Gs and jostled [him]."
Shepard joined NBC 6 in 1994 and continued to fly in the Air Force Reserve nearly four more years, including several combat sorties over Bosnia. But devoting himself to journalism and earning his law degree in 2010 at Florida International University didn't exactly ground this decorated pilot.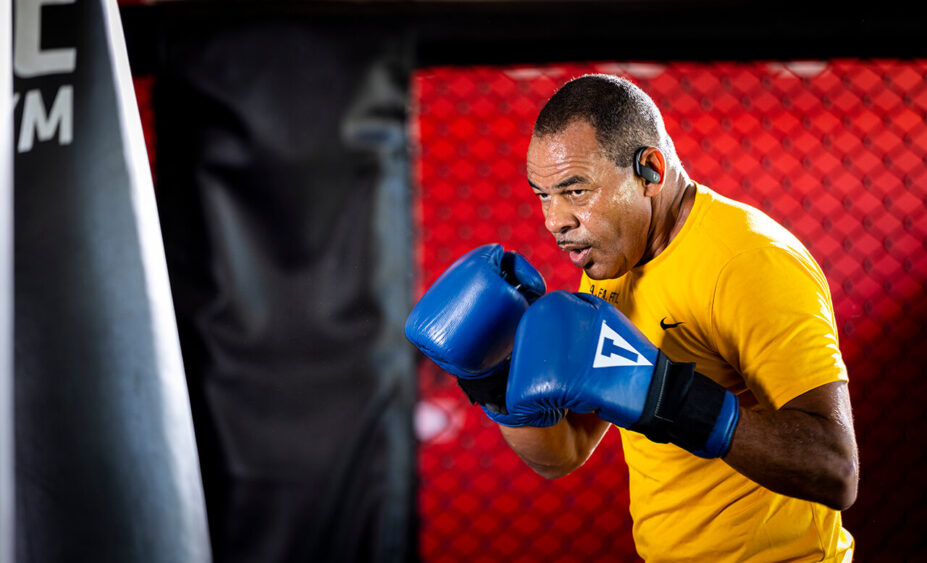 Heart of a Warrior
First, he became an Air Force Academy Liaison Officer, focusing on potential future cadets in area high schools. Later, he worked for the U.S. Southern Command for more than 10 years, helping to improve aviation operation and maintenance initiatives in South and Central America, and the Caribbean. He also joined the Civil Air Patrol and remains active with that Air Force auxiliary organization, where he's assisted FEMA after hurricanes and played the part of enemy aircraft in exercises with the Louisiana National Guard. Plus, he works with youth interested in aerospace careers through the cadet program.
Flying with every unit means staying in excellent shape—no sweat for gym rat Shepard—and undergoing an extensive cardiovascular exam every year.
Last August, Shepard churned through his annual treadmill test like he was auditioning for a remake of The Six Million Dollar Man. Then he got a strange call from his cardiologist.
"He said, 'I think the machine is busted. I see some waves in there that don't make any sense,' " Shepard recalls. A second stress test revealed the same irregularities and a cardiac catheterization performed at Hollywood's Memorial Regional Hospital showed two blocked arteries and one partially blocked.
Despite his conditioning and strict diet, Shepard knew genetics weren't on his side; his maternal grandfather, the doctor, died at 42 after a cardiac event at his own office. Dr. Juan Plate, cardiac surgeon at Memorial Regional, offered Shepard two options: Insert stents as temporary solutions or go all-in, Willard Shepard style.
"He said, 'We can build you new highways. You might not like us for a day or two, but you'll never have to deal with this again. We know that you don't eat fried chicken and mac-and-cheese and you go to the gym every day.' "
Shepard's reply: "You can put me to sleep now."
He lifts his T-shirt, revealing a thin, pinkish scar slicing from his abdomen through his upper sternum, a badge of honor from the six-hour, 24-minute surgery.
Willard Shepard is choking up again.
"Boxing wasn't just for me to win a tournament," he says. "At the end of the day, all of that time that I invested in exercise kept me alive. Had I not done what I did all of those years, especially the last decade, something might have happened to me."
He's beaming now, showing videos shot by his wife, Tainna, as she accompanied her husband on walks through hospital hallways in the first days of recovery.
The Shepards' son, Gianmarco, a former Marine who recently graduated with a degree in communications from FIU, lives with them. So does their German Shepherd, Kairo, and Goldendoodle, Lilly; both lounge around their bright and stylish home like a couple of FAO Schwarz plush toys. The Shepards' daughter, Francesca, is a paralegal at an immigration law firm in Boston.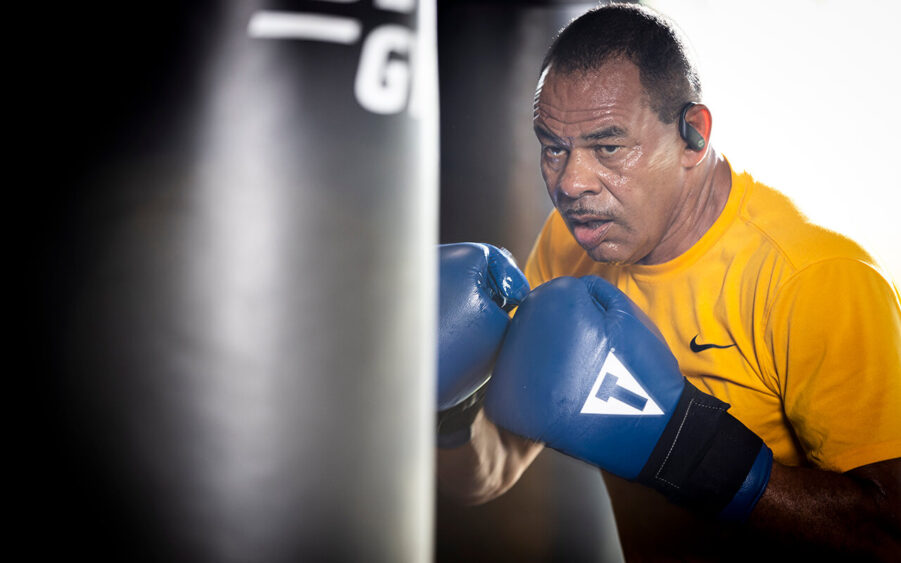 Paying It Forward
Over the years, Shepard's military career gave him an edge on a number of stories he reported for NBC 6. He already was a certified diver when he approached the Miami-Dade Police department about attending their dive school. Aware of his background, he got the green light, along with then-cameraman Mike Zimmer, and their training resulted in stories such as diving to inspect cruise ships for potential detonation devices and illegal "parasites" such as drugs attached to vessels.
The military connection pulled Shepard directly into a breaking news story on Veterans Day in 2013. Fredy Gutierrez, a 59-year-old Vietnam veteran, shut down traffic for hours on a ramp off Interstate 595 in Davie, threatening to commit suicide.
Gutierrez, a Colombian native who came to the U.S. at age 4, was distraught over a pending deportation. He also said he suffered from post-traumatic stress disorder. He did not know Shepard personally but was aware that he was a veteran from seeing him on TV and told police that he only would talk to the journalist.
Police contacted Shepard, who immediately came to the scene. He was handed a phone to connect with Gutierrez, who was able to see Shepard from his truck. "My message to him was, 'Look, I'm here. I'm going to stay with you through the whole process. The best thing now is to not have this conversation on the turnpike with a weapon and the traffic shut down and the police worried that you might start shooting.
" 'Why don't you come over here, and we can sit in the police department and start the process?' "
Gutierrez relented without a problem and true to his word, Shepard, along with immigration attorneys, helped him work through the legal matters over the turnpike incident and resolve the deportation issue.
Shepard remained friends with Gutierrez until he died in 2017.
"He was shot at for his country," Shepard says. "He clearly was upset with the way he was ultimately treated. But it all got worked out, and he was doing much better. I used to go watch basketball and football games with him."
Through his law practice now, Shepard plans "to help as many veterans as I can."
While fellow service men and women always will be a focus for Shepard, he particularly enjoys working with Civil Air Patrol cadets, especially when nervous but curious future pilots are from two groups still lacking in military flight schools—women and minorities.
Willard Shepard is choking up again.
He pulls up a photo of a young Black girl, her face silhouetted by endless blue skies, eyes wide and fixated to the distance, mouth slightly open, a snapshot of pure awe and joy, like a child's first Christmas tree lighting.
"Her mom didn't want her to go," Shepard says of the day the girl was scheduled to take her first cadet flight. "I said, 'Look, Mom, my government says I've been over Iraq 52 times in a war. I'm gonna bring your daughter back.' "
Shepard guided the Cessna over the Everglades, then allowed the cadet to slowly turn the plane to the right, then back to the left.
"I took that photo and had to compose myself," he says. "I thought, 'This girl may really do something with this.'
"[And then] I thought about [Tuskegee Airmen] Col. Gray and Col. Stewart and all they did to make it possible for a person like me."
Photos by Eduardo Schneider