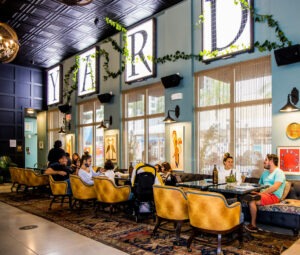 To make room for an expanded live music stage with an outdoor seating area, the Doral Yard in Miami will briefly pause its live music, fitness classes, table reservations and partial outdoor seating starting July 5 as the restaurant and live music venue prepares for its newest addition, The Backyard.
The expansion will feature shaded turf areas, self-serve outdoor seating, a garden crafted by Little River Cooperative, a large screen for movie and sporting events, as well as private event venue with indoor and outdoor space for gatherings.
After opening in fall of 2020, Doral Yard has become a community hub with many recurring musical events. Current food offerings include a plant-based and globally-inspired della bowls; authentic Venezuelan comfort food like 'pollo en brasa' or rotisserie chicken from Un Pollo; dim sum made from scratch daily by Yip and The Bar at The Yard, a full-service bar serving cocktails, beer, wine, coffee and juices.
Estimations for a partial opening of The Backyard addition is currently at a few weeks with a full opening later in the summer to feature culinary vendors Santo Dulce, Churros, Paletas Morelia and Pokekai. Barbakoa by Finka, the full service restaurant by Chef Eileen Andrade of Finka Table & Tap and featuring a fusion menu revolving around coal-fired fresh ingredients is set to open after the summer.
For more information, visit Thedoralyard.com