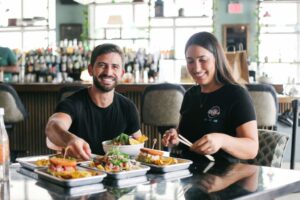 The newest addition to The Doral Yard in Miami officially opens today with the launching of The Backyard at the indoor food hall and events space. The add-on will feature an expanded live music stage with an outdoor seating area.
The first 50 guests (21 and up) at The Backyard's 5 p.m. launch today will receive a complimentary tropical pineapple cider. The venue will also debut cocktails, including Yuzu & Elderflower Tonic and Cucumber & Bergamot Spritz, among others. Grupo Barrio Abajo will perform at 6:45 p.m. as the enhanced venue's first musical act since temporary closing during the renovation.
Enhancements to the space include shaded turf areas, self-serve outdoor seating, a garden crafted by Little River Cooperative, a large screen for movie and sporting events, as well a private event venue with indoor and outdoor space for gatherings.
After opening in the fall of 2020, The Doral Yard has become a community hub with many recurring musical events. Current food offerings include plant-based and globally-inspired della bowls; authentic Venezuelan comfort food like 'pollo en brasa' or rotisserie chicken from Un Pollo; dim sum made from scratch daily by Yip and The Bar at The Yard, a full-service bar serving cocktails, beer, wine, coffee and juices.
The last part of The Backyard will debut in the fall when Barbakoa by Finka, the full-service restaurant by Chef Eileen Andrade featuring a fusion menu becomes a full-time staple.
For more information, visit Thedoralyard.com