David Nordstrom
Catch him at: Nordstrom is a drummer for Spektora, the high-octane rock band that performs classic and current hits. Their live schedule includes stops at the Elbo Room and McSorely's Beach Pub on Fort Lauderdale Beach; The Village Pump in Lauderdale-By-The-Sea; and Hurricane Bar & Lounge in Delray Beach. Visit spektorarocks.com for show dates and more band info.
Music roots: The mix of music always playing in his childhood home—The Beatles, Lionel Richie, Fleetwood Mac and other genres—inspired the native of Woodhaven in Queens, New York, to pursue his artistic dreams. In high school, now living in South Florida, he and friend Alex Lopez formed a punk/hard rock band, Ladezma, consisting of two bassists and a drummer. They were too young to perform at clubs, but they generated buzz playing local studios and warehouse parties. Nordstrom would go on to play with several South Florida bands—13th Floor, Falling Down, Octo Gato, The Hoy Polloy; through the years, he's toured the U.S., Canada and even Japan with his various bands. Look for original music from Nordstrom and Ryan Hopkins (with whom he also performs with locally, playing rock, R&B, soul, funk and more) later this year.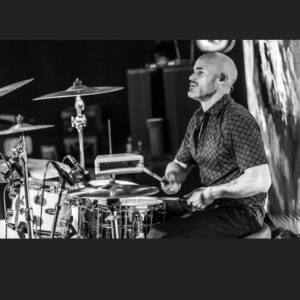 Takin' care of business: "One night, at 3rd & 3rd in Delray Beach, Randy Bachman of Bachman-Turner Overdrive randomly joined Spektora on stage to play lead guitar for two songs," Nordstrom says. "It included a freestyle session between us and him while we followed his lead on guitar. It was a pretty amazing moment."
Favorite song to play: "Everlong," by the Foo Fighters
The challenges: Finding consistent work, and working around other band members' schedules for rehearsals and bookings, are just some of the roadblocks that working musicians face. "[You have to be] persistent in reaching your goals," Nordstrom says. "The music industry is not for everyone, and it takes years of blood, sweat and tears to get to a sustainable position. Add patience and restless nights/weekends to that list as well."
Pre-show rituals: "I listen to my favorite music on the way to the venue to create my mood," he says. "Staying hydrated and eating a light meal is also important before a four-hour show."
Source of pride: "My biggest accomplishment is having the opportunity to continue doing what I love and inspiring others to keep pursuing their dreams," Nordstrom says. "Music has allowed me to meet new people and travel the world. What's important is that when people come out to your show, they want to forget about everyday realities of life for a while. If I can provide them a place to feel good, have fun and be a part of something special? Then, I've done my job."
The local scene: "People will always like to see live bands, but I've seen a shift more toward electronic, house, hip-hop and reggaeton music," he says. Among the local bands Nordstrom enjoys watching: The Flyers, Zeta, Chana-V and Switch N' Whiskey.
The last word: "As musicians, we're all unique," Nordstrom says. "For me, it's the pursuit to keep winning. I'm a determined individual; my work ethic speaks for itself. I believe that when we lift others, that God also lifts us to new levels. I like to see other musicians/artists live out their full potential."
By Melanie Geronemus Smit and Kevin Kaminski