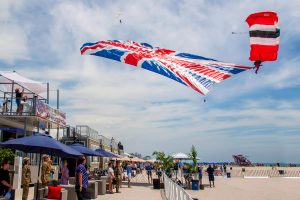 The Hyundai Air & Sea Show on Miami Beach recently announced their 2022 promotional partnerships and activations for May. The event will feature a bevy of land and air entertainment over Memorial Day Weekend, highlighted by a concert featuring internationally-known rock band 3 Doors Down. Following the show, a special night pyro-parachute demonstration by the U.S. Army Golden Knights Parachute Team will kick off a fireworks extravaganza. 
The Hyundai Air & Sea Show begins each day at 11 a.m. with sea demonstrations by professional jet skiers, ThunderCats boat races and the Cigarette Powerboat Racing Demonstration, which will showcase ten state-of-the-art Cigarette boats. After the sea shows, the entertainment will shift to the sky as parachute teams, jet demonstrations and search and rescue exercises showcase their talents and state-of-the-art technology. 
Guests can visit the Yuengling point of sale displays inside 180 South Florida Publix, Winn Dixie and Total wine stores to receive a 10% discount QR code for event tickets, along with 40 Walmart stores and one hundred 7-11 convenience stores. They can also enjoy the Heroes Vodka promotion featuring specialty cocktails at 15 restaurants along Ocean Drive, including Wet Willie's, Oh! Mexico, Havana 1957 (Ocean Drive location plus Espanola Way and Lincoln Road), The Clevelander, Finnegan's Way, Café Americano, Mango's Tropical Café, La Cerveceria Del Barrio, Call me Cuban, Mercato Della Pescheria, Santorini by Georgios and Airmail at Alton Food Hall.
Those interested also have the opportunity to win tickets to the Hyundai Air and Sea Show by listening to any of the seven Audacy radio stations (AM 560 WQAM-AM-AM, 790 The Ticket WAXY, Kiss Country 99.9 WKIS-FM, Power 96 WPOW-FM, 101.5 Lite FM WLYF, 102.7 The Beach WMXJ-FM, 104.3 The Shark WSFS-FM) or visit any South Florida Twin Peaks location on Tuesdays during May for ticket giveaways.
Families can enjoy the Display Village east of Lummus Park (Ocean Drive, 11th – 14th Street), over four city blocks. The Display Village includes flight and navigation simulators, tactical training equipment, rifle range simulators and interactive displays from all branches of the U.S. Military, including the U.S. Army M1A2 tank. Guests can meet the men and women of our armed forces and experience displays and booths from the Hyundai Air & Sea Show corporate sponsors, including the Monster Energy Keith Sayers Motocross exhibition.
On Saturday, the Music Explosion kicks off at 5:30 p.m. with the U.S. Army's As You Were band, the U.S. Air Force's Max Impact band and internationally-known rock band, 3 Doors Down, headlining at 8 p.m. A special night pyro-parachute demonstration by the U.S. Army Golden Knights Parachute Team will kick off the spectacular Florida Restaurant and Lodging Association fireworks extravaganza following the concert.
"There is no better time than Memorial Day weekend to pay tribute to our military, First Responders, and those that have paid the ultimate sacrifice on behalf of our freedom," Mickey Markoff says, National Salute to America's Heroes Executive Producer.
Tickets for the Hyundai Air & Sea Show LiquorSplit Beach Club at Show Center are available at USAsalute.com, starting at $45. General admission, VIP, Umbrella Club, Cabana Club, Sky Suites and corporate chalets are also available. Throughout the two-day entertainment shows, A National Salute to America's Heroes will feature special tributes to U.S. military members who have died in combat to enhance the spirit of Memorial Day weekend.