Gregory Portent needs $42 million by the end of the week to exact his revenge and prove, among other things, that "lawyers aren't heroes." The elaborate Ponzi scheme he's running, a seemingly foolproof enterprise driven by artificial intelligence, has been by blindsided by an unforeseen black swan event.
"If I can't fix this … bad hand or bolt of lightning in the next few days," Portent says, "I could end up dead—and I'll be leaving behind the lives left in shambles of the people I care about."
Though Robert Buschel isn't trying to rewrite a sordid slice of Broward County history with his latest novel, God's Ponzi, the fictional journey on which Portent, his main character, embarks isn't without its art-imitating-life vignettes.
The renowned trial attorney, a partner at Fort Lauderdale-based Buschel & Gibbons for the past 12-plus years, was a lawyer at Rothstein Rosenfeldt Adler in late October 2009 when managing shareholder and CEO Scott Rothstein fled to Morocco and sent his law partners a Saturday suicide text on Halloween. By that Monday, the reason why was all over the news.
Rothstein, known for his extravagant lifestyle, had been running what was later determined to be a $1.4 billion Ponzi scheme (one of the largest in history) involving the sale of faux legal settlement agreements. Rothstein ultimately returned to Fort Lauderdale and turned himself in on Dec. 1, 2009. He later pleaded guilty to orchestrating the scheme and received a 50-year federal prison sentence. Nearly 30 other individuals caught in various tentacles of the law firm's illegal dealings were arrested and/or convicted—including Rothstein's wife at the time, Kim, who served 18 months in prison.
Buschel, who never was accused of misconduct, recalls reaching out to his current partner, Eugene Gibbons, relatively new to RRA at the time, during the weekend that all hell broke loose.
"Eugene was on a family trip in Tampa," Buschel says. "He'd been at RRA less than a year. I said, 'I hate to do this to you, but I'm going to throw a pretty fast pitch, and it's going to seem like it's going at your head. Scott Rothstein just took the law firm's trust account and flew to Morocco. It's over.'
"I told him that we should think about partnering up and moving forward. I understood that a lot of people would mistakenly [assume] that everybody at the firm had to be in on it. Most of us, in fact, weren't. But there was no time to wait around. I wanted to get out in front of it. So, Eugene and I took our shot and started a firm.
"It's been a honeymoon ever since."
The same can't be said for Rothstein, whose attempt at a sentence reduction in 2018 was shot down for violating the terms of his plea deal by lying to authorities and committing more crimes from behind bars.
Buschel looks back at the Rothstein saga—and ties the past to both God's Ponzi and the present—in this wide-ranging interview with Lifestyle.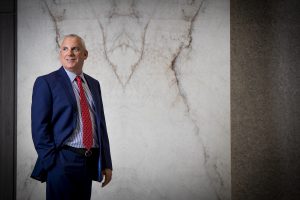 In your preparation for God's Ponzi, did you end up learning anything about Ponzi schemes that you didn't already know?
I learned about Ponzi schemes watching [Scott Rothstein] implode. I had to run my fingers through my hair to remove the dust from the fallout. Did I look around after I got out of the rubble? I did.
There are a few people you'd talk to, and they would say, "Scott did live the rock star lifestyle." If you were making a deal with the devil, would you be willing to spend that much time in prison if you had five, six, seven years of living like Scott Rothstein?
I'd ask that question, and it surprised me how many people would make that deal.
And I'd think, no, no, no. You're not putting everything on the table. Here's what you're not adding to the equation: You have to screw everyone who's ever been nice to you.
It's not a matter of, OK, I'll live like a rock star for seven years, then I'll go to prison. Scott didn't know when it was going to end. Imagine the immense stress of keeping that Ponzi balloon in the air. Every day, it's like, "How am I going to raise another $1 million before the end of the month?" That's not fun.
Along the way, you have to be willing to hurt anyone who's ever been nice to you—down to the clerk that you hired to make your copies.
That's what I learned. Most people can't wrap their head around how bad that is. It's like when Joe Pesci plays these fearsome guys in a movie. Even though he's like [5-foot-4], his character is willing to take a bottle and crack it over somebody's head.
What are you willing to do? Are you willing to steal that old lady's money? Are you willing to knock her to the ground and take her purse? That's the difference.
On that note, take us back to October 2009. By that time, Scott Rothstein's larger-than-life persona was well-known in Broward County. Did you have any suspicions that something about the firm wasn't right?
When I joined the firm in 2006 there were only 20 lawyers. It was a bunch of guys who seemed like they had a nice vision to do some interesting work and grow the business. But those last 18 months, Rothstein went supersonic. The firm was up to 70 lawyers [with offices throughout Florida, in New York, and even an affiliate office in Panama].
In any larger law firm, you don't always know what everyone else is doing. But every once in a while, you'd hear someone go, "He's got to be up to something."
What was the explanation for the expansion?
It was Scott's dream to have a big law firm. He'd say that he was investing a lot of money in the firm, and that he was doing it with his own money; he had investments in a hedge fund, and they were all doing "very well."
At the time, putting a couple of million in the firm and trying to grow it seemed like a perfectly fine explanation.
Of course, I didn't have access to the books.
How did you find out that Rothstein was in trouble?
I went to the office on a Saturday. On the way into the building I bumped into Marc Nurik [a lawyer at RRA]. He said, "I'm resigning from the firm. You're going to learn what's happening. Some stuff with Scott is going down. And I'm going to represent him." [Nurik, indeed, became Rothstein's criminal defense attorney]. Marc told me to keep my head on a swivel.
The news broke soon after.
On that Monday, I went to work. It's been more than a decade, so some of this is [hazy]. But at one point there was a firm meeting where [RRA partner] Stuart Rosenfeldt gave us an update. [The next day], the FBI and [U.S. Treasury] agents served the warrant to search our offices. I do criminal defense work, so I knew one of the agents. She was very pleasant. I was escorted to my office so I could get [some personal things]. The agents were copying everything off our computers, searching for evidence.
As far as the size and the scope of [the scheme], I was reading about the case, the same as everyone else, in the newspaper.
If you were smart, you weren't talking to anyone at the firm. I didn't know who was going to get indicted. I didn't know if Stuart Rosenfeldt was going to be indicted [he pleaded guilty in 2014 to criminal conspiracy and was sentenced to 33 months in prison; Rosenfeldt died in December 2021]. I was shocked when Steve Lippman was indicted [the RRA attorney was sentenced in 2012 to three years in prison for, among other violations, defrauding the IRS by failing to report reimbursements for personal expenses from law firm funds as taxable income].
There were certain people who surprised me. Some who didn't surprise me. And certain people who didn't get indicted who I thought, "Hmm. Good for them." But I would never discuss it out loud. You don't want to start trading information because you never know who might be wearing a wire. Or who's full of crap. I did not want to be a witness.
I had to worry about starting a new law firm.
Photography by Eduardo Schneider