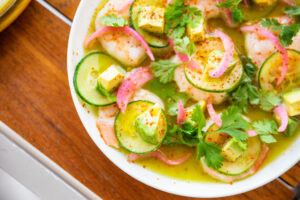 In the second part of Lifestyle's November feature on Michael Schwartz, the renowned chef looks back on the beginnings of Michael's Genuine, which launched in 2007. It came at a time, as he explains, when Schwartz was in restaurant limbo.
The move to Miami: "I had landed back in New York after spending six months in Mexico traveling around in the same 1985 Jeep CJ7 that I have to this day. I ended up working for Myles Chefetz at a supper club in Southampton. We became friends and decided to open a restaurant together. He'd spent a lot of time in Miami, so we started taking trips down there.
"It was right when Miami was starting to pop—South Beach, the early 1990s. I was single, so I was like, 'Yes, let's move to Miami.' We felt like there was a great opportunity to open a restaurant that wasn't just about the scene. At the time, that's all there was, these clubby restaurants. So, I moved there in 1994, and a year later we opened Nemo."
The crossroads: Schwartz's seven-year partnership in South Florida with Chefetz—a collaboration with the restaurateur now famous for Prime 112 in Miami Beach that resulted in concepts in the mid-1990s like Nemo and Big Pink on South Beach, and Fish in Aventura—finally dissolved. Suddenly, a chef who seemed on the cusp of something special was kicking around at a place called Afterglo that proved to be the restaurant equivalent of his rock bottom.
"I was struggling to get my footing. I hadn't put enough thought into what I wanted to do after [his partnership with Chefetz ended]. And I worked in some weird places. I was lost and dejected. And it wasn't pleasant.
"But Afterglo snapped me out of it. I was charged with creating a menu centered around foods that were anti-inflammatory or that made you look and feel better; the idea, actually, was ahead of its time. But the owner wanted to call it 'beauty cuisine.' I came up with a sockeye salmon sausage dish that was amazing, with turmeric and walnuts. And he called it, the 'Beauty Pill.' Just awful. I was done."
A Genuine concept: "I scrambled to find a spot [after the Alterglo experience], which ended up being in the Design District. I wanted to do everything that I liked about all the things that I had already done. I wanted to make a connection with farmers and source locally. I wanted to make things that I liked to eat, that made me happy. And I wanted a direction that tied it all together but allowed for new influences to come in. And they did. Middle Eastern influences. More Japanese influences. Mexican.
"The word 'genuine' became the measuring stick for everything that we were going to do—the comfortable furniture and décor, the soundtrack, the culture. It was an everyday place that had all the makings of a fine-dining restaurant—but without the pretense. There were no tablecloths [although in the beginning, there were because he couldn't yet afford nice tables]. The place was simply designed. It was about the wood oven on one side, the bar on the other side and making people feel comfortable.
"Looking back, I think it resonated, in part, because we were at the forefront of defining what a fine-dining restaurant could be. Right after we opened, the economy tumbled. And that restaurant was positioned perfectly for the recession. It was where people wanted to go to be comfortable and not overspend. In Miami, you can go to plenty of places and get gouged."
Opportunities knock: "Winning the James Beard Award [in 2010] was life-changing, literally. It afforded me a ton of opportunities, which I capitalized on—one of which was opening a Michael's Genuine in Grand Cayman, where we had a five-year run [there's also a Michael's Genuine in Cleveland].
"All of the sudden, the world opens up, not to mention the amount of attention it garnered for Michael's Genuine. When I opened it, I didn't know anything about expanding or branding. I just wanted to open a restaurant and express myself. To get that recognition from that organization and your peers in my second year of being nominated was mind-blowing.
"People who say, 'I'm just happy to be nominated,' are lying. Once you're nominated you want to win. Fortunately, I did. And it was amazing. But it seems so long ago now."
Taking stock: "I don't often take a victory lap. But there have been certain moments where you're like, wow, we've accomplished a lot. Even, most recently, just making it through [COVID-19]. We didn't know 18 months ago if we'd ever open restaurants again. We laid off 480 people and closed all of our businesses just like that.
"So, we did take a victory lap recently because we came through it and we're in good shape. We figured out how to do more with less resources, and how to rely on people to do more than one job. It's made us a better company, and it's certainly brought the team together.
"The pandemic has taught us all to do what you enjoy or what you're passionate about. I'm 57, and I want to do more of what makes me happy right now. I've earned that."
The Return of Michael's Genuine
After closing this summer for an expansion and refresher, Schwartz's flagship restaurant in the Design District (130 NE 40th St., Miami) was poised to reopen its doors before the new year.
Designer Marcela Lombana was charged with bolstering the original look without losing its identity; expect more foliage, patterned booths, a larger courtyard that opens to the dining room (providing even more of an indoor/outdoor vibe)—and more overall space thanks to a takeover of the storefront next to Michael's. On the menu front, Schwartz promises new dishes to go with the restaurant's signature salads and favorites from the wood-fired oven.
"The Design District has grown up [since Michael's opened in 2007]," says Schwartz, who kept his Genuine team on the payroll while the restaurant was closed and being renovated. "And that's forced us to change a bit. It was time to stop, look at everything we do—uniforms, steps of service, music, our menu—and give it all a refresher from the inside out. From a food standpoint, that means refining some of the standard dishes without changing them into precious tweezer food.
"We'll celebrate the essence of what made Michael's Genuine popular in a way that enhances it and makes it better."
Check out michaelsgenuine.com for updates.