For many, using a public restroom, living peacefully in a community, and retaining steady and fair employment are basic human rights. However, members of the LGBTQ community aren't always afforded those same luxuries. In fact, there is little to no protection for them at all. That's why longtime LGBTQ leaders Robin Schwartz and Victor Diaz-Herman work tirelessly to support and empower the local lesbian, gay, bisexual, transgender and questioning population.
Schwartz—who co-founded the Aqua Foundation for Women in 2004, South Florida's first and largest organization by and for LGBTQ women—recently was named Miami development officer for Equality Florida, the largest civil rights organization dedicated to securing full equality for Florida's LGBTQ community. Similarly, Diaz-Herman has dedicated his career to serving the LGBTQ community. For nearly 10 years, he's been the CEO of Pridelines, South Florida's oldest LGBTQ service agency, which incorporated in 1999.
Schwartz and Diaz-Herman get together at least once a week to discuss the many issues facing the Miami LGBTQ community, including equality, homelessness, isolation and youth support. Here's what they discussed during a recent conversation with Lifestyle.
What issues, in your respective worlds, are front and center right now for the local LGBTQ community?
Schwartz: For Equality Florida, one of our main focuses is the Florida Competitive Workforce Act, which prohibits discrimination based on sexual orientation and gender identity or expression in employment, housing and public accommodations. We've been working on this for years, so it's definitely top of the list. Think of it as a way for us to protect all LGBTQ folks. Obviously, everyone has a right to have a job and not get fired from said job because of who they are. They also have a right to live where they want to live and not get kicked out for their sexual orientation or gender identity. Same applies to something as simple as using a public restroom.
Diaz-Herman: In addition to supporting LGBTQ youth, Pridelines is focused on LGBTQ homelessness, where our young people can very easily get lost among the other young people who are homeless. We specialize in creating affirming and safe practices and policies for LGBTQ youth who go into the system.
What stands out to you about South Florida and its long-standing connection with LGBTQ members?
Diaz-Herman: Something that frequently comes up in conversation is the lack of connectedness between partner agencies in a particular city. However, in Miami, we've done a wonderful job at building relationships with each other to better serve the community, even down to the friendship Robin and I have developed over the years.
I also find it interesting that Miami doesn't have a "gayborhood," which is something you often see in cities across the country. Our community is so tight-knit that we don't need a designated area just for LGBTQ members, and that's special. Could we have a stronger community? Of course. There's always room for improvement.
Schwartz: In fact, we actually have a group called the Pride Collective, where leaders of various organizations get together every other month. Essentially, we see each other all the time. I probably see Victor almost once a week. It definitely helps when it comes to making advancements for the community.
Diaz-Herman: Overall, I think the South Florida community is very queer-focused. Miami-Dade County isn't limited to just gay white men. We are a community that is diverse and gender nonconforming. We also have a very large trans community as well. Those identities sometimes get lost in "gayborhoods."
According to FBI statistics, anti-LGBTQ hate crimes rose each year from 2014 to 2017. Are we seeing any evidence of this in South Florida? If so, what is being done by organizations like yours to combat this?
Schwartz: There is no doubt that the increase in anti-LGBTQ rhetoric coming from Washington, D.C. and elsewhere is having a terrible impact in encouraging harassment and violence against our community. The demonization of transgender people is particularly devastating. Here in South Florida two young, black trans women have been brutally murdered in just the last few months, and in Jacksonville, another member of our community was viciously beaten, tied to a minivan, dragged through the streets and left for dead. We are calling on our state Legislature to strengthen our hate crimes statutes this year. We need our elected leaders to speak out clearly and consistently, to condemn these attacks and the repugnant bigotry that fuels them. We work closely with law enforcement to ensure investigations are comprehensive and culturally sensitive. We work with [the news] media to ensure coverage—particularly in cases involving the trans and gender nonbinary community—respects the identity of the victim.
Diaz-Herman: We certainly are not void of LGBTQ hate crimes in South Florida. Sadly, many of them go unreported, particularly those of transgender woman of color, whose lives are being robbed. There are many organizations serving the LGBTQ community throughout South Florida and all are working to protect us or to advance our equality, [including] Pridelines, which provides safe, affirming and brave spaces, support programs and referral services, for our community.
Gay marriage has been such a significant benchmark in the history of the LGBTQ movement. What are some of the subtler advances that you've seen in your lifetime that have pleasantly surprised you both?
Schwartz: I'm 57, so you can say I've been around awhile. I definitely see subtle nuances that weren't around 10 years ago. Nowadays, spaces are much more integrated for the LGBTQ community, which is something we've waited years for. We're much more represented in pop culture, too.
Diaz-Herman: Definitely. There's a level of awareness surrounding LGBTQ issues due in large part to mainstream media. For example, I believe people are more aware than ever of the reality of trans community brothers and sisters of color losing their lives, being beaten on a regular basis, or turning to underground economies for survival––all because it's covered in the news.
Schwartz: There's also a growing conversation around gender identity as a whole, which can partially be attributed to mainstream media.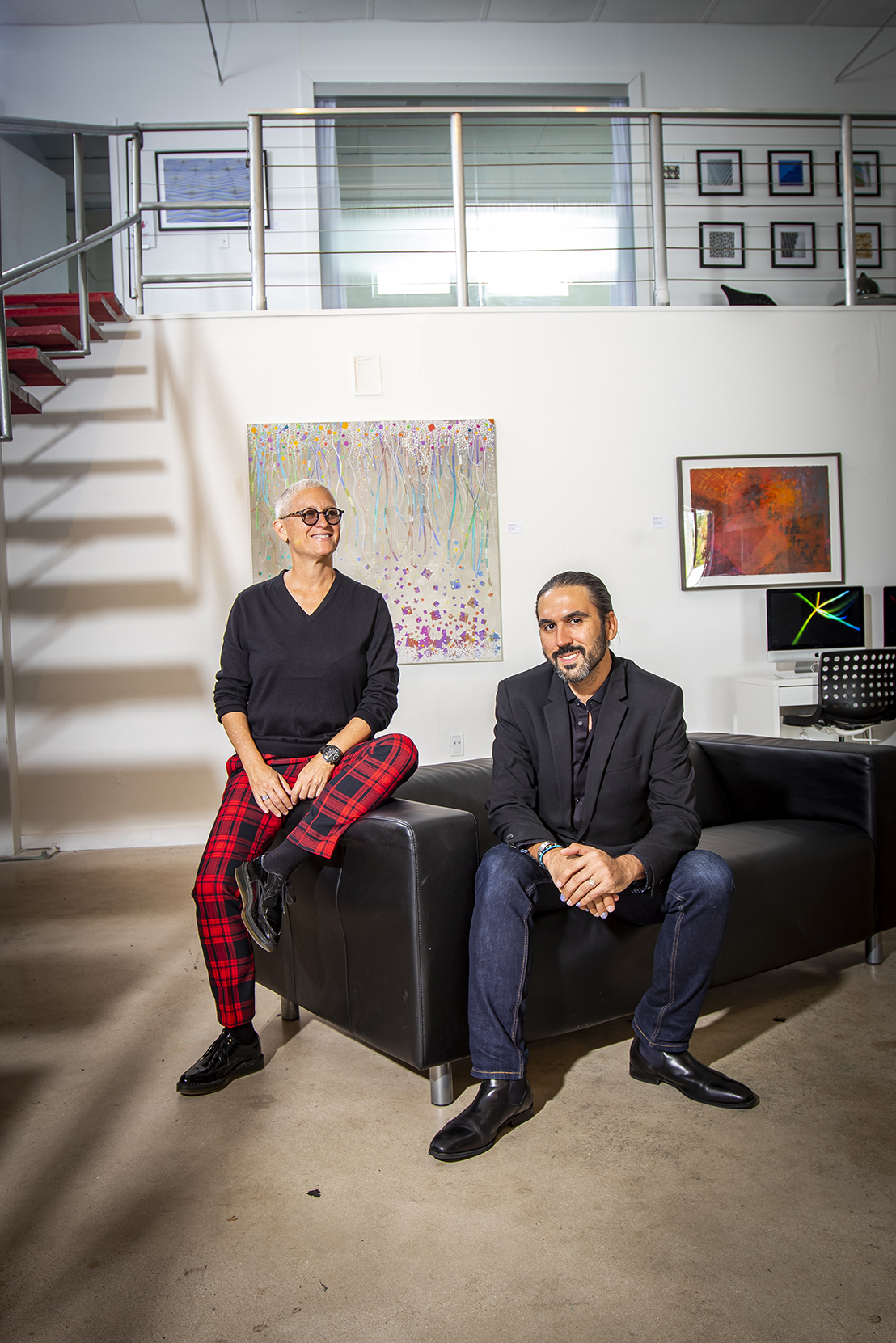 There are so many nuanced issues involving gay youth. On the one hand, teens seem more accepting, generally speaking. On the other, bullying is still a huge issue—and teen suicide is on the rise. Can you each talk about LGBTQ youth from the standpoints of both success stories and challenges?
Schwartz: We've learned that supporting our youth through programs, scholarships and public centers is extremely important. I know Victor can speak to this as well. Having a mentor or knowing there are safe spaces out there can and does change lives.
Diaz-Herman: Though we are a city that's become very inclusive, we are a city that still has much progress to make. If you travel further south or west, our young people don't necessarily have access to safe spaces. They're confined to their neighborhoods without access to community, which often leads to feelings of isolation. They also experience judgment, prejudice and ridicule within schools, faith-based communities and even within their own families. That's why we have such a high rate of LGBTQ homelessness. [Even though] we make advancements, and mainstream media helps make us aware of what's going on, there are still many communities out there where it hasn't yet translated.
Schwartz: I do think young people tend to be more open and offer hope for the future, but at the end of the day, you can't underestimate the value of having laws in place to protect folks. There are people, including our youth, literally getting killed out there and something needs to change.
Diaz-Herman: Every generation is a little bit more progressive and "woke" than the previous one, to an extent. However, you only know what you know, so if you're growing up in one of these communities without these resources, it leaves many young people to learn on their own—which either means they may become more advanced or draw their own conclusions, which sometimes may be wrong. To Robin's point, we both work closely with Safe Schools South Florida, where we are basically creating laws in the school system to develop safe practices. I think there's hope, and one day we will see a generation that's affirming and inclusive, but I don't think it will happen overnight or even in the next few years.
Professionally speaking, what are you most proud of?
Schwartz: I am most proud of Aqua Foundation for Women and all we have accomplished in the past 15 years. I was a founder and board member from 2004 to 2009, executive director from 2010 to 2014 and then came back as managing director from April 2018 to September 2019. Through Aqua's scholarship/mentor program, we have supported many LGBTQ women and trans/nonbinary people get an education and guidance. We raised funds to start a new program in Miami for LGBTQ youth who find themselves homeless or at risk, created TransCon, an annual conference for the trans/nonbinary community, and much more.
Diaz-Herman: On June 1, 2016, Pridelines opened Miami-Dade County's LGBTQ community center, a project that I was fortunate to lead. Today, the center has multiple locations and receives over 10,000 visits annually from members of the community and our allies. In addition to being a safe and affirming space for our community, we have an art gallery, an LGBTQ lending library, a computer lab, and programs and services for people living with HIV, and for youth and young adults at risk of or currently experiencing homelessness.
Robin, what are you most looking forward to in your new role at Equality Florida?
Schwartz: I am excited to be in a position to support the work of Equality Florida. Their Safe and Healthy Schools program is life-changing for our youth. I've been invested deeply in supporting the trans community, so I am thrilled Equality Florida is also doing great work through its TransAction initiative. It has been my mission since starting Aqua to get more women involved in the LGBTQ community. This will continue. Probably most important to me at this time is the advocacy and get-out-the-vote work. We must continue to protect the laws that are in place and fight for expanded protections. And we must get our community out to vote.
Victor, is there anything on the horizon regarding Pridelines? initiatives that you're particularly excited about?
Diaz-Herman: We are hard at work to re-launch our Host Home program in 2020 to provide alternative housing options for LGBTQ youth experiencing, or at risk of experiencing, homelessness. The program allows community members to open their homes to our young people and offer respite for six months to a year. We are actively seeking hosts to train and introduce to youth to launch the program.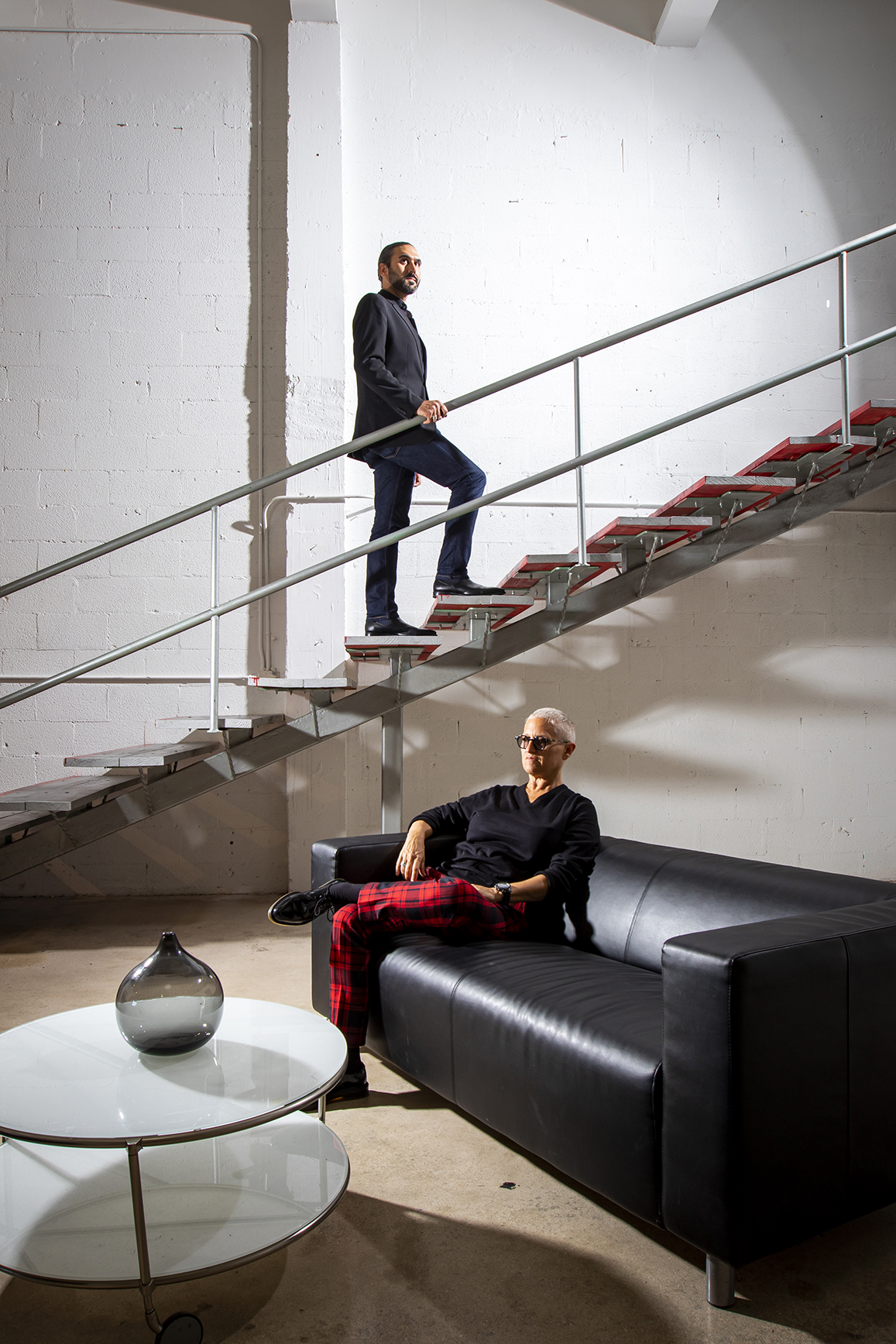 Would you mind sharing your coming out stories?
Schwartz: I was not aware of any feelings for women until I was in college. A friend asked me to go to a gay bar because the music was good. I went. I kept going back. A couple years later when my parents found out, they asked me to meet with them. It was a bit uncomfortable, but I was fortunate they never gave me any reason to feel unloved. I recognize this is not the story for many, so I am grateful.
Diaz-Herman: I was 26 when I started "coming out" to my family and friends, but the journey actually began when I was about 18. People are often surprised by the length of my process when they learn that I was raised in supportive and loving families that accept my gay uncle and my lesbian mothers. However, I struggled to come out to myself for several years because I feared the same social and community isolation, bullying, judgment and ridicule that so many queer people face daily. It wasn't until I was in my first relationship with someone of the same gender that I decided to share my sexual orientation. Much to my surprise, no one else seemed surprised as I shared that I am gay, but the fear I experienced each time the words came out was in some cases tearjerking.
How can the general population support the LGBTQ population?
Schwartz: Volunteer and donate funds, but also be kind to everyone. You'd be surprised at how far that goes.
Diaz-Herman: I would also add that you should be willing to take a step back from the world you live in and the privilege you have. If you really want to be an ally from anyone marginalized or disenfranchised, you have to let them have a voice and be willing to be called out on things that you may do that are hurtful or harmful. Hear what they have to say and try to be better. Don't hear it as judgment. This can create a brave space for conversations to be had. That advances our movement.
Photos by Eduardo Schneider
Shot on location at Pridelines