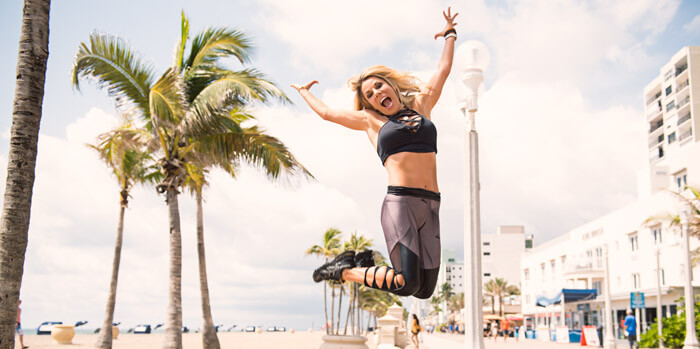 The New Way to Lose Weight!
Linzi Martinez
Personal Trainer/Nutritional Therapist
Host/Executive Producer of the award-winning HHS Makeover TV Series
FB: Happy Healthy Stronger
IG: Linzimartinezofficial
There are so many negative thoughts and feelings around the word "Diet". We associate it with deprivation, sacrifice, and social restrictions. From giving up your favorite foods, controlling your portion size, to not attending certain events or joining in on social occasions in fear of failing yourself and not meeting your goals. Being "on a diet" kind of SUCKS!
If you are like me, over 40, "diet" foods used to mimic our greatest sinful foods; however, they came with an exchange…weight loss for chemicals. This is not acceptable now…you need and deserve to be lean and HEALTHY at the same time.
Amazing news! The industry has listened, and in the past two years the most amazing alternatives have been created to help you lose weight, get healthy, and still love your favorites!
What if I told you that you no longer need to diet? No weighing, no calorie counting or food delivery services. That you can get healthy and lose a significant amount of your excess weight by EATING MOST OF YOUR FAVORITE FOODS? That the foods were healthy enough to feed a child?
As an Integrative Nutritional Health Coach and Certified Celebrity Personal Trainer, I have found almost all the alternatives to your favorite foods. No deprivation or sacrifices anymore! Just a lifestyle created, which includes your favorite foods, only made of different macronutrients to assist in your weight loss and health goals! There has NEVER BEEN AN EASIER TIME TO LOSE WEIGHT AND GET HEALTHY DOING IT THAN RIGHT NOW!
Look for foods sweetened with natural low glycemic sugars like monk fruit or stevia! Look for foods that are high in fiber and protein! Read your labels! It's time to get onto your life and off of every diet! Try my amazing book, RECIPES FOR INSTANT WEIGHT LOSS! From lasagna, pancakes, and chocolate bark to French toast and eggplant parm – you will NEVER BELIEVE YOU ARE EATING TO LOSE! YUM! Order your book here www.linzimartinez.com/ecookbook