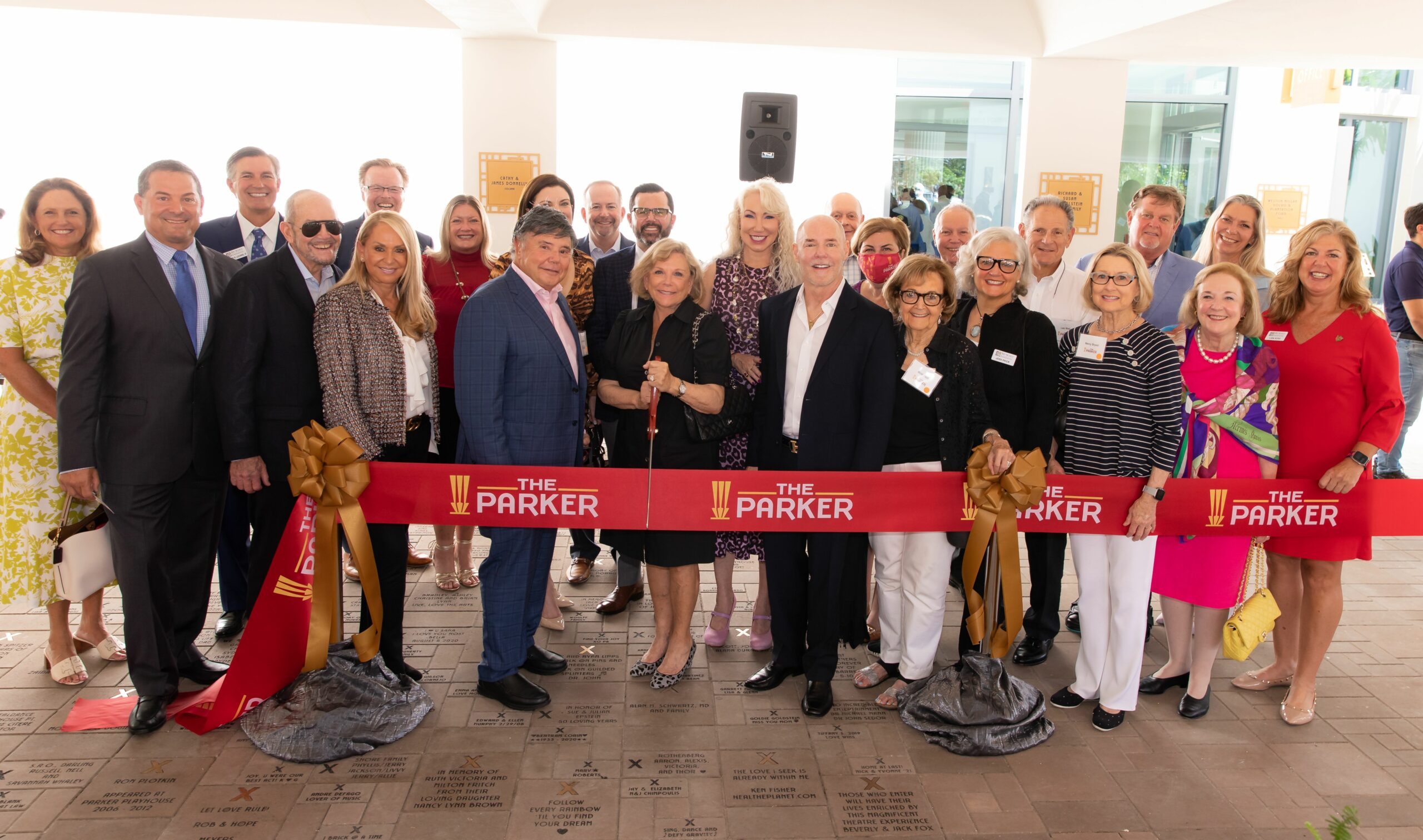 The Parker Hosts Rededication Ceremony
The celebration recognized the donors and supporters of the iconic venue
After undergoing $30 million in renovations to transform the facility, dignitaries, donors and supporters recently celebrated the reopening of The Parker, the legendary theater at 707 NE Eighth Street in Fort Lauderdale. The center is an affiliated venue of the Broward Center for the Performing Arts, which provides programming and management of the facility. The funds used to renovate the center, formally known as Parker Playhouse, were intended to revitalize its rich history as a place for arts and culture, entertainment and education moving forward.
"Everyone is ready for the theaters and concert halls to reopen after 18 months, and The Parker is doing that in style," says Broward Center president and CEO Kelley Shanley. "Guests will enjoy the experience as never before with new hospitality options and state-of-the-art acoustics, while the performers will be welcomed with more comfort and convenience. We are deeply grateful for the City of Fort Lauderdale's significant support and our generous donors who have made this possible."
Local officials on hand to celebrate the culmination of the facelift, was Fort Lauderdale Mayor Dean Trantalis, Fort Lauderdale Commissioner Steve Glassman, Performing Arts Center Authority Chair Barbra Stern, Broward Performing Arts Foundation Chair Richard Welch and Broward Performing Arts Foundation President Lisa Kitei.
"The Parker has been the pride and joy of Fort Lauderdale for so many years. It signifies who we are as a community," Trantalis says. "Here we are today knowing that these institutions we hold dear to our hearts will be part of a sustainable community. We are connected, we are committed, and we are now going to see a renaissance of this city like we've never seen before."
Featured renovations include a magnificent grand entrance, an elegant 1,147-seat Lillian S. Wells Hall featuring wide rows, continental seating, all-new state-of-the-art acoustics and enhanced sightlines for the audience. Enhanced hospitality spaces offer more opportunities for attendees to enjoy cocktails and conversation throughout the theater. Broward County students are set to return later this year for educational programs as part of the Broward Center's Student Enrichment Through the Arts Program in partnership with Broward County Public Schools.
The new S. Donald Sussman Lobby features soaring walls of glass that pay homage to the famed Parker façade. A grand entrance hall allows audiences to gather with friends before performances and during intermissions, enjoy cocktails at Bernie Peck's Bar and celebrate the special occasions at The Parker. The J.M. Family Enterprises Stage will host concerts, comedy shows, dance programs, family fare and more.
Another addition to the venue includes Bernie Peck's Bar, where ticket holders can purchase spirits and other beverages. Running the length of the Sussman Lobby, the enhanced bar has room for multiple bartenders to serve drinks and snacks before the show and during intermissions.
The Haller Club debuts an all-new premium lounge with a stylish retro design, spacious bar and ample seating. The Haller Club offers exclusive use for one inclusive price of $35 added to any admission ticket, starting one hour before showtime and during intermission, with complimentary soft drinks, premium beer and wine, coffee and tea. It also features a seasonal selection of hot and cold hors d'oeuvres and desserts.
The Place To Be – A Gift From The Wendts is a new exclusive donor lounge that invites Parker Players and benefactors to enjoy complimentary food and beverage service in a private hideaway downstairs one hour before and through the intermission of evening performances. The Bank of America Guest Services Desk, located in the S. Donald Sussman Lobby, provides patron assistance and concierge services at all performances at The Parker.
For more than 30 years, the Broward Performing Arts Foundation has been instrumental in supporting the Broward Center for the Performing Arts. The Foundation was established in 1985 to deliver the required private funding to build the Center and create an endowment to sustain its operations. Over the years, the Foundation has successfully raised funds to support the Broward Center's innovative and diverse programming, arts-in-education initiatives, community engagement activities and capital projects. For more information, email [email protected].