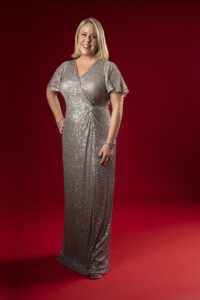 Sally Berenzweig
CEO of The Pap Corps
Charity Highlights
• The Pap Corps: For the past two years, Sally has been chief executive officer of the largest grassroots fundraising organization in South Florida, one that champions the state-of-the-art research being done at Sylvester Comprehensive Cancer Center at the University of Miami's Miller School of Medicine. She oversees the nonprofit's 51 chapters and 20,000 volunteer members; Sally estimates that 80 percent of the volunteers are cancer survivors who've benefited from the life-saving work at Sylvester. (thepapcorps.org)
• KidSafe Foundation: Sally is a co-founder with Cherie Benjoseph of the nonprofit that continues to teach personal safety to children and educates parents/teachers in an effort to prevent sexual abuse and childhood trauma. She served as CEO of the organization from 2006 to 2019. (kidsafefoundation.org)
Full Circle: Sally's ties to The Pap Corps extend beyond her own longtime affiliation with the organization—as well as that of her mother-in-law, a member of the chapter at Boca Pointe. Her late stepmother, Bobbi Friedman, founded the chapter at Woodfield Country Club in Boca Raton. Sally remembers driving her to Sylvester for treatment after Bobbi was diagnosed with what turned out to be inoperable lung cancer. Bobbi died in 2012.
"She'd look around the [facility] at some of the [younger people there for treatment] and say, 'I'm so lucky. I've been married to your father, the love of my life, for 42 years. I have seven daughters and 11 grandchildren. What do some of these people have? We must find cures—and research is the only way.' "
Woodfield continues to honor her legacy with the chapter's largest fundraiser of the year, the Bobbi Friedman Memorial Card Party and Luncheon.
Personal Touch: A recent email that Sally shared points to the impact that The Pap Corps makes beyond the fundraising that's resulted in more than $110 million for research at Sylvester.
A Pap Corps volunteer reached out on behalf of her sister-in-law, who had been diagnosed with cancer. The Pap Corps team was able to help facilitate an expedited appointment with a gynecological oncologist from Sylvester. "Although I'm petrified," the woman wrote, "I'm blessed to have connected [to the physicians involved with her case], and I believe I'm in great hands. None of this would have transpired as expeditiously or as efficiently without Pap Corps."
"As a member of Pap Corps, you have benefits like a physician referral program," Sally says. "Our partnership with Sylvester is so strong."
Sylvester's commitment to research, meanwhile, is even stronger. Look no further than the Sylvester Comprehensive Cancer Center/Transformational Cancer Research Building, the 12-story, 244,000-square-foot facility on which construction began in June. The ultramodern hub for cancer research, wellness and patient care is scheduled to open in 2024.
"It used to be, if you had cancer and you lived in Florida, you'd have to go out of state to a hospital like Memorial Sloan Kettering [in New York] for [cutting-edge] treatment. That's no longer the case because of Sylvester."
The Last Word: "I've always loved this quote from Winston Churchill: 'We make a living by what we get, but we make a life by what we give.' … I'm so lucky to be able to do what I do for a living, to be in a position to help people. Giving back is a way for me to express my gratitude."
Photography by Eduardo Schneider
Creative direction by Melanie Geronemus Smit