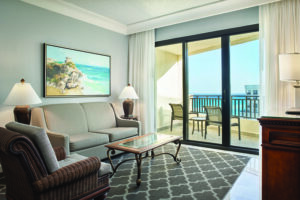 History is a matter of perspective when it comes to Cancún. While it's true that the Maya civilization flourished in southeast Mexico back in the day—"the day" being circa 250 to 900 A.D.—little about its current allure is steeped in centuries-old lore.
In fact, as recently as the 1960s, Cancún was a mostly uninhabited stretch of sand-swept dunes and mangroves that only a trio of coconut planation caretakers called home. By the 1970s, however, bulldozers were transforming the landscape and reimagining the potential of a city that hugs the northeast coast of the Yucatán Peninsula.
Tourism was the future. And for good reason. Americans were flying the friendly skies like never before to destinations that felt exotic—and accessible. During the '60s, the number of U.S. tourists visiting the Caribbean had quadrupled. Why couldn't a city with its own idyllic beaches and an offshore coral reef (the Mesoamerican, stretching more than 600 miles from Mexico to Central America) second in size only to Australia's Great Barrier Reef capture its share of travel enthusiasts?
The answer gradually revealed itself in the years after the first hotels opened (1974). People not only came to Cancún, but they were in no hurry to leave.
Decades later, the numbers continue to bear that out. In 2019, the last full year of tourism before the COVID-19 pandemic, some 6.15 million international tourists visited Cancún (the second most-popular destination in the country behind Mexico City). Nearly 70 percent of tourists vacation at least five days.
It's no surprise then that a company such as Marriott would plant its flag in the white sand overlooking the Caribbean Sea—and do so with a kick-back-and-stay-awhile kind of escape in mind. There are no ancient ruins to explore at Marriott Cancún Resort, but time does have a way of standing still at the sprawling property in the heart of the city's Hotel Zone.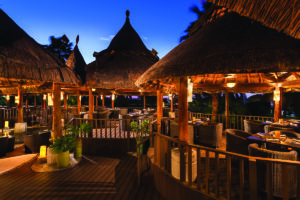 The vibe: Marriott Cancún Resort (not to be confused with its adjacent neighbor, JW Marriott Cancún Resort & Spa) does have roots in the Hotel Zone, a 14-mile island strip that boasts some 70 properties. The resort originally opened its doors in 1990, but a $25 million renovation in 2017, and additional upgrades since then, have cast its spaces in a refreshed and sophisticated light.
It starts in a jaw-dropping lobby (unveiled in May) that functions as far more than a place to check-in and check-out. Beautifully rendered in marbleized beige and cream tones—with polished terrazzo flooring, and chic, contemporary furnishings—the elongated, compartmentalized design sets an inviting tone, including framed views of the palm-lined grounds and oceanfront pool.
The centerpiece of the new lobby is the Great Room, the redesigned bar area and gathering spot with a dramatic ceiling treatment that recalls a star-filled sky. The real stars, however, rest on the bar's backlit shelving—a world-class collection of Mexican whiskeys and mezcals that leave little doubt about the dominant spirits pervading the resort.
The accommodations: Standard rooms at the Marriott Cancún, 412 in all, provide ample space (and many have ocean views). But the suite life (there are 38) is where it's at. The Executive suite (nearly 600 square feet) includes a king-size bed, living room and double balcony. The four Magna suites each span 835 square feet, with a guaranteed ocean view, wet bar, spacious bathroom, and a double balcony. Then there's the Presidential suite, all 2,000 square feet of it, with a fully equipped kitchen, living and dining rooms, two balconies—and a terrace with a whirlpool bath. It takes some effort to leave your feather bed cocoon in the morning (a pillowtop mattress adds to the comfort), but there are plenty of other ways to relax and recharge.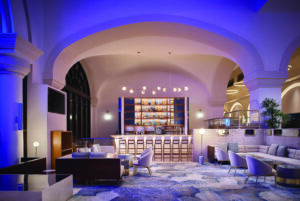 The amenities: The resort spa offers a standard slate of massages, facials, and body treatments, plus, there's a fitness center with weights, cardio equipment, and a his/her sauna. But no one is coming to Marriott Cancún for the StairMaster. The social center of the property is an epic tropical pool with a swim-up bar to complement La Isla, the open-air bar/grill that serves a variety of appetizers, salads and sandwiches. The beachfront scene is equally enticing, especially given the brilliant turquoise waters that look like they've been color-corrected for dramatic effect. The resort's recreation staff has been known to organize outdoor fun like beach volleyball, water aerobics, trivia, and cooking classes; activities might or might not be limited given the COVID climate at the time of your travels. There also are two hard courts for tennis fans.
The food: As if travelers needed more reasons to make the resort their temporary home away from home, Marriott Cancún boasts seven specialty restaurants that satisfy a variety of appetites. Among the highlights: Champion's serves up burgers and wings (and 40 TVs) for the sports bar crowd. Street-style Asian cuisine (think ramen, sushi, and sashimi) takes center stage at Kasai. The Teppanyaki chefs at Mikado put on a fiery show at designated grilling tables, resulting in traditional Japanese/Thai dishes. Sasi Thai, with its thatched roofs, flickering lanterns and bungalow ambience, offers a striking outdoor setting from which to enjoy dishes such as gaeng phed gai (chicken curry in coconut milk) and par goong (sauteed shrimp with chili, mint and lemongrass). Back on the powdery sand, SacBé Beach Shack is yet another scene-stealer with swinging bar stools, Moroccan-style driftwood tables, oversized pillows that serve as seats, and a Castaway charm that's enhanced by the waves, only a few yards away, crashing into the shoreline. The abbreviated menu of Mexican comfort food with Caribbean flavors receives a gourmet spin during the mezcal-pairing events the property can arrange. During a recent stay, Miguel Benavente poured offerings from his family's namesake brand of mezcal to go with small-plate dishes (including octopus chicharron with roasted tomato sauce and sprinkled pork rind crumbs) and even dessert (a habanero chocolate brownie with white chocolate caramel and honey liqueur).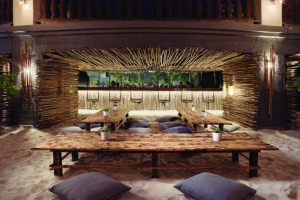 In addition: Adventure seekers can book any number of outdoor experiences in and around Cancún, everything from zip-line courses and ATV tours to all-day sailing trips and all-inclusive explorations of archeological sites. For those looking to stay near the resort, check out Parque Maya. You'll feel like James Bond behind the wheel of a two-person speedboat as it zigs and zags its way through the Nichupte Lagoon and into the open sea, where your group will eventually drop anchor—and snorkel a section of the Mesoamerican reef with life-size underwater sculptures that help to promote coral life. … For an off-site culinary adventure like nothing you've ever experienced, don't miss Chambao Fashion Grillhouse (across the street from the resort). As Bill Hader's "Stefon" character on Saturday Night Live would say, this place has everything: fashion models, live music, Cirque du Soleil-style entertainment, fireworks—and, oh, yes, a dizzying menu of elevated steak and seafood cuisine—all delivered against a stylish waterfront backdrop of flowing white drapery, warm woods and artful lighting. Don't miss it.