Terri Behr has been an interior designer with City Furniture since 2004. The senior designer tracks trends that are picking up steam across the country and helps make them achievable through the South Florida-based furniture company.
So, what's one trend sweeping across the tri-county region (and beyond)? That's easy. Just turn on your TV or visit a Target to see firsthand.
"Farmhouse rustic without a doubt," Behr says.
She credits the spike to the popular HGTV television show, "Fixer Upper," starring Joanna and Chip Gaines, which enjoyed a five-season run that ended last spring. Along the way, the Gaines' have produced books, opened a restaurant, and developed clothing and home decor lines under their moniker, Magnolia. Their "Hearth & Hand with Magnolia" collection at Target has enjoyed great success, with prices ranging from around $15 to $200.
Behr says the trend has been especially popular with millennials, and she's not wrong. Gone are the days of being able to gather "design-spiration" only from catalogs. Now, millennials are doing it with a swift double-tap on apps like Instagram. The hashtag #farmhousestyle has 1.8 million posts, and #midcenturymodern has 2.2 million.
But just because you can find Mason jars and plaid throw blankets all over the aisles of Target doesn't mean that farmhouse rustic is the only interior design trend to watch for in 2019.
The hashtag #interiordesign has 54 million posts for a reason. People love to revamp and reimagine their spaces. So, in addition to Behr, Lifestyle checked with other local home design gurus about what's on their radars. From using outdoor-friendly fabrics inside to creating an outdoor oasis, here are five trends to look out for, say the pros.
Eclectic De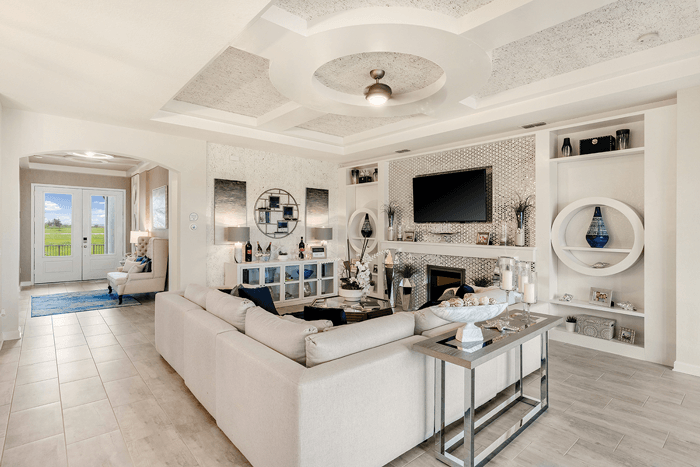 cor
The experts: The Lennar Palm Atlantic design team, including interior designer Anai Beam
The trend: Some look at this design trend as more of a marriage between old and new, antique and modern, but it's really much more than that. Eclectic style is the seamless blending of colors, styles and time periods within interior design. According to Apartment Therapy, the look comes together by incorporating a mix of textures, trends and colors but unifying it all through a consistent theme or motif to avoid chaos. The Lennar team adds: "Across the board there's a mixture of furniture styles, from contemporary to mid-century modern, often with an eclectic piece or two blended in."
How to achieve it: For a living room, the team suggests mixing a traditional L-shaped sectional in a muted color (like gray, blue or brown) with mid-century modern leather chairs in warmer tones (like butterscotch). Then, add a contemporary wood or metal coffee table with a statement piece, like a minimalist iron-ring chandelier.
The expert's take: "Driven by an undeniable demand for a truly unique look that is still timeless, this top trend toward eclectic combinations means blending both color and styles when it comes to furniture, lighting and accent decor," Beam says. "[It's] one of today's hottest home design trends."
Contact: lennarpalmatlantic.com
The Staycation Vibe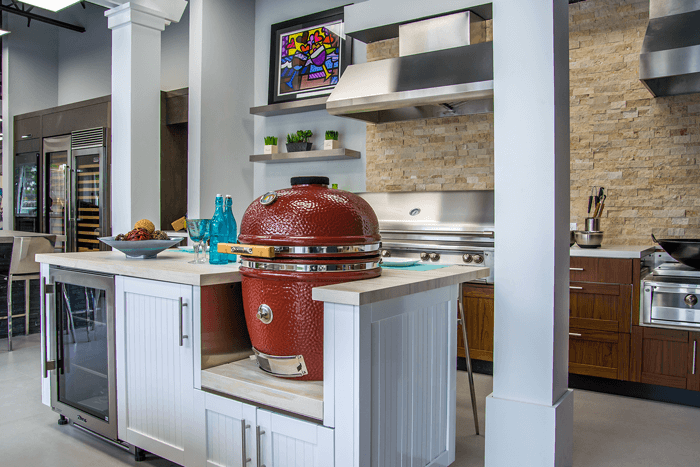 The expert: Bill Feinberg, president of Allied Kitchen & Bath
The trend: With hotel and restaurant rates rising, many homeowners are taking the staycation trend as literally as possible, making their home—including outdoor spaces—feel like a destination spot.
How to achieve it: Make your grill the focal point. You can do this by creating a centerpiece around whatever you're cooking on, with countertops or mobile islands. "Even if the space is limited, an existing grill can be built into a custom-designed workspace," Feinberg says. From there, the sky's the limit. For an outdoor area, Feinberg suggests elements like cabinetry, a pizza oven, maybe an outdoor refrigerator or one for wine. "Add some comfortable outdoor seating, and your backyard will rival any luxury resort around," he says.
The expert's take: "Staycation is fast becoming a regular phrase, especially if you live in South Florida," Feinberg says. "When you factor in the thousands of dollars you might spend on a week's vacation, it is easy to create a budget that will make your current backyard into a paradise to be enjoyed for many years to come, not just one week."
Contact: 616 W. Oakland Park Blvd., Fort Lauderdale (Allied Kitchen & Bath); 3484 NE 12th Ave., Oakland Park (Allied Design Center); alliedkitchenandbath.com
Performance Fabrics
The expert: Anel De Castro, director of design services for DCOTA (Design Center of the Americas)
The trend: Using indoor-outdoor compatible fabrics throughout a space to add versatility and breathe new life into an old piece. According to the Wall Street Journal, the bar for outdoor-friendly fabrics rose dramatically this season. From indoor-outdoor wovens and linens to performance velvet that can withstand all weather conditions, textiles can flow cohesively throughout a space without restriction. They're also extremely kid-proof, pet-proof and messy-adult proof, with some of the fabrics allowing bleach cleaning.
How to achieve it: Indoor-outdoor fabrics can be purchased by the yard and applied to favorite pieces of furniture, window treatments, pillows and rugs for a consistent-yet-durable look. "The luxury living room, family room and playroom are back with incredible flexibility," De Castro says.
The expert's take: "My favorite trend that we are now seeing in our luxury showrooms is the integrated use of new all-powerful performance fabrics," De Castro says. "Technology has re-engineered what we described as indoor-outdoor fabrics into lightweight, super-soft and resilient new materials that are stunningly beautiful. … Value is vitally important to us all. People understand the value of being able to actually live in their homes and use their newly designed spaces. Imagine living in your home without fear of spilling red wine on your sofa, pet accidents on your rugs and having several kid-friendly spaces, not just the typical playroom."
Contact: 1855 Griffin Road, Dania Beach; dcota.com
Farmhouse Rustic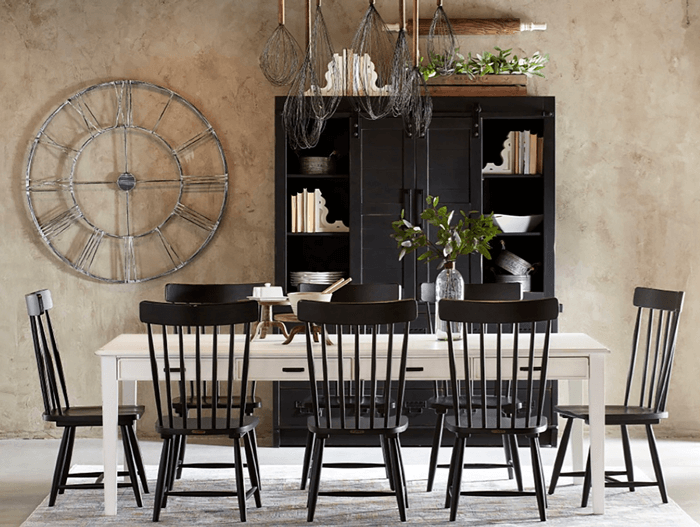 The expert: Terri Behr, senior designer for City Furniture
The trend: Farmhouse rustic is a mix of warm, country charm but with an added twist of industrial function. It's a mix of textiles, natural fabrics, vintage-inspired items, and wood and metal furniture that work together to create a nostalgic feel.
How to achieve it: This look doesn't have to cost much. In fact, Behr says it doesn't have to cost anything. The magic is in incorporating personal items like hand-me-downs, family heirlooms and old photos. Other pieces suggested by Behr to achieve the trend include: an oversized clock, shiplap walls, industrial furniture and barn doors. Other items suggested by Country Living include antique trunks, decorative plates to use or to display on a wall, a chalkboard, Mason jars and fresh wildflowers.
The expert's take: "Farmhouse rustic is super popular with millennials right now," Behr says. "It's the warm, cozy and full-of-charm blending of old and new styles to create a heartwarming decor."
Contact: 3501 N. Federal Highway, Oakland Park; 3350 N. Airport Road, Boca Raton; 11249 Pines Blvd., Pembroke Pines; 6701 N. Hiatus Road, Tamarac; 5250 W. 20th Ave., Hialeah; 9255 S. Dixie Highway, Miami; visit cityfurniture.com for additional South Florida locations
Lighting
The expert: Lisa Ricci, vice president of marketing for Interiors by Steven G
The trend: Besides illuminating a space, lighting is an opportunity to bring a space together with a statement piece. Lighting can serve as the central element for a room's design. It's a functional trend that lends a hand in making sure an area has the right mood—and it's not a one-size-fits-all trend (romantic dim lights won't work in an office space). And as technology continues to advance, the trend continues to evolve, with energy-saving and even Bluetooth elements popping up.
How to achieve it: Ricci stresses the importance of incorporating the height of your ceilings into decisions related to lighting strategy. This is especially important for hanging fixtures, since some come with adjustable cables and some don't. Other potential lighting elements include wall sconces, which can create a softer ambience and avoid harsh downlighting. Also, always take note of where your outlets are.
The expert's take: "We believe the biggest part of any design trend is lighting," Ricci says. "The options are endless [when it comes to] the elements that can come together—whether it's from a ceiling fixture, recessed LED lighting (which can be used in drop ceilings or to accent a gallery art wall), stairway lighting, toe-kick lighting, backlighting on a wall or bar, or lighting with color." Ricci's biggest tip for achieving good lighting? "Planning ahead is the most important part," she says. "Knowing where to place it and what you like is critical to achieving a home with overall efficient lighting with ambience and the perfect mood for every space."
Contact: 2818 Center Port Circle, Pompano Beach; 18288 Collins Ave.,
Sunny Isles Beach (boutique showroom); interiorsbysteveng.com