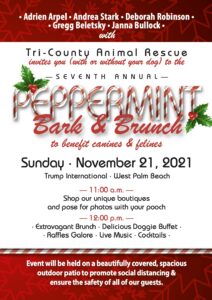 Guests can bring their furry companion for a day of brunch, live music, a doggie buffet and a chance at various gifts and prizes during Tri-County Animal Rescue's annual Peppermint Bark & Brunch. The event will benefit Tri-County's Emergency Medical Fund, which provides life-saving pro-bono surgeries and other crucial medical procedures.
Andrea Stark, Adrien Arpel, Debra Robinson, Jean Shafiroff, Janna Bullock and Gregg Beletsky are the event's co-chairs, which will also honor Lois Pope for her dedication to the Tri-County Animal Rescue. Pope's gift led helped Tri-County to build the Lois Pope Pet Clinic in June of 2019. The state-of-the-art, fully equipped center provides health care for thousands of low-income families in the area who cannot afford medicine, shots, medical tests or spaying and neutering of their pets.
Attendees are highly encouraged to dress their pups in their holiday best for portraits. Tickets are priced at $375, which can be purchased by visiting https://tricountyanimalrescue.com. The event will occur on Sunday, Nov. 21, at 11 a.m. in an outdoor tent at Trump International Golf Club in West Palm Beach.