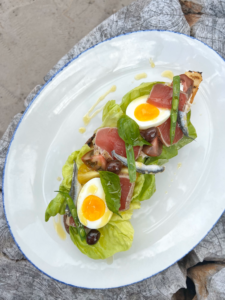 DUNE by Laurent Tourondel on Fort Lauderdale Beach will offer a special oceanside Easter Brunch from 11 a.m. to 3 p.m. on Sunday, April 9. Globally renowned Chef Laurent Tourondel helms the restaurant, which will be providing an elevated brunch menu and appetizing Easter Brunch offerings, including avocado toast, spaghetti carbonara and a tuna nicoise crostini. To enhance the Easter brunch experience, a live jazz performance by Will Bridges will be featured at the venue.  
The complete list of Easter menu specials includes:  
Avocado Toast | Sullivan St Filone, smashed avocado and peas, charred Florida sweet corn, pickled Fresnos and shallot, poached egg, Ossetra Caviar – $23 

Spaghetti Carbonara | Smoked bacon, pecorino, poached egg & cracked black pepper – $28
Tuna Nicoise Crostini | Confited Tuna Salad, fresh seared Tuna, white anchovy, Sullivan Street Bakery Filone, haricot vert, capers and olives, soft boiled egg – $24
For reservations and more details, please visit Dunebylt.com.