Second Act: It's not uncommon, in the restaurant sphere, for properties to launch under different ownership as fresh culinary concepts with new names. But the reopening last November of Dune, part of the luxury residential footprint at Auberge on Fort Lauderdale Beach, offered a curveball, albeit a tantalizing one. The name would remain the same but with an addendum—one connected to a globally renowned French master with a Michelin star under his chef's hat.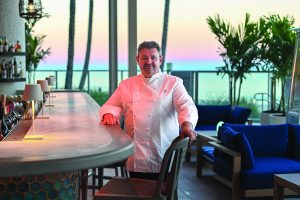 Past Perfect: To say Laurent Tourondel's reputation precedes him would be a massive understatement. The native of Auvergne, France, drew raves in the early 2000s for his BLT concepts, including the one that earned him a coveted Michelin star (BLT Fish in New York). Though many of his current restaurants, including the popular Skirt Steak, are in the Big Apple, Tourondel is hardly new to South Florida; his LT Steak & Seafood is on Ocean Drive in Miami. As his thoughts turned to further expansion, the beachfront setting at Dune proved irresistible. The reimagined indoor/outdoor space, exquisitely rendered, brings diners closer to the crashing waves. The menu, meanwhile, brings them right into Tourondel's wheelhouse.
Fish Stories: Inspired by Dune's backdrop, Tourondel created a something-for-everyone menu that does emphasize seafood—so much so, that a portion of the original sprawling indoor spirits bar is now a sushi bar. The tightly curated nigiri, crispy rice and sashimi offerings, along with six-piece rolls (like the Hamachi and jalapeno with yuzu guacamole), play seamlessly with fish finds on the starter side—including grilled Spanish octopus and a standout seafood salad with lobster, calamari, red shrimp and blood orange vinaigrette.
Surf & Turf: Tourondel points to the grilled branzino (bathed in lemon broth with fennel, artichoke and coriander) as the most popular entrée—although the light and flavor-rich bigeye tuna with Swiss chard and roasted beets, as well as a 2-pound lobster, prepared piccata-style inside, also attract considerable attention. On the beef side, favorites include a 22-ounce ribeye, aged for 28 days; organic chicken diablo, with pickled cherry peppers and smashed fingerling potatoes; and center-cut French veal chop Milanese.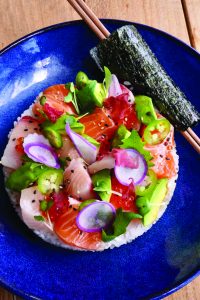 Luxury Bites: The expansive indoor and outdoor bars at Dune are perfect for the craft cocktails and gourmet small plates offered. On the foodie side, think crispy beef nigiri with truffle aioli; mushroom and truffle flatbread; chorizo ravioli with beef, onion, peppers and spicy paprika sofrito; and a grilled prime burger with truffled cheese, caramelized onions, baby spinach and homemade fries. The Sunday brunch, available 11 a.m. to 3 p.m., also raises the gourmet bar with mouthwatering entries like lemon blue crab with poached eggs on a croissant; tres leches brioche French toast with chili confit pineapple; and buttermilk coconut pancakes with a rich pina colada sauce.