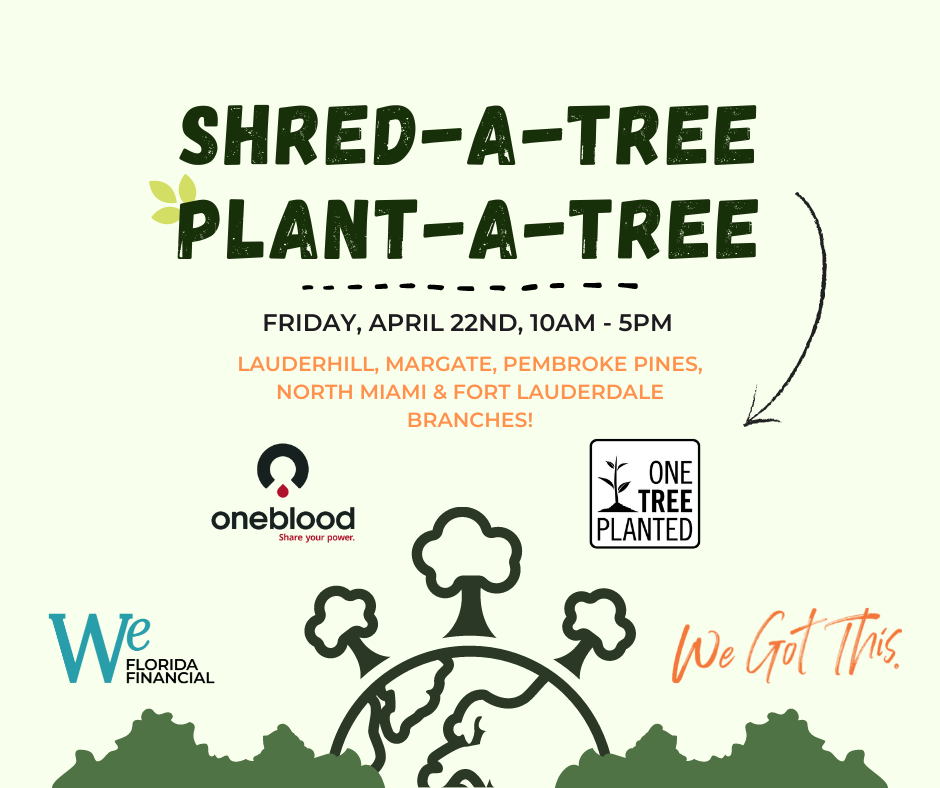 We Florida Financial Celebrates Earth Month With Shred-a-tree/plant-a-tree Events
Residents are encouraged to join the efforts to support the community and the environment
We Florida Financial, a cooperatively owned, not-for-profit credit union, will celebrate Earth Month by hosting two Shred-a-Tree/Plant-a-Tree events benefiting One Tree Planted and partaking in the beach cleanup efforts for The 5th Annual SOS Ocean Conservation Day.
Members and locals are welcome to bring their sensitive documents to be securely shredded and disposed of by a professional shredding company. Upon completion of the shred events, the total weight of the papers shredded will be tallied. We Florida Financial will donate one dollar for every two pounds of shredded paper to One Tree Planted, a nonprofit organization focused on global reforestation, which plants one tree for every dollar donated.
The Shred-a-Tree/Plant-a-Tree events will take place:
Friday, April 22, 2022 | 10 a.m. to 5 p.m. at the We Florida Financial Branches. Locations include:
Pembroke Pines Branch – 9560 Pines Blvd. in Pembroke Pines, FL 33024

Lauderhill Branch – 6079 W. Oakland Park Blvd. in Lauderhill, FL 33313

Margate Branch – 1982 N. State Road 7 in Margate, FL 33063

Fort Lauderdale Branch – 634 NE 3rd Avenue in Fort Lauderdale, FL 33304

North Miami Branch – 680 NE 124th Street in North Miami, FL 33161
Sunday, April 24, 2022 | 9 a.m. – at The 5th Annual SOS Ocean Conservation Day
Upon arrival, guests can look for the 'We Florida Financial' tent, and a team of dedicated staff will assist in securely shredding documents. The event is located at Las Olas Oceanside Park at 3000 East Las Olas Blvd. on Fort Lauderdale Beach. This event benefits the Stoked on Salt (SOS), a nonprofit organization working towards a clean ocean planet.
"In addition to hosting shred events for our patrons and local community members, the We Florida Financial team of associates is incredibly proud to partake in the shoreline cleanup during the Annual SOS Ocean Conservation Day," Dawn Clark says, Vice President of Marketing for We Florida Financial. "It's an incredible opportunity for our team to personally donate their time in making a difference in our environment."
For more information about the Shred-a-Tree/Plant-a-Tree events, please visit www.wefloridafinancial.com/3-wide/shred-a-tree-plant-a-tree-3. For more details about the benefiting organizations, please visit www.onetreeplanted.org or www.stokedonsalt.com/ocean-conservation-day.