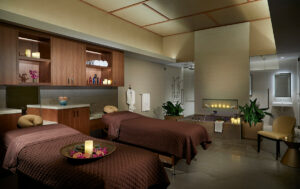 The lowdown: When the Seminole Hard Rock team incorporated a sprawling ultra-luxury spa into its $1.5 billion expansion plans, it obviously didn't do so with a global pandemic in mind. But it turns out that the third floor of the already-iconic Guitar Hotel (which opened in October 2019) might just be the place where all the COVID-related stress of the past year meets its match. Thoughtfully rendered over 42,000 square feet, Rock Spa & Salon pushes all the right aesthetic and rejuvenation buttons. It starts at check-in, where patrons are greeted with a warm towel and led down a hallway lined on one side by a 55-foot-long living wall (the other side overlooks the resort's Vegas-style pool area). Beyond the lockers, patrons are invited to spend pre-treatment time inside Rock Spa's striking and sprawling centerpiece, an elongated atrium with a skylight through which guests can see the 450-foot-high Guitar Hotel (and its light show at night). The design oozes contemporary calm, bathed in warm woods, cushioned lounge seating, faux-wood flooring and lush plant life. It's also filled with amenities, including a cold plunge pool, a separate lap pool, sauna, hot tub, and a relaxing salt-suite area. But the best is yet to come.
Spotlight treatment: The chic, soothing design vibe extends to Rock Spa's 21 treatment rooms, including special body treatment spaces, couple's suites, and Rhythm & Motion rooms. The latter speaks to the spa's emphasis on good vibrations as part of its music-centric menu. The Synchronicity treatment, to borrow from The Police song by the same name, induces "a dream dance" by connecting a rhythmic soundtrack to a pulsating massage table that plays off the beat. The experience comes together with essential oils and a head-to-toe massage by one of Rock Spa's experienced professionals, who will adjust pressure and work on especially tense muscle areas based on your needs.
Other spa highlights: The tightly curated massage menu includes standard deep-tissue and Swedish offerings, as well as a specialty "Mother to Be" treatment that can be tailored to different stages of pregnancy. The Sole Saver, meanwhile, engages pressure points on the hands and feet to release blockages and alleviate discomfort. … Rock Spa also offers a variety of Elemis Biotec performance facials that incorporate Biotec Technologies—think bursts of pure oxygen into the skin; pulsating microcurrents that awaken the skin's biological energy; and light therapy for stimulating deep-layer skin rebalancing. The five-phase Biotec Platinum treatment draws on the aforementioned technologies to target signs of aging by exfoliating, lifting, toning and smoothing the skin. … The full-service salon is staffed for haircuts, coloring, braids/extensions, waxing services, manicures and pedicures. … Customers also have access to a 3,200-square-foot fitness center.
Prices: Synchronicity ($275 for 80 minutes; $195 for 50 minutes); Sole Saver ($165 for 50 minutes); Mother to Be Massage ($235 for 80 minutes; $165 for 50 minutes); Deep Tissue Massage ($245 for 80 minutes; $175 for 50 minutes); Biotec Platinum facial ($310 for 100 minutes; $285 for 80 minutes); HydraFacial Experience (Platinum: $350 for 80 minutes; Deluxe: $265 for 50 minutes; Signature: $199 for 30 minutes)
Contact: Seminole Hard Rock Hotel & Casino (1 Seminole Way, Hollywood); 866.502.7529; seminolehardrockhollywood.com/amenities/rock-spa-and-salon