Zach Dishinger, Founder/CEO, Formula Z Cosmetics
The back story: The senior at American Heritage School, a self-described "theater kid," recalls going public with his personal interest in makeup as early as fifth grade, when he'd wear MAC concealer to school. Though he would be bullied for expressing himself, Dishinger describes makeup as a liberating "release." With the help and support of his Weston-based parents, Tara and Jim, that passion evolved into a business with national buzz—Formula Z—which Dishinger launched at age 15 (formulazcosmetics.com). In May, the beauty brand's Luxe Diamond Glosses debuted at Bloomingdale's, as part of the store's "Pride for All" pop-up Carousel. Proceeds from the brand's Mission Z matte lip color support The Trevor Project, which provides crisis intervention and suicide prevention services to LGBTQ youth. Dishinger, who will be honored this month with Equality Florida's Youth Voice for Equality Award, turns 18 in December.
Being true to himself: "To me, it's not wrong for a guy to wear makeup. That's my norm. Other people just have to deal with it. The more accepting you are of yourself, the easier it is to deal with the noise around you. It's not that the noise goes away; there probably are people in high school who say stuff about me. I just don't notice it. I'm focused on where I need to be."
Support system: "When I put on makeup, I was bullied for being who I was—for being gay. But when I was in fifth grade, I don't think I knew what gay meant [in terms of sexuality]. I just knew that's who I was. From an early age, it's been such a nonbinary experience for me. It's been so fluid. I would encourage every parent to create that environment for their child. Give your child room for [self-expression]."
• "I would not be where I am today without the support from my parents. But not everyone has that situation. That's why it's our commitment to help people who may be dealing with an identity or sexuality crisis—and making sure they walk out alive and sane and healthy. It may seem like a no-brainer to my mom and dad; it's not a no-brainer to every parent. No matter how your child identifies, they're still your child."
Behind the brand: "When is the last time you walked into a department store and saw a display with men wearing makeup? There are so many markets not being represented. It's my job to create cosmetics for boys and beauty, and for people who aren't being represented."
• "From the beginning, it was important for me to have a strong point of difference rooted in the ethos of the brand. Formula Z is transforming beauty based on our platform to help others stay true to who they are, to be unconditionally accepting and to step out of their comfort zones."
• "Makeup is not only powerful, but it's also empowering. The world doesn't need another lipstick. The world needs a brand that helps people be themselves."
• "Forty percent of the market of all U.S. consumers is made of Generation Z. And they support brands that take stands on issues that they support. So, it's not just makeup. It's a movement."
Today's LGBTQ youth: "People are coming out now in a way that they couldn't 20, 30 years ago. But as we become more progressive as a society, we also become more [polarized]. We're so blunt with how we speak as a nation. And that only invites people to be divisive."
• "[Our generation] wants proper representation. There are voices that should be heard. The members of this cultural revolution—Generation Z, millennials—are speaking out on issues that we believe in, that we want to fight for."
• "We also need allies. A lot of people think that the LGBTQ community is only for people in the community. But we need the mom-huggers. We need people who are just there to support people going through a tough time. You don't have to be gay to let us know that you're harboring a safe space."
• "I'm the president of Gay Straight Alliance at American Heritage. We need everyone who supports us at school, not just the gay and lesbian [students]. We want to feel like we have a true family, people who have our backs. It's not just the people in the LGBTQ community who will be making change; it needs to be people in all directions."
The ties that bind: "I cherish the relationships that have emerged on this journey. I connected with a girl who [struggled to] come out to her parents. When she finally did, her dad started beating her up [for being gay]. Because the mom supported the daughter, the dad started physically abusing his wife. We had the chance to meet them both at one of our pop-up shops in Los Angeles. They're doing amazing. They left the dad. It's been a total transformation for the girl, not just physically but on the inside, by accepting who she is."
• "I get hundreds of messages from people who can't come out—or who have come out and are dealing with the aftermath. Because of the support system that I have, I feel obligated to help others who don't have that."
• "No matter what anyone tells you, just go for it. You may not be accepted right away, but there are millions of people who will celebrate you for who you are."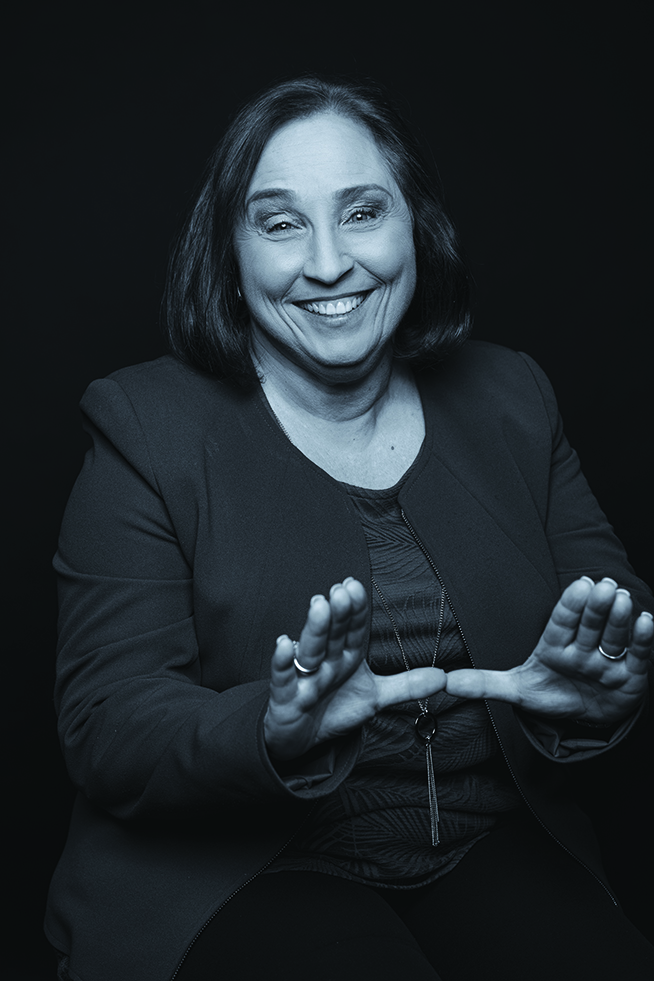 Nancy K. Brodzki, Marital and Family Law Attorney, including LGBTQ Family Law
The back story: The founding partner of Coral Springs-based Brodzki Jacobs & Brook (and proud University of Miami graduate, as evidenced by "The U" gesture in her photo) is one of the state's recognized authorities when it comes to LGBTQ family law. Brodzki made headlines in that arena when she represented a woman who married a woman in Vermont—but needed a divorce in Florida. Her legal strategy was to challenge Florida's constitutional ban on recognizing same-sex marriages performed in other states or countries. Judge Dale Cohen declared the ban unconstitutional on Aug. 14, 2014, and granted the divorce that December—only weeks before same-sex marriage became Florida law on Jan. 6, 2015. Brodzki, who was married to a man for more than two decades and had four children, is a board member of SAVE, Florida's oldest LGBTQ rights organization. While Broward, Palm Beach and Miami-Dade counties have laws to protect the LGBTQ community from discrimination, statewide protections do not exist.
Legal complexities in Florida: "You can be fired, right now, for being gay in Florida. Let's say I'm working somewhere else [other than Broward County] and I get fired for being gay. … You can bet that my employer is going to seek protection from the state. If I'm in a county that doesn't offer protections, and this goes to court, there's no telling what an appellate court in the Panhandle up in the First District—or what the Florida Supreme Court—might do."
A wedding story: "I represented somebody in an [Equal Employment Opportunity Commission] complaint in Tampa who was denied a wedding venue. The brides are lesbians. [The female employee said] 'I can't even give you a tour. We don't do gay weddings.'"
• "The owners settled with the administrative judge and agreed to close the venue. And then they reopened it under a different name."
Cake Baking 101: "It's still legal [under state law] to discriminate and say: 'I don't want to bake a cake for you, because you're gay … I'm not delivering it to your wedding.'"
• "You can think of all kinds of cakes where you're [a] baker and you say, 'I won't bake a Nazi message cake.' Or if you're a prude, 'I won't make a vagina or penis cake because that offends me.' OK, freedom of artistic expression. But if you bake 'Floral Cake No. 7,' it shouldn't matter who it is that wants to buy it—or what kind of ceremony they want to use it [for]."
• "But in Florida, don't bet on it. [There's] no law that prohibits it. What we do have is a patchwork of laws in municipalities and counties—in the more progressive areas of the state—that ban these practices."
Nancy's personal journey: "If you ask me how I identified back in the 1970s and '80s, we didn't really even use these terms. But I was clearly bisexual in my actions, and I fell in love with a man [in college]. We were married 23 years and had four children."
• "My sexuality was not an issue in my marriage. We were going in different directions. When I got divorced, I made this decision: 'I haven't dated in 27 years. I think I'll date a woman and see how that goes.' Having had short-term relationships with other women in my late adolescence and before I was married, I pretty much decided I was done with men."
• "I happened to meet the love of my life on the same day my divorce was final [June 27, 2005]. We were married July 12, 2007, in Toronto."
Her transgender daughter: "In high school, [her now-23-year-old child] presented as a man, used male pronouns and used the male bathrooms. She's been fortunate because she was working at this job before she transitioned, and as she's transitioned, she's had no problems. She has not experienced any overt discrimination. That is definitely not everyone's trans experience."
• "There are cases now before the U.S. Supreme Court regarding trans people who have been fired from their workplace for not being gender compliant."
January 2015: "We were all in the courthouse the night of Jan. 5 [the day before same-sex marriage was legal]. [The clerk of the court] opened the courthouse at 10 o'clock, and they had judges to help officiate and clerks there to process marriage licenses."
• "[A few weeks later], we had the first same-sex wedding at Temple Beth Am in Margate, officiated by our rabbi [Paul Plotkin]. I was very proud of him for that."
Dealing with disapproval: "We were recently on a cruise. I literally gave my wife a peck on the lips, like you'd give a peck to your sister. [A woman] said, 'I could have lived my life without seeing that.' "
• "I'm not someone who would do something inappropriate in public. My wife would never allow that. But … this upsets you? I can only imagine what other things I could do that would upset you even more."
—Sally-Ann O'Dowd
Photography by James Woodley
Creative direction by Melanie Smit