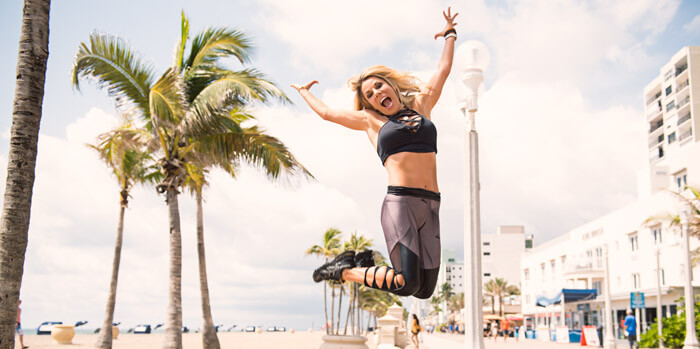 Zero Willpower Tips For Weight Loss!
Linzi Martinez
Personal Trainer/Nutritional Therapist
Host/Executive Producer of the award-winning HHS Makeover TV Series
FB: Happy Healthy Stronger
IG: Linzimartinezofficial
Becoming your best should be easy and attainable, it doesn't have to be hard at all! There are some hidden truths to natural weight loss that are so simple they are often overlooked! This month I want to share some super easy ways to assist you in reaching your healthy weight fast! 1) Drink more water: why you ask? …thirst is often masked by hunger…. Meaning that people that do not drink as much as their bodies need will have a hungry feeling when in fact, they are thirsty!!! Their bodies are used to getting the fluids they need from food!!! Extra calories one does need – just drink a glass of water! How much? Half your weight in ounces! I always tell my clients to make sure they have a glass of water (8oz) prior to giving in to a craving and prior to going to a restaurant!!! A fantastic way to lower your daily caloric intake!
2) Get enough sleep! An oldy, but perhaps the real reason has not been revealed! When you are tired your body needs instant fuel to stay awake by nature! Instant fuel is only in the form of simple carbohydrates like chips, cookies, cakes, muffins, pasta, breads … well, white anything! These simple
carbohydrates will call for insulin, which will store whatever you do not burn into fat! Furthermore, if you are tired, you're probably not burning a lot of calories! You get the picture…total weight gain! The problem is you're totally made to crave this type of food when you are asking your body to stay awake and it needs to sleep!!! Your caloric intake will be less with a solid night sleep! (8 hours are best!) It's an
amazing way to stop over eating! Try these to start! Brilliant easy ways to decrease your calories and get healthy, lean and beautiful! You deserve to feel ridiculously alive! Stay tuned for next month for more Tips! Join the January one-week Weight Loss Academy on FB (January 17th-23rd) and
learn to do this for life! Love always, Linzi Martinez CPT, NT