Maya Ajmera advises young people not to ask themselves what they want to be when they grow up. As president and CEO of the Society for Science & the Public, and someone who oversees the organization's competitions for students across the country, she instead asks them to consider what problem they want to solve when they grow up.
"We want to inspire the next generation of young people in this country to become scientists or engineers," Ajmera says. "They have to solve the problems that we are facing right now: climate change, pandemics, new technologies."
Thankfully, plenty of them are doing just that. One of them is 15-year-old Zoe Weissman, who placed among the top five finalists in the society's Broadcom MASTERS science competition for middle schoolers—that's after placing in the top 300 of 3,500 applicants. [Editor's note: MASTERS stands for Math, Applied Science, Technology, and Engineering for Rising Stars.] An aspiring doctor since she was little, the Parkland resident believes that science can be used to solve societal problems that "a lot of people aren't even using science to look at."
For her part, she's used science to influence lawmakers as the co-director of March for Our Lives' Parkland chapter, which works to end gun violence in the wake of the shooting at Marjory Stoneman Douglas. (Weissman was at Westglades Middle School when she heard shots from the school next door.) She raised money on GoFundMe for the state chapter to present its "Peace Plan For A Safer Florida" in Tallahassee, calling for bills to reduce gun violence. She also started a chapter of March for Our Lives at her current school, American Heritage School in Plantation.
"I like to use science when I try to convince other people to support different policies because if you really think about it, gun violence is essentially a public health issue," says Weissman. "Every single important problem in society can be looked at using science and solved using science. But, unfortunately, I feel like a lot of people almost ignore the science behind many things. And it just leads to more consequences as we're seeing with the pandemic."
Public health also figured into Weissman's entry for the Broadcom competition for which she received the $10,000 Robert Wood Johnson Foundation Award for Health Advancement. In her project, which she worked on from June to November 2019, she found more problems she was interested in solving.
While looking for a topic, she found a paper discussing how men and women perceive pain differently. After more research, she found that though more chronic pain patients are women, most drugs work better for men because of misconceptions about how estrogen levels affect women. She wanted to find alternatives to opioids that could work well for both men and women, focusing on phytochemicals, which come from plants.
"When I first learned what the opioid crisis was, I didn't understand how that even happened. I just couldn't comprehend why people would make drugs that would be so addictive, and then overprescribe them to people, and let it get to the level that it's gotten to the U.S.," she says. "Why is this such a huge issue that no one's really paying much attention to in scientific research? Even though there's a lot of research being done on opioids, we're not really focusing as much on alternatives that we can replace opioids with."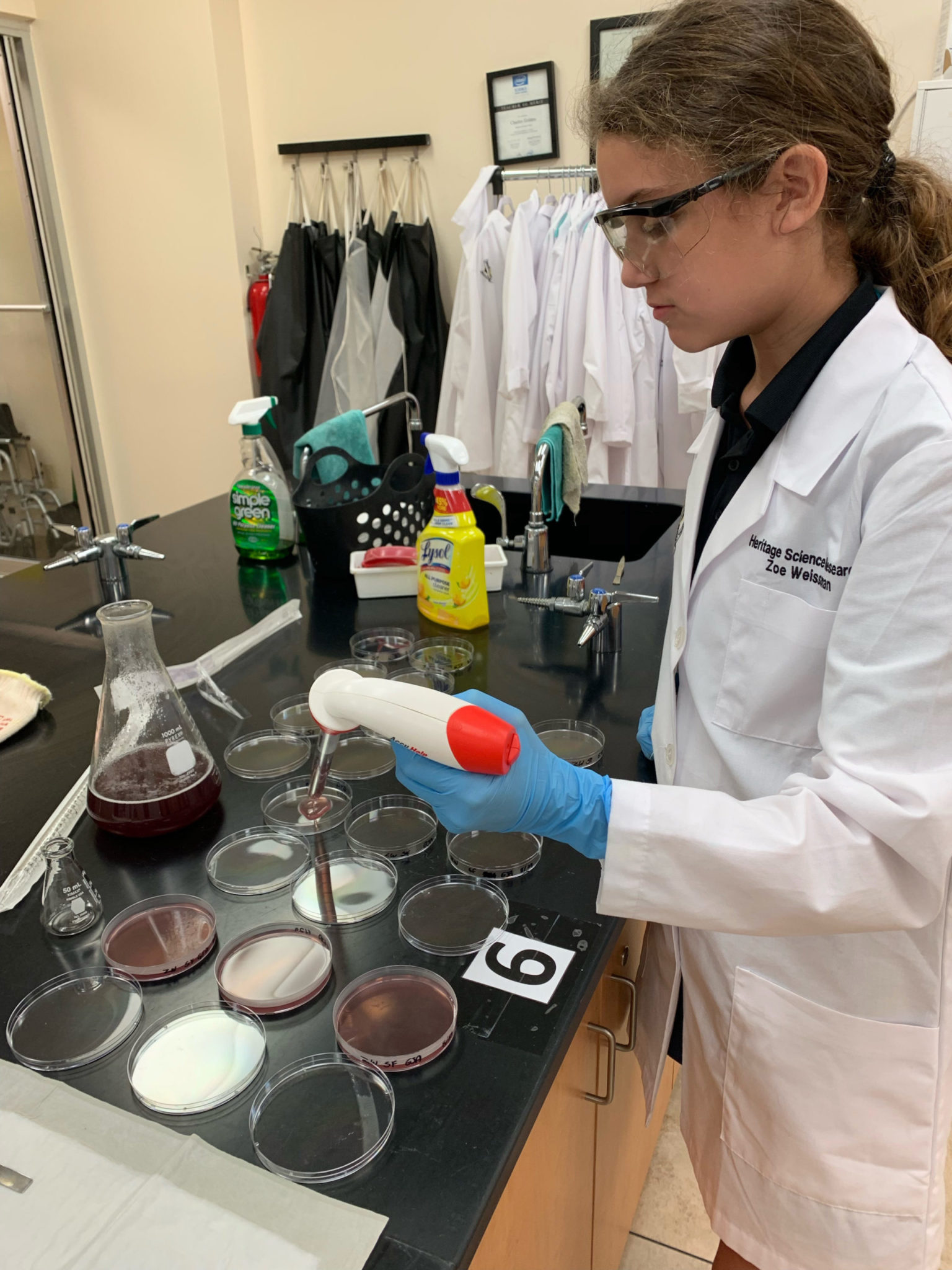 Weissman's project included a board of her results as well as a 40-page paper. She used about 8,000 fruit flies for 10 trials, separated into three assays (tests within the experiment) to examine pain treated with salicin (from Willow tree bark), cinnamic acid (from cinnamon) and caffeine. (The genome of the fruit fly has been almost fully sequenced, Weissman says, making them ideal for study.)
It was a complicated experiment, with a few challenges, including figuring out how to put the fruit flies to sleep long enough to be able to separate them by sex and spending a week calculating how many chemicals to put in their food to deliver a proper dosage.
"Depending on the medicine, [she observed] how many of them were able to not react to the pain stimulus," Weissman says. "For two out of the three assays, salicin works best, and for one of three assays cinnamic acid works the best. And there was a slight bias toward males for both of them, but that's just biologically how the chemical works. I found they were less biased compared to many of the drugs that are currently on the market."
Now that her research is complete, Weissman hopes to have it published in the Journal for Emerging Investigators, which features work by middle and high schoolers. Now, she wants to research cancer cells and bacteria, something she couldn't do as a middle schooler. Of primary interest is prevention of central line infections, which affected a family member, and can cause sepsis within hours.
Weissman also hopes to research mental health and the relationship between bacteria in the gut and its association with symptoms of autism, not surprising for someone who volunteers at The Friendship Journey, a Coconut Creek nonprofit that fosters friendships between children of all mental and physical abilities. And that's just in the near future.
Given that, Ajmera says, 13 participants of the society's competitions have gone on to become Nobel Prize winners, there's definitely a lot more coming from Weissman. She's already determined that, as a future pediatric general surgeon, she wants to find less invasive procedures for young patients.
"I've just always wanted to help people, whether it be through politics or science," Weissman says. "I've always wanted to improve other people's lives, which, in turn, also improves my life, because it makes me happy when I can see that I have had an impact on even just one person."
AHS: Tops in Scholars 
Weissman is in good company as she continues her freshman year at American Heritage School in Plantation. Based on juniors' PSAT scores, the school was recently named the No. 1 private school in the United States and No. 1 high school in Florida for the highest number of National Merit Scholars. Seventy-seven seniors were named National Merit Semifinalists and 52 were named National Commended Scholars, making it the school with the highest number of semifinalists in Florida for the 11th consecutive year.
In fact, students from both campuses (the other is in Boca Raton) make up 10% of Florida's National Merit Scholars in more than 2,000 public and private schools.