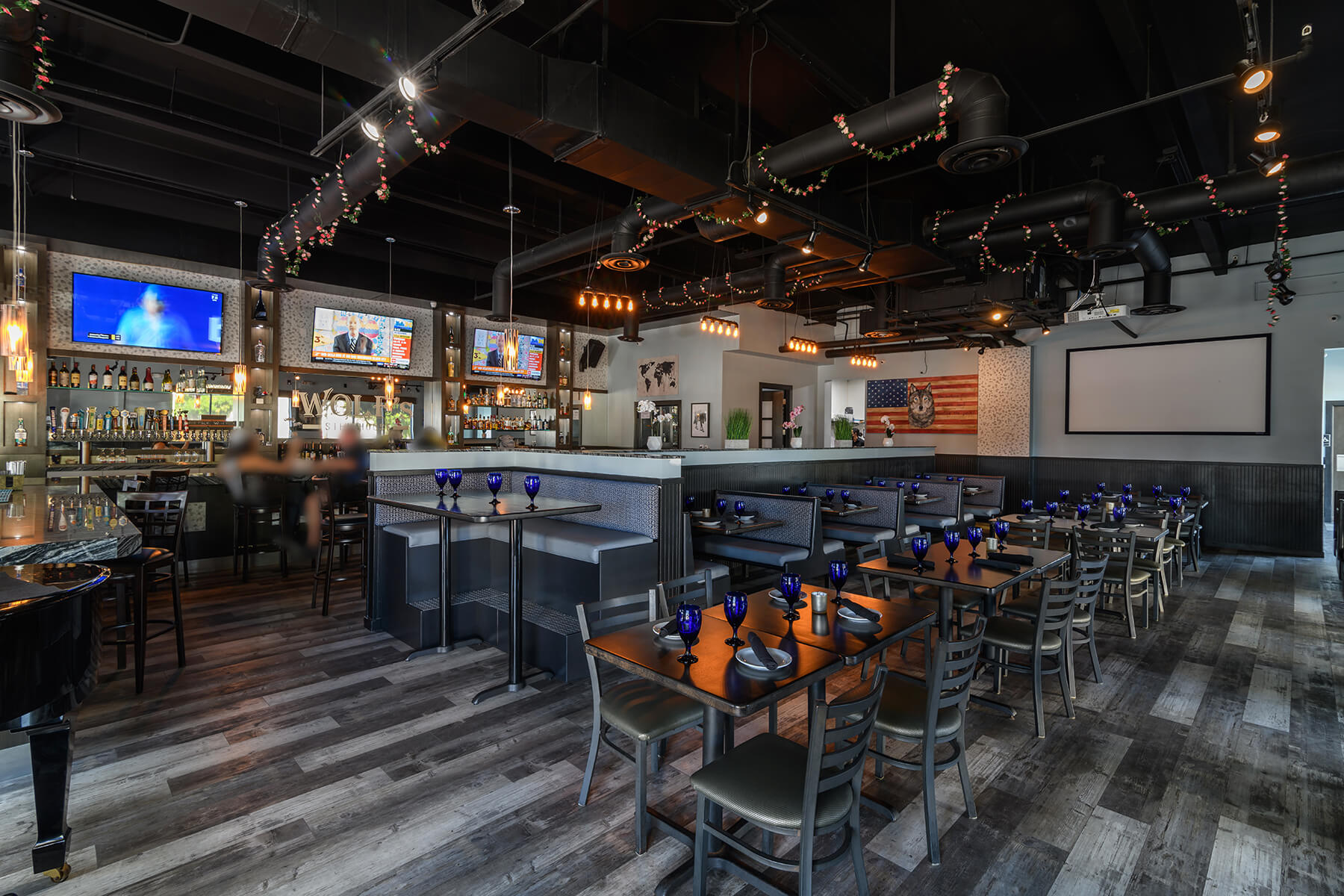 5 Things to Know About: Wolf's Steakhouse
Here's what Lifestyle learned about the popular steakhouse in Cooper City
1) New adventure: Bill Wolf's reputation preceded him—only it had nothing to do with the culinary scene. The owner of Wolf in the Woods has spent more than two decades solidifying his standing as one of the region's leading designers and fabricators of detail-rich cabinetry; his design center in Davie further raises the bar on home renovation with customized offerings for bathrooms, kitchens, home offices, wall units and countless other residential upgrades. Perhaps that's why when Wolf spoke to his friends in foodie circles about also opening a restaurant, even though he had no such experience, they didn't exactly pull any punches. "They told me to run," Wolf says. "They said I was stupid."
2) Don't look back: Wolf was undaunted. He'd always wanted to own a restaurant, so when the building in Cooper City that used to house Beef O'Brady's became available, Wolf bought it last May. In the middle of a pandemic. As restaurants slowly started to open their doors last summer, Wolf put the pedal to the metal. He called on his redesign experience to revamp the space, knocking out walls, expanding the bar, adding new flooring and much more. By last Halloween, Wolf's Steakhouse, with its inviting neighborhood vibe and high-quality menu offerings, was open for business.
3) Here's the beef: Though some around him pushed for a simple bar and grill, Wolf went with his gut and stuck to the steakhouse concept. It's paid dividends. As word of mouth has spread, diners from Fort Lauderdale have ventured to west Broward for the restaurant's cuts of wet-aged, USDA Prime at more affordable prices. The biggest draw, emphasis on big, has been the dramatic Tomahawk, a 38-ounce, freshly cut, bone-in steak with onions, mushrooms and two sides that goes for $95. A beautifully marbled New York strip is aged for 21 days; center-cut filet mignon is served in 6-ounce and 8-ounce versions; and the 16-ounce boneless rib-eye bathes in a house-made marinade before being grilled.
4) In addition: Steaks steal the show, but other entrees are drawing raves. Fresh mahi mahi with lemon beurre blanc sauce is encrusted with jumbo crab meat. Pan-seared snapper is prepared with white wine sauce, fresh tomatoes and basil. The cedar-plank salmon comes with a honey glaze, black beans and corn relish. Regulars have been clamoring for a popular special—the Korean-style barbecue pork chop with fried rice and crispy shrimp—to become a permanent part of the menu.
5) For starters: On the appetizer side, a trio of offerings play to enthusiasts of shared plates—and also to customers who frequent Wolf's chic bar area for after-work drinks and light bites. The pepper-crusted beef carpaccio is enhanced by a lemon truffle vinaigrette; Bada Bang shrimp spices things up with a sweet chili sauce; and the not-to-be-missed deep fried Brussel sprouts soar with crispy prosciutto, sweet soy glaze and crispy garlic. It all makes for the kind of quaint concept that locals embrace, and foodies eventually discover.
Contact: 8655 Stirling Road, Cooper City; 954.353.9653; wolfssteakhouse.com
Photos by Darryl Nobles