One of the ongoing discussions in performing-arts circles, especially for those charged with filling venues, involves the potential of entertainment that's still relevant today to continue capturing audiences in years to come.
Andrea Bocelli, for example, most certainly will pack the new 6,500-seat Hard Rock Live on Nov. 7. However, will the genres that the beloved Italian tenor was seemingly born to perform continue to inspire future generations to buy tickets? Bocelli, for one, doesn't foresee a time when classical music ever will be considered obsolete.
"I'm convinced that [classical and opera] will find passionate enthusiasts, even among future generations," noted the 61-year-old singer as part of an email interview with Lifestyle. "As proven by history, good music will never die."
Look no further than Bocelli's own recent history. The release of Sì in November 2018 topped the U.S. Billboard 200 chart. It marked the first time in Bocelli's remarkable three-decade run—a career that includes more than 90 million records sold worldwide, including the biggest-selling classical album ever by a solo artist (Sacred Arias, in 1999)—that one of his albums reached No. 1 on the Billboard 200. 
Sì not only gave Bocelli, who lost his eyesight at age 12 to congenital glaucoma, an opportunity to collaborate with the likes of Ed Sheeran and Josh Groban, it gave the father of three a chance to perform with his now-22-year-old son, Matteo, who recently signed with Capitol Records.
Bocelli offered thoughtful takes on being a parent, tending to his legendary voice, singing with today's pop stars, and much more, for his interview with Lifestyle.
Your November concert will be one of the first at the new Hard Rock Live. How much of a difference does it make to sing in a venue engineered with optimal acoustics?
It definitely represents considerable added value. When all is said and done, every era has its gems. For example, from architectural and acoustic perspectives, the open-air arenas of ancient Greece are real masterpieces. [So are] the wonderful "Italian-style" theaters, like the oldest opera house in Europe, Teatro di San Carlo in Naples [where Bocelli recently performed] or Teatro La Fenice in Venice, or even Teatro Massimo in Palermo, Sicily, whose stage I know well because I prepared an opera on it.
The new millennium has its own gems to offer, such as Hard Rock Live, where I will have the pleasure of singing. Knowing that I can count on such an extraordinary container of art and performance guarantees the perfection that I always pursue—and that, sometimes, for technical reasons, cannot be achieved. This is another reason to await with great joy and much emotion the moment that I can symbolically embrace the public with my music and experience together a marathon … in search of the beauty and goodness that is inherent to good music.
After the Hard Rock show, you have a full slate of U.S. concerts in December. What will you do in preparation for—and during—the tour to maintain your vocal strength?
I have a routine, or, better put, a healthy habit, regardless of my concert commitments. In the daily life of all singers, study is an essential factor. Training must be constant, just like for an athlete. The challenge is to continue, day after day, to reflect on your vocal technique and to improve by learning from every mistake.
During a tour, my voice is, objectively speaking, put through a tour de force. Thus, I try to concentrate the study sessions and not work my vocal cords too hard. However, I continue with vocal warmups and making sounds that may seem bizarre to someone listening in, yet which have been designed to check the correct "path" of the sound, within the body's musical instrument. Just before a performance, I try to remain silent for a few hours.
Sometimes, right before a concert, I take up my transverse flute, and this is for an entirely practical reason: Playing it can actually activate the phonatory apparatus and work the diaphragm, without straining the vocal cords.
Your voice has been described, time and again, as one of the most beautiful in the world. In your lifetime, is there a performer whose voice elicited a similar reaction in you?
There are many. However, if I had to name just one, I would gladly mention the name of a great tenor, Franco Corelli, my main muse. I have loved this great tenor from the first time I heard him, from the day in which, as a child, I was given the gift of his performance of the "Improvviso" from the opera Andrea Chénier by Umberto Giordano.
For me, it was a real flash of inspiration: I still remember how I ran immediately to the old record player, excited, and I started to listen to that voice that was so expansive and extremely vibrant, filled with sentiment, which went straight to my heart. I could only have been about 6, but I can say that listening to that record helped change my future. Corelli merged a charismatic presence with a fantastic voice. As a teenager, I devoured his records, studying every nuance. Years later, I had the joy of becoming his pupil, establishing a relationship of mutual respect and, on my part, of real devotion.
Your collaborations with pop stars, going back to Celine Dion, have been epic. How much of a challenge is it to find the synergy between different genres/styles?
It's an intriguing challenge, and it's also a way to take stock of your limits, to discover, to learn. Singing together, in opera as well as in pop music, is one of the most rewarding and intense experiences I have had in my career, since the 1990s. And I hope to continue in this direction. When two voices, perhaps coming from different worlds of sound, interweave, something magical can occur. Harmonizing two voices is a challenge that can provide great surprises and sometimes turn into a fitting alchemy.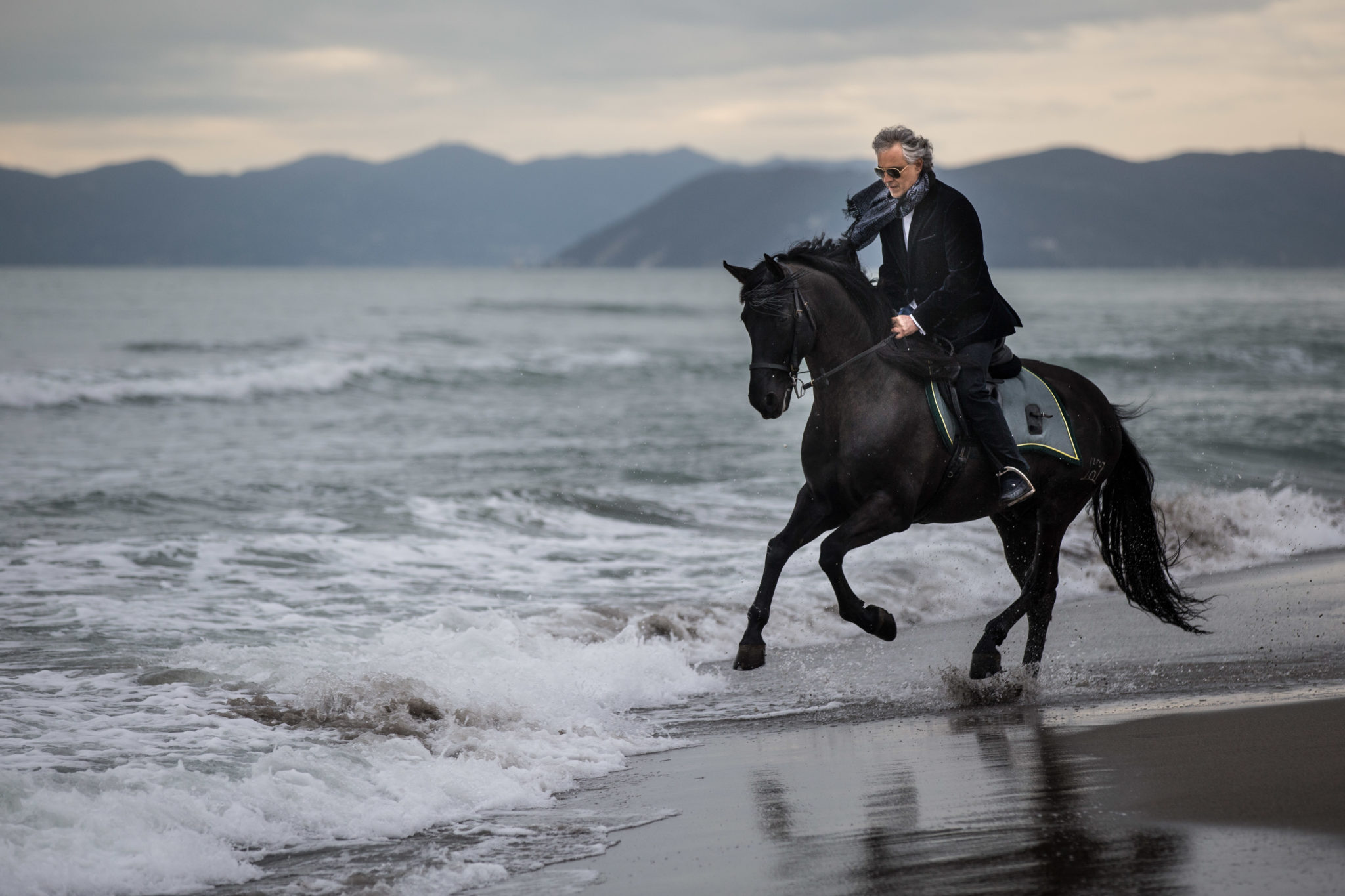 The video for "Perfect Symphony" with Ed Sheeran has more than 200 million views on YouTube. What jumped out at you about him and what he brought to that collaboration?
Before this project, I didn't know Ed Sheeran personally, but I was pleasantly surprised by his creative flair. Ed is young, yet extremely gifted, professional and experienced, and also good-natured. A true artist. When he asked me to sing a new version of "Perfect," he did so with such enthusiasm, with such candor, that I couldn't say no. And his euphoria, combined with that of my children—his fans from the very beginning—made me accept. I can confirm, it was a beautiful experience.
In an interview with NPR, you said that recording the album, Sì, and singing with your son, Matteo, was "a terrible experience" for you in the sense that you felt "all the responsibility." What did you mean by that?
Terribly moving, not terrible! Of course, I felt the weight of the responsibility due to the fact that my son wishes to follow in his father's footsteps. I did not encourage him—quite the contrary. I warned him of the difficulties that I know so well. However, he is very determined, and he doesn't lack for passion. Furthermore, it would seem that Matteo has what cannot be taught—talent.
The song "Fall on Me" caught us a little by surprise, even before we wanted to display it to the judgment of the public, but the song was beautiful and it seemed to have been written especially for us.
Ultimately, given the reception the album received, and, in particular, the single "Fall on Me" (the official video for which has 55 million YouTube views), were you able to better appreciate the experience of performing with your son?
I'll answer by telling you how I believe in the power of music, a language that has the ability to affect awareness, contribute to our spiritual development and thus make us better people. It is for [those] reasons, for what music represents and for the values that it is able to convey, that we have included it as an additional element to enhance potential and talent in the educational projects that the Andrea Bocelli Foundation carries out under its mission of "empowering people and communities."
It's for this reason that I insisted that my children cultivate it from childhood. Studying music—as Virginia, the littlest one in the Bocelli household, has already started to do—provides you with experience that enriches the soul. Music is a lifelong friendship. My oldest son, Amos, did not choose music as his profession, even though he was brought up with music from a young age, playing the piano [the studies for which he has completed at a conservatory]. Amos' mindset, which is more inclined toward science, led him to graduate in aerospace engineering. However, he has accompanied me on the piano many times, even on important occasions, such as a live television broadcast viewed by millions.
[Going back to] Matteo, to duet with him on stage and have him alongside me on tour? I consider it another wonderful gift that life has given me.
As Matteo embarks on his musical career, does he look to you for wisdom, or is he charting his own course?
Everyone must find their own path. Parents are tasked with making fertile the terrain on which their children can identify their future. We "grown-ups" have the responsibility of teaching them values, such as honesty and respect, not just at home, but by leading our children by example in any situation. Thanks to these ingredients, there is a good chance that they will be able to build a solid future, which will reflect their talents and aspirations.
I believe in the educational power of example more than advice. Providing an example is the only credible tool, which is a thousand times more powerful than any warning or the most convincing reprimand.
Andrea Bocelli in Concert
When: Nov. 7, 8 p.m.
Where: Hard Rock Live, Seminole Hard Rock Hotel & Casino Hollywood (1 Seminole Way)
The show: The classical singer and crossover star is part of the first wave of performers to play at the new Hard Rock Live, one of the crown jewels in the $1.5 billion property expansion at Seminole Hard Rock. Expect the 225,000-square-foot facility to wow with cutting-edge sound and lighting, and intimate clamshell-style seating.
Tickets: Starting at $165; ticketmaster.com
Website: seminolehardrockhollywood.com