Anna Noriega doesn't believe in luck—hates the word, actually. To her, making it in life is a matter of commitment, dedication and hard work in pulling what you want from the universe.
But Noriega admits there was something serendipitous about her being in the right place at the right time when she accompanied her friend to a Miami Dolphins cheerleading audition. A student at the University of Miami, Noriega was focused on her goal of becoming a neuropsychologist and had no intention of actually becoming a cheerleader. But she ended up making the squad and realized she wasn't someone who turned down opportunities—plus, she was a Dolphins fan.
"All of a sudden, here I was, traveling the world, doing interviews. I was Miss December in the [cheerleader] calendar," Noriega says. "At a young age, I was very much awakened by that whole life."
That awakening included an epiphany at—of all places—a morgue. On her first day of an internship there, she was asked to remove the nail polish she wore, part of her appearance as an NFL cheerleader.
"I looked at my hands and I said, 'I can't do that. … I have another commitment.' It hit me that one commitment was, for the first time in my life, [taking precedence over] what I thought I wanted to do [as a career]," she says. "Right then and there, I got in the car, I went back to my adviser, and I said, 'I don't think I want to do this.' "
Noriega ended up majoring in psychology and business administration, and double minoring in dance and marketing, turning her career path toward the marketing and events industry. In 2005, she became the events manager at Vizcaya Museum and Gardens, and then worked as the director of sales and marketing at Fisher Island Club. Eventually, she became regional director of sales and marketing at Jordache Miami Sun Hotels, but the company's ventures suffered from the national economic downturn. That's when she took a leap and opened her own company, which became Aloré Event Firm.
Since starting it in 2011, Noriega and her team have made their mark on Miami's event landscape, planning galas for the American Cancer Society's Broward chapter, Joe DiMaggio Children's Hospital, Boys & Girls Clubs of Miami-Dade, and Baptist Health South Florida's annual fishing tournament in Islamorada. They've also worked on product launches with companies such as Dior and Victoria's Secret and have been recognized in a wide variety of publications for their stunning wedding designs.
"For us, it's really a matter of constantly staying ahead, which is a lot of pressure," Noriega says of her position. "To perform with that pressure comes the constant thirst for knowledge, and with that comes the ability to always learn and stay ahead of the trend and continue to evolve."
Lifestyle asked Noriega a few questions about her business and what trends are coming up for the holidays and 2020.
1. Among the events and photoshoots Aloré has organized, what is an accomplishment you're particularly proud of?
We did a photoshoot for Grace Ormonde Wedding Style a few years ago. It was a two-page spread. The key was really to create a showstopping, unique design. We created a design at the Four Seasons in Miami that included a mirror table with a tabletop display made out of live goldfish. We used well over 300 goldfish to create an aquarium centerpiece that hoisted over $3,000 worth of orchids and florals above it. It was an incredible installation, and it took well over 15 staff members a little over 12 hours to be able to put together because the fish had to be acclimated to the water.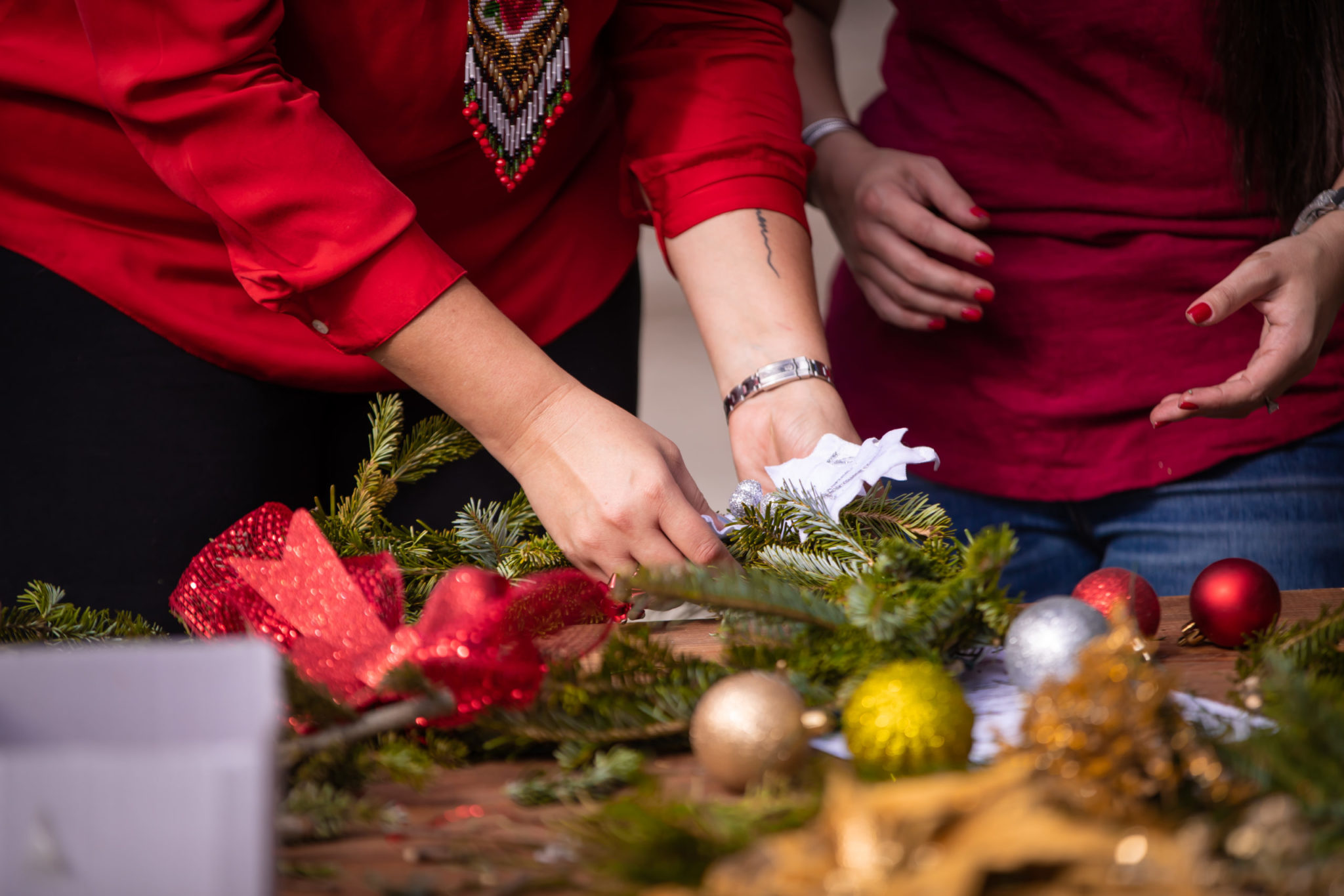 2. You've been a speaker at Miami-Dade Public Schools and have supported their events. What are some of the ways Aloré works with the school system, and what wisdom do you impart to students?
Every summer, we have an intern that comes to us from the public school system—a junior or a senior. It's a registered class, and it gives them an opportunity to really see what the industry is about. This past summer, we had a great student from Cutler Bay Senior High School who wasn't sure if she wanted to do public relations or events.
One thing that I always advocate for [with students] is that you need to try to learn everything and anything that's put into your path because you never know where your life is going to take you. The more tools that you have the better you'll be able to fix or handle whatever it is that life throws at you. It's OK to not know what you're going to do right now, so long as you feel you have a purpose in doing something. As you continue to push forward, life itself will tell you what direction you need to go in. But the worst thing you can do is just wait for those opportunities to come to you. … You've got to go out and make those opportunities for yourself.
3. Aloré hosts several DIY design workshops in the area, such as wreath-making workshops. What do you imbue in these workshops beyond learning something new?
People come to these workshops with sense of, "Oh, this is fun, but it's also so hard," and then they leave feeling a sense of accomplishment, of relief, of euphoria that really comes from being able to say, "I learned something that I didn't know how it worked, and it wasn't that hard." There's a sense that they're able to now continue to further express their own creativity. We're just giving the tools and fundamental techniques. [I tell them], "You're the designer today, not me."
For us, there's 100 percent a sense of being able to give them those tools that they're able [to use] to further elaborate their own thinking and express elements of design in their own way. I go back to the saying "There are no rules in art." There are no rules in design. The design is really there to continue to elevate and recreate. There are tools and there are certain parameters that will influence that design. But at the end of the day, the creative mind is endless.
4. What's a current design trend that people can incorporate into their events this holiday season?
A huge trend is a naked table. That basically refers to a table that is linenless—whether it's a rustic farm table or a funky table. In terms of displays, it's utilization of elements of food, fruit and cheese incorporated with easy floral designs that almost look like you picked it out of the garden. It's a very hands-on, communal approach that's created with the idea that you can literally sit at this table for hours on end and pick up whatever's there in the middle.
5. What are some of your do's and don'ts for hosting holiday events?
Definitely do send out invitations, whether it's through Eventbrite or another third party, so that you can keep track of who's coming.
• Don't overstretch yourself. It's absolutely acceptable to do something like a potluck and open it up to much more of a team scenario. Through SignUpGenius, you can create a party list and have people sign up on it. …
• Do create some sort of underlying content so that you're able to have something going on at the party—whether it's music or a game or a theme. Definitely create some sort of hands-on activity or something fun for guests to do.
• Don't try to do something on an actual holiday and think that you're going to get a lot of people to come. If you're trying to save a little bit on cost, vendors and rentals are going to be much higher on the holiday.
• I would also say do take risks and try something different. Because there are no rules anymore, don't be afraid to experiment. If it's a holiday party and you don't necessarily want to do holiday decor, do something that's completely off the beaten path.
Photos by Travis Davis Photography