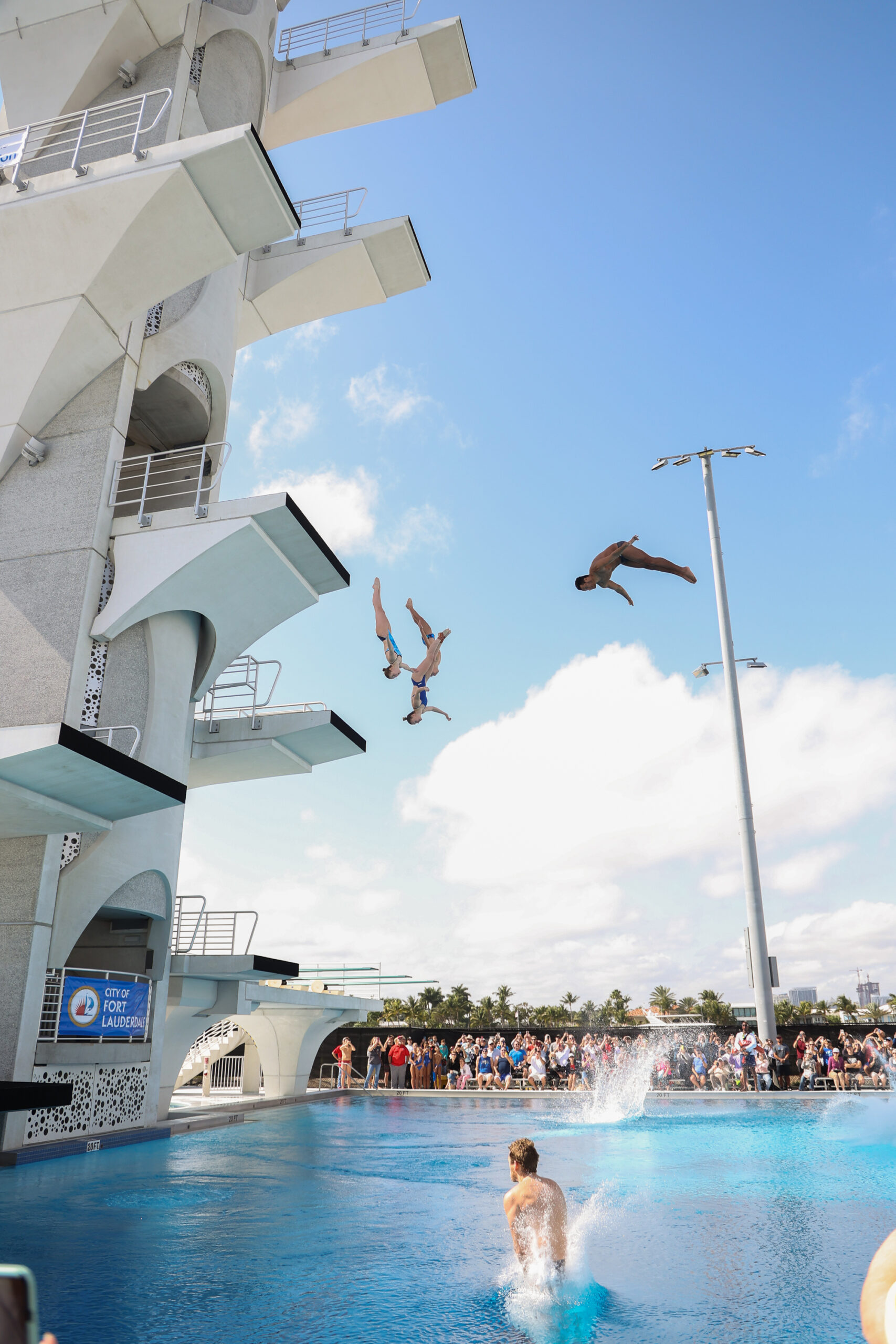 Aquatic Center Makes a Splash
Fort Lauderdale celebrates the renovation and reopening of an iconic facility
Two of the most decorated Olympic champions in their respective water sports joined city officials in Fort Lauderdale at a ceremony celebrating the reopening of the Aquatic Center. Diver Greg Louganis (five Olympic medals) and swimming great Dara Torres (12 Olympic medals) were among the luminaries at the public unveiling of the multimillion-dollar renovation project.
"The renovation of the Aquatic Center restores Fort Lauderdale as a premier destination for global competitive swimming and diving at a venue that is also available to the community," said Dean Trantalis, mayor of Fort Lauderdale. "Your morning swim can be a lane away from a world champion training for their next title."
Olympic diver Sam Dorman and renowned cliff diver Ellie Smart also were on hand for festivities that showcased the facility's state-of-the-art competition pools—as well as one of the tallest dive towers on the planet (nearly 90 feet high). The event also marked 95 years since Fort Lauderdale built the first Olympic-sized pool in Florida.
"I could not be more honored for the world to finally see what we've poured our hearts into over these past five years," said commissioner Steven Glassman, who serves on the board of the International Swimming Hall of Fame. "The City of Fort Lauderdale is committed to carrying on the legacy of the Aquatic Center and maintaining our position as the swimming and diving capital of the world."
Visit fortlauderdale.gov and search Aquatic Center for additional details.
Photos courtesy of the International Swimming Hall of Fame