Dara Torres isn't much into dwelling on her storied past. Just as she was in the pool, one of the most decorated swimmers in U.S. Olympic history remains more focused on what's in front of her than what's left in her wake.
"People ask if I think about what I've accomplished," says the Fort Lauderdale resident. "Honestly, I don't. I'm a forward thinker. I'm always about the next thing."
Still, to appreciate where Torres is at age 56, it's important to understand what pushed her buttons at age 39, not long after giving birth to daughter Tessa—and six years after capturing five medals (two gold, in relays; three individual bronze) at the 2000 Summer Games in Sydney, becoming the oldest woman (age 33) to medal in swimming at the Olympics.
Or why the next thing in Torres' life speaks to the title of her 2010 New York Times best-seller, Age Is Just a Number. Or how Mike Bloomberg figures into all of this.
Maybe it's best to start there. At Gracie Mansion, the official residence of the mayor of New York City—which Bloomberg was in the mid-2000s when Torres, with infant Tessa in tow, joined him for lunch. She was there to ask Bloomberg to help her offset training expenses for an idea met by doubters at the time as equal parts ridiculous and suspicious.
The latter spoke to unfounded rumors that dogged her after Sydney, that undetected performance-enhancing drugs propelled Torres more than her technical brilliance in the pool or her legendary relentless dedication to fitness and her craft.
The former spoke to father time and to being a mom. Just to qualify for the 2008 Summer Olympics in Beijing, Torres would have to touch the wall ahead of swimmers half her age—and younger. Even if she somehow cleared that hurdle, Torres still would be a 41-year-old woman with a 2-year-old daughter when she climbed onto the starting block in Beijing.
Apparently, this wasn't lost on Bloomberg when Torres finally popped the question.
"I told him that I was thinking about making another comeback, and I wanted to know if he would sponsor me," Torres recalls. "His first words to me were, 'Aren't you too old?'
"He was being sarcastic; Mike has a dry sense of humor. And he did sponsor me. But isn't it interesting how you can take something negative like that and use it as fuel? There were days where I'd be lying on my coach's couch, crying and exhausted, and going 'Why am I doing this?' And then I'd think of [Bloomberg]. I used those words in my head the whole time I was training."
Not only did Torres make her fifth Olympics team, but she anchored two relay races that resulted in silver medals for the United States—and she missed an individual gold in the 50-meter freestyle by a microscopic one one-hundredth of a second.
The feats were so off-the-charts remarkable, especially for those who best understand the sport, that some still couldn't believe the oldest swimmer—man or woman—ever to medal at the Summer Games didn't have "help." But Torres even went above and beyond on that front, volunteering for an enhanced drug-testing program to put the doping rumors to rest.
"It really did end up being about me proving to every naysayer that a middle-aged woman with a child could swim at the Olympics," says Torres, whose 12 overall medals (she also medaled at the Summer Games in 1984, 1988 and 1992) is tied for the most among women in Olympic swimming history.
Even someone who doesn't look in the rearview mirror can recognize the power of the past—and an empowering message to women that still resonates 15 years later.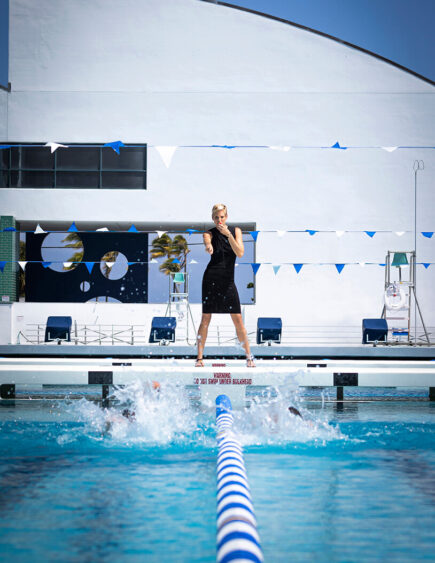 What's Next?
Because of how unfathomably close Torres came to capturing her elusive first individual gold at the Beijing Games—"One one-hundredth of a second? You can't even blink that fast," she says—what happened only a half-hour later often flies under her career radar. In anchoring the silver-medal-winning 400 medley relay, Torres recorded the fastest 100-meter freestyle split in relay history.
By then, the oh-so-close narrative already had taken hold. When NBC's Andrea Kremer asked her after the 50-meter freestyle what she could have done to win the race, Torres' first thought was that she shouldn't have filed her nails the night before.
But on the long plane ride back to Florida, Torres asked herself the same question. What could she have done differently?
"I thought about the race over the 17 hours of that flight. And I realized that I gave it everything I had. I left no stone unturned," she says. "I had to accept my fate.
"That was a huge lesson for me. I couldn't carry that around. I was so competitive that I knew I had to think about it with different perspective. Otherwise, it would have chewed me up inside."
Though Torres attempted to make history one last time—falling 0.09 seconds short at the U.S. Olympic Trials of qualifying for the 2012 Summer Games at age 45—she took comfort in knowing she'd gone out on her terms.
"I was literally consoling my daughter and my mom, who were both crying when I didn't make the team. Shouldn't they have been consoling me?" she says with a laugh. "But I was fine. At that point, I was done. It was time to move on."
To no one's surprise, demand for Torres as a motivational speaker soared. To this day, she inspires audiences with stories about her Olympic comebacks, battling ageism, and never giving up on your dreams. In addition, Torres remains a spokesperson for health/wellness products under the CaniBrands umbrella. Plus, she's part of the roster of commentators on "We Need to Talk," the CBS Sports Network show featuring female broadcasters and elite female athletes weighing in on the sports news of the day.
But it's an upcoming venture with Capt. Sandy Yawn from the Bravo series Below Deck Mediterranean and author/mindset coach Jennifer Grace that has Torres most excited. The three are set to debut exclusive retreats that play into the themes on which they've built their reputations.
"Sandy has overcome so many obstacles in her life to be the best that she can be in a world where men are mostly the yacht captains," says Torres, who recently joined the board of the International Swimming Hall of Fame in Fort Lauderdale (see sidebar). "And what I try to explain to people is that Jack Nicklaus can win his sixth Masters at age 46. Nolan Ryan can pitch his seventh no-hitter at age 44. Why can't a 41-year-old mom make her fifth Olympics team?"
The experiences on the AIJAN Tour (Age is Just a Number) will coincide with boat shows around the country, starting this fall in Fort Lauderdale at the International Boat Show.
"We feel we all have a lot to offer women at a time when so many are dealing with ageism or sexism," Torres says "Our message is this: Don't underestimate women!"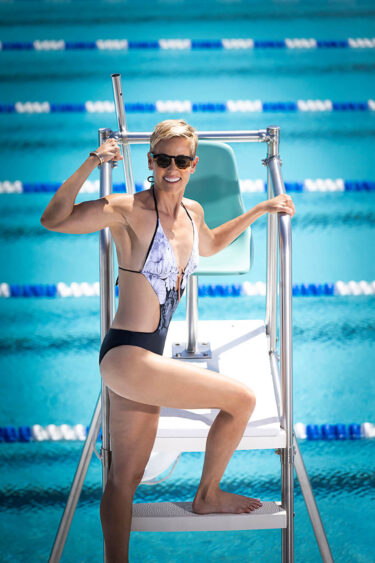 Living in the Moment
It's been a challenging year physically for Tessa, who's a junior at St. Thomas Aquinas in Lauderdale. What started as back pain and, later, stomach aches was eventually diagnosed as Crohn's disease; the condition resulted in surgery this past November to remove 8 inches of her small intestine, which had become enlarged and infected.
Still, Torres is reveling in the time she's spending with her daughter, especially with a senior year of high school looming. They've already visited more than a half-dozen colleges, including Mom's alma mater, the University of Florida, in search of a good journalism school and photography program (Tessa's passion).
Asked how the two are alike, Torres says Tessa has her spunky personality. "And she has a big heart," Mom adds. "She has such empathy for people, especially when someone is being bullied or someone is an underdog."
When it comes to athletics, Torres says Tessa knows more about sports like the NFL or Formula 1 racing than she ever will.
"But even though she played lacrosse and has the athleticism, I think sports was more important to me than to her. I didn't want her coming home and being on the computer or playing with her phone. I wanted her outside and doing team sports. This year, she didn't want to play because of what she's been through, and I understand that.
"It's funny, though, because she recently told me that she thought she'd be happier not playing lacrosse. But, she misses it. I think she'll probably play her senior year."
By Torres' senior of year of high school, the California native already had won gold in her own backyard as part of the U.S. women's 400 freestyle relay team at the 1984 Summer Games in Los Angeles. By then, it already had clicked for her that, to be the swimmer she envisioned being, life would have to change.
"It was around the time of my first big meet, the YMCA Nationals, right here in Fort Lauderdale at the Aquatic Center," Torres says. "I was 12 or 13. Before, swimming was just for fun. And I happened to be good at it. But I realized at my first nationals that I had to change my mindset. I knew that I wanted to be the best I could be at swimming. And that meant a major commitment."
It's a commitment about which the woman who always looks ahead has no regrets.
"There were definitely things I had to sacrifice as a youngster [and teen]," Torres says. "But look at the flip side. I was traveling to Europe when I was 15—no parents, just me traveling with the U.S. team. I met incredible people around the world and had experiences that that kids my age never get to experience—and some may never will [even as adults].
"Yes, maybe I didn't go to that high school dance on the weekend. But would I do it all over again? Absolutely. I feel like I got the long end of the stick on my childhood.
"Swimming has been my life. And the pool has been my sanctuary. The sport has made me who I am today."
Shot on location at the Fort Lauderdale Aquatic Center
Photography by Eduardo Schneider
Creative direction by Melanie Geronemus Smit
Makeup by Gaby Ojeda
Special thanks to Manuel Cedeno, Arlene Borenstein & the Aquatic Center team