Bagels & Co., a Philadelphia-based restaurant chain famous for its unique cream cheese flavors and Brooklyn-style bagels, has revealed its expansion strategy to launch two new locations in Fort Lauderdale and Wilton Manors.
"Our initial expansion will be in Florida and Pennsylvania, which we believe offers incredible growth opportunities for the Bagels & Co. brand," says Philadelphia restaurant group Glu Hospitality COO Derek Gibbons, who is leading the expansion with business partner and former investment banker Mike Marsh. "Our future plans call for expanding beyond that to several states and eventually a national rollout. We appeal to a wide audience. After all, who doesn't like bagels and cream cheese, especially with the flavors we offer?"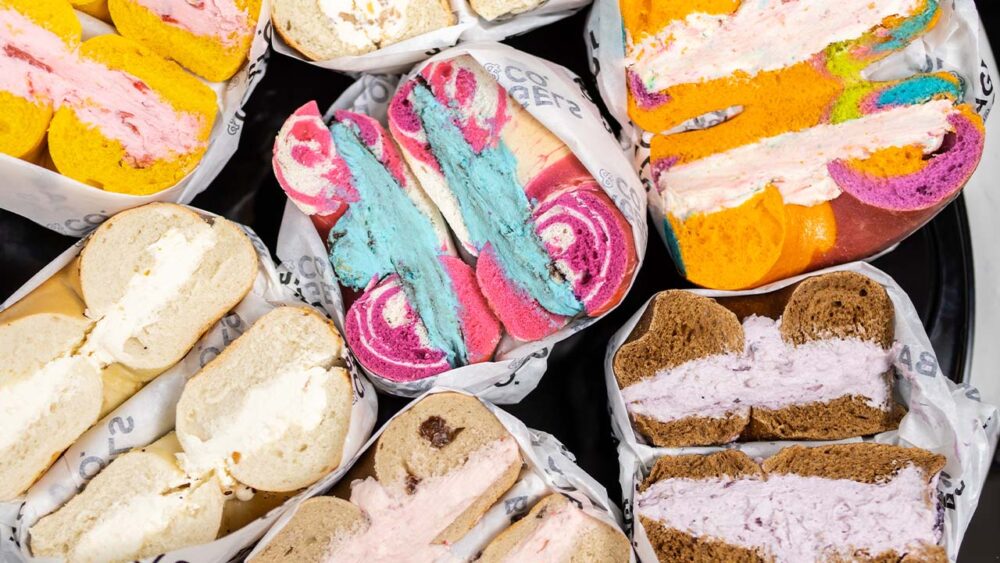 Bagels & Co. offers a variety of quick-serve and family-friendly cafes that serve indulgent cream cheese flavors. These flavors are displayed colorfully, like gelato in an ice cream parlor. Some iconic flavors include bacon cheddar, birthday cake, black truffle, cookie monster, S'mores, sriracha scallion, roasted garlic, vegan tofu spreads, and more. Whenever the company opens in a new city, seasonal cream cheese flavors are added to reflect the city, local sports teams, and other factors.
Its diverse menu includes more than a dozen varieties of bagels baked fresh daily on-site, such as French toast, cheddar habanero, seasonal flavors, and classics like everything, blueberry, cinnamon raisin, and whole wheat. In addition, the café serves New York roasted coffee, tea, and other coffee-based beverages, as well as high-quality made-to-order sandwiches, including egg, chicken, tuna salad, grab-and-go items, parfaits, and pastries. For those with dietary restrictions, gluten-free and healthy food options and vegan tofu spreads are also readily available.
Upon entering Bagels & Co. cafés, customers are immediately enveloped in an atmosphere of energy and vibrancy. The aroma of freshly baked bagels wafts through the air, complementing the colorful display of over 30 unique cream cheese flavors. The interior décor features natural lighting, white subway tile walls, warm gray wood walls, and white quartz marble countertops. Customers can peruse the digital menu boards, which showcase daily and weekly specials, while enjoying indoor seating or, in select locations, outdoor patio seating.
"Bagels & Co. is a true neighborhood café that appeals to everyone, whether you are on your way to work or school, grabbing a quick bite, coming home from a workout, or spending time with the family, we are ready to serve, and all of our sandwiches are fresh and made-to-order," Marsh says, who grew up in South Florida where eight additional locations are planned before a statewide rollout. Marsh, a venture capitalist, helped the company raise millions in funding to elevate Bagels & Co. to compete nationally.
As part of its philanthropic initiatives, Bagels & Co. partners with local nonprofit organizations to support the communities in the cities where the company operates. Additionally, first responders, including police, firefighters, EMTs, nurses, doctors, teachers, veterans, and active military personnel who are in uniform or present their work ID while visiting Bagels & Co., always receive a 10% discount on their orders.
Photographs are courtesy of Bagels & Co.