Florida has helped to promote its share of inventions out of necessity, like sunscreen and air conditioning. But another phenomenon for which the Sunshine State can be thanked is all about desire—culinary desire.
"Florida [kitchens] are the pioneers of small plates," says Mike Mayo, the award-winning local food critic who writes for Fort Lauderdale's Sun-Sentinel, among other outlets. "Over the last 10 years, it seems like more and more places are offering them."
Tapas, or small plates, originated in Spain. When Mayo traveled to Barcelona in the mid-1980s, it's all he saw—and it was a culture shock.
"People nibbled and noshed, that's where it started," says the Broward-based writer. "But I think it's the perfect fit and really popular in Florida now because dining has become less formal. Restaurants realized people wanted a different way to eat."
Mayo says restaurants in Florida have hopped on the tapas train because it makes sense for everyone.
"People didn't just want the traditional multicourse meal," he says. "Instead, they want to go out and try more things. Restaurants love it because it's a better margin."
Throughout the tri-county area, restaurants are increasingly growing their small plates section of the menu and paring down on large entrees. Here are some of our favorite spots for light bites.
Crispy Cheetoh Chickpeas (pictured above)
Restaurant: Death or Glory (116 NE Sixth Ave., Delray Beach)
The lowdown: These cheesy-but-somehow-vegan fried chickpeas are the perfect snack for the cocktails at this Delray establishment. It's why they've been on the menu since the late-night spot opened two years ago. The addictive snack is made by dredging the chickpeas in corn starch, flash-frying them and tossing them in a bright yellow seasoning.
Contact: 561.808.8814, deathorglorybar.com
Photo by Libby Volgyes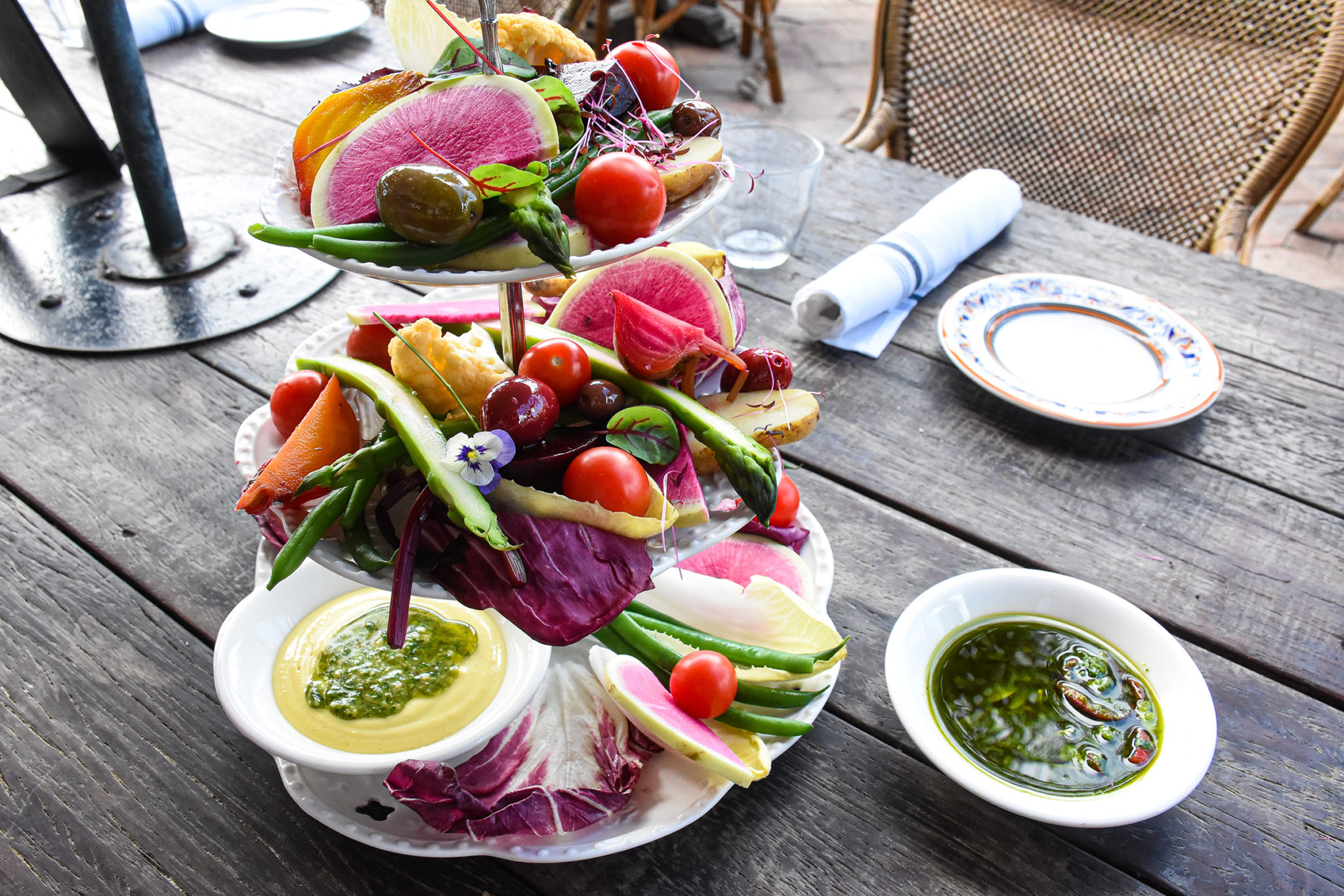 Vegetable Pinzimonio
Restaurant: Elisabetta's Ristorante Bar and Pizzeria (32 E. Atlantic Ave., Delray Beach)
The lowdown: This new Delray restaurant opened in late July and features classic, produce-driven Italian cuisine. One standout item, the vegetable pinzimonio, an Italian-style crudite, features a gorgonzola cream, salsa verde and pesto aioli. The dish is served as a stunning tower of colorful veggies just waiting to shine.
Contact: 561.560.6699, elisabettas.com
Photo BY Christopher Summa/TBC Media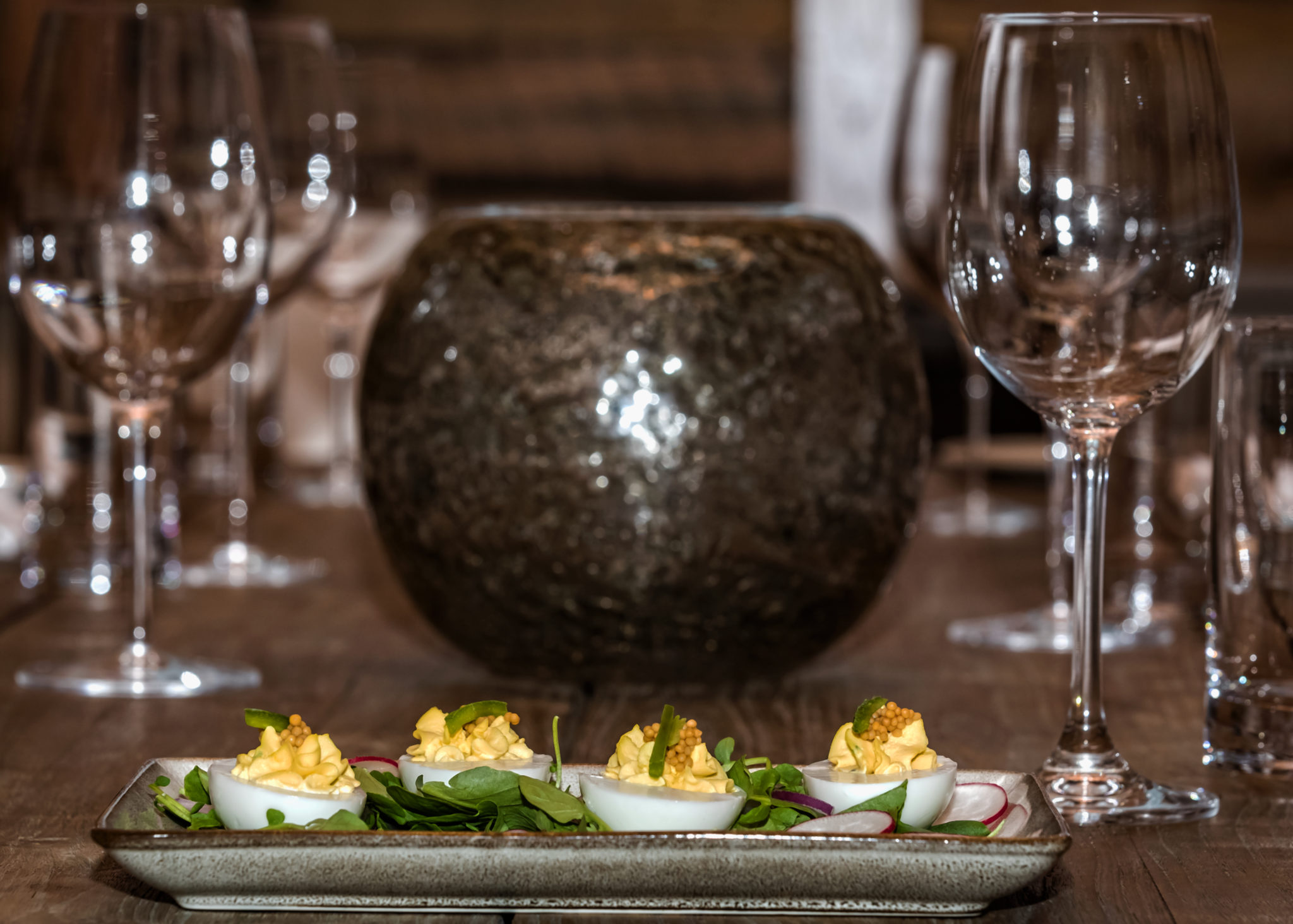 Jalapeno Deviled Eggs
Restaurant: JWB Steak/Seafood (1111 N. Ocean Drive, Hollywood)
The lowdown: Off the Margaritaville seafood and steak house's bar menu, JWB's jalapeno deviled eggs are an elevated take on a classic. The dish, which features four eggs to a plate, comes together with dijon mustard, mayonnaise, relish and pickled mustard seed topped with thin slices of jalapenos.
Contact: 954.874.4470, jwbrestaurant.com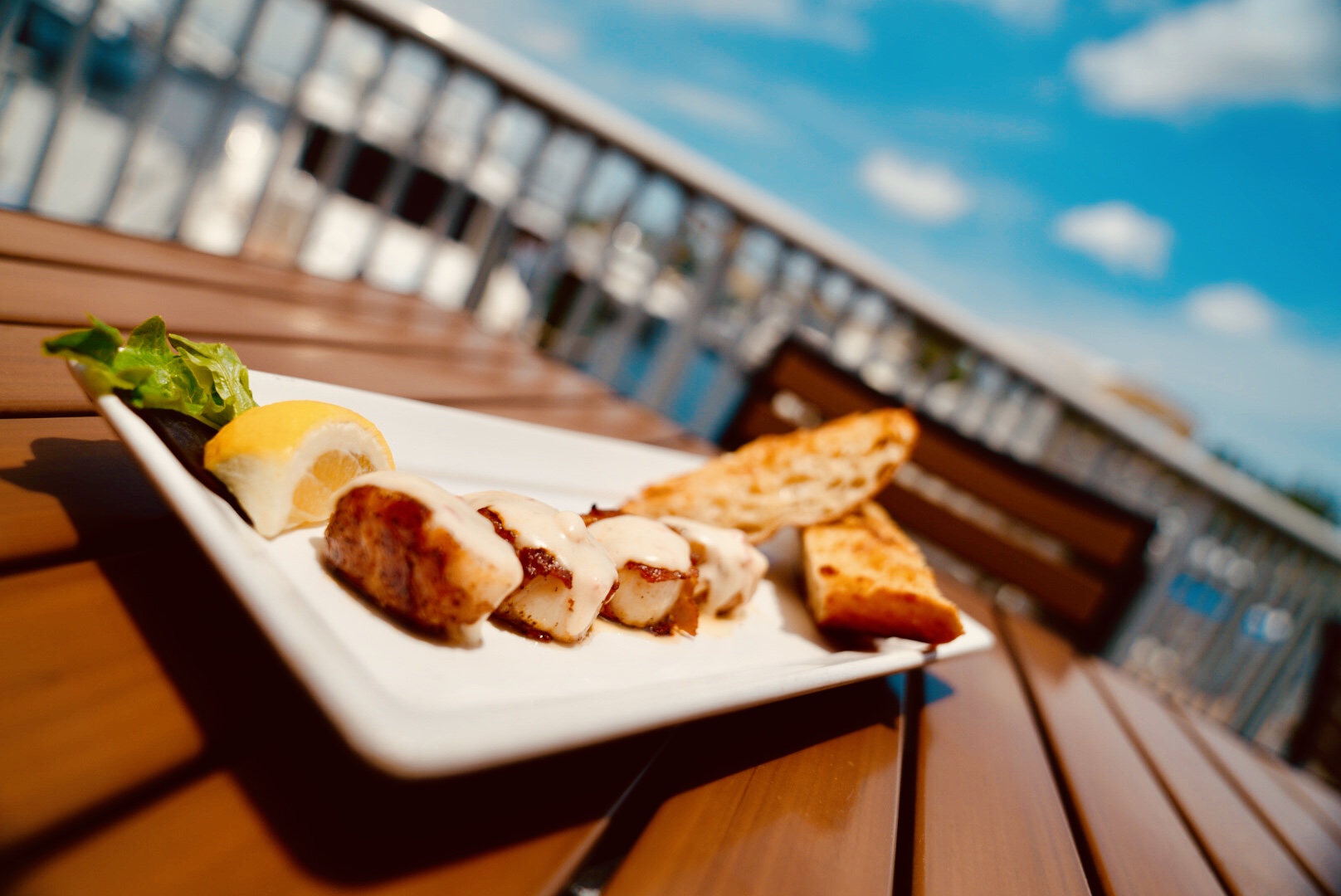 Bacon-wrapped Sea Scallops
Restaurant: Rendezvous Waterfront Bar and Grill (2525 Marina Bay Drive W., Fort Lauderdale)
The lowdown: This decadent appetizer features scallops, swaddled in crispy bacon and served with a red-pepper cream sauce. It comes accompanied by an addictive, warmed roasted garlic ciabatta bread. Rich and perfectly cooked, this appetizer easily becomes the star of the show.
Contact: 954.797.0054, therendezvousbarandgrill.com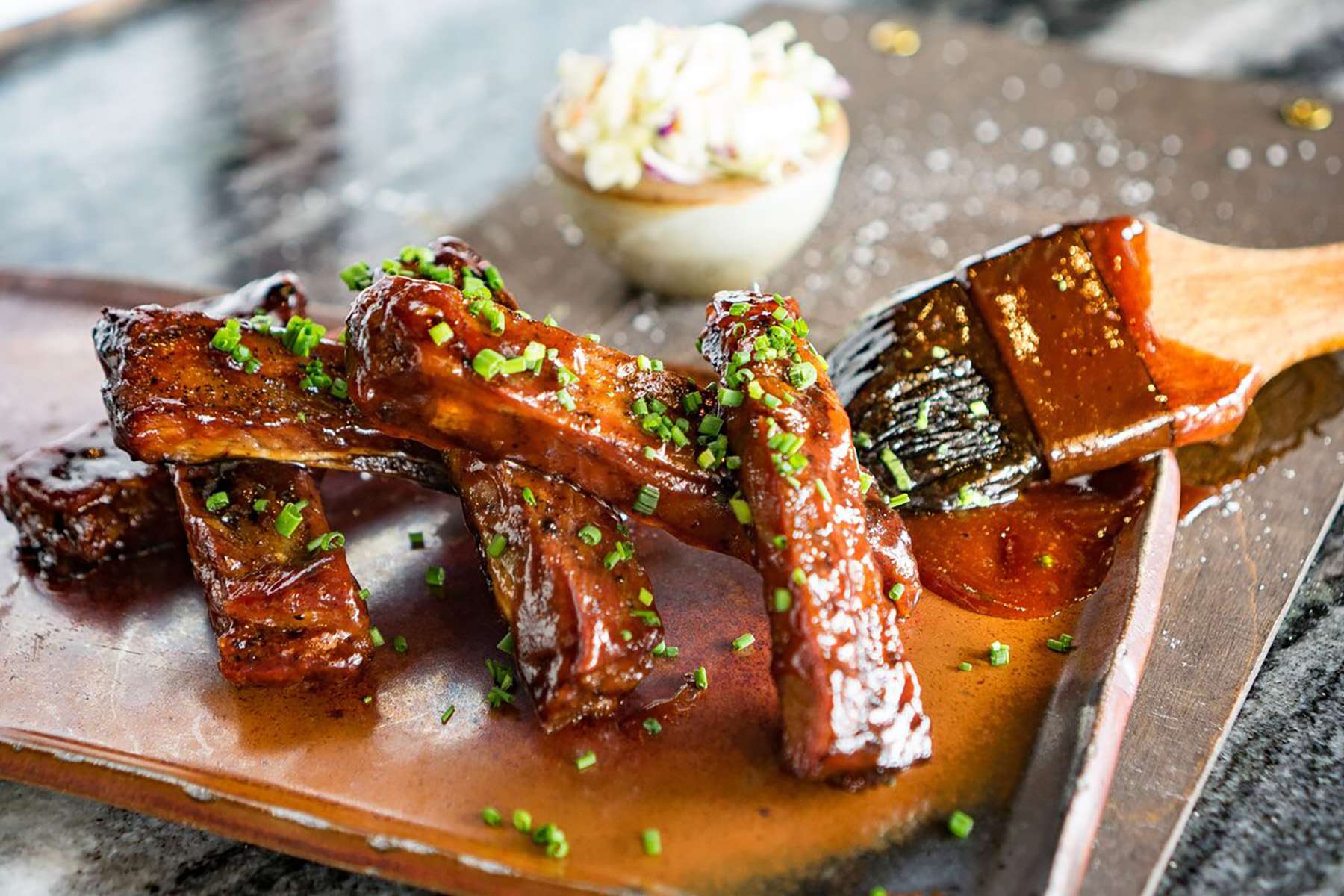 Sticky Ribs
Restaurant: Brimstone Woodfire Grill (8300 NW 36th St., Doral)
The lowdown: Available as a half or whole slab, this rack of ribs is served grilled and tossed in an addictively rich barbecue sauce. The Doral restaurant is praised for its grilled fare—hence the name—and the ribs are no exception, equally lauded when served in sandwich form. The half or whole racks come plated with a tangy slaw.
Contact: 786.837.8960, brimstonedoral.com
Boiled Peanut Hummus
Restaurant: The Rebel House (297 E. Palmetto Park Road, Boca Raton)
The lowdown: Designed to share, the small plate swaps out traditional chickpeas for a southern classic: boiled peanuts. To really stay true to the theme, pita is replaced by Alabama fire crackers—slang for heavily seasoned saltines. The dish is topped with pickled succotash.
Contact: 561.353.5888, lifetastesbetter.com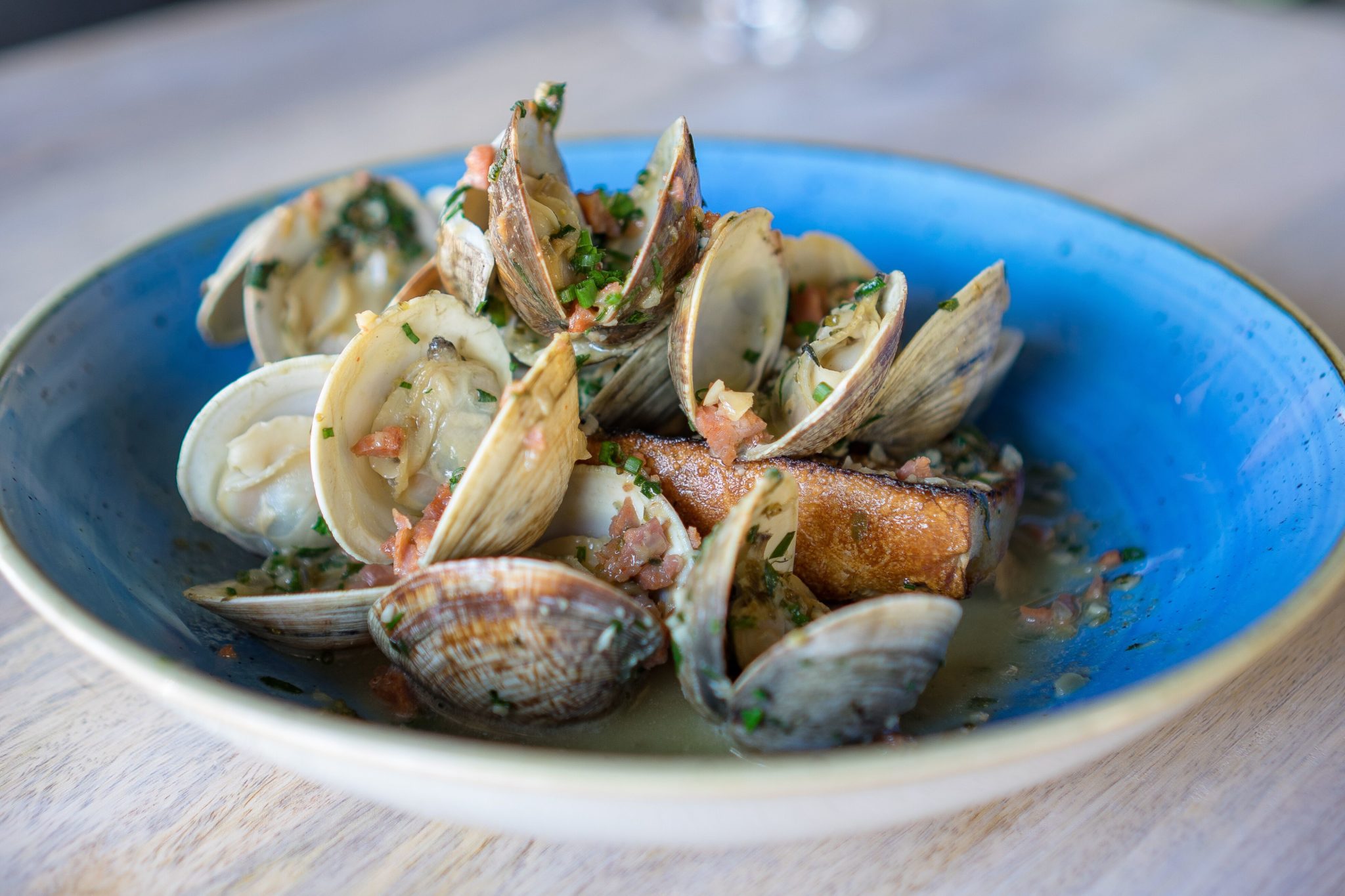 Beach House Clams
Restaurant: Beach House (270 N. Pompano Beach Blvd., Pompano Beach)
The lowdown: Praised by food critic Mike Mayo as "good to the last slurp," the Beach House clams (pictured above) are one of the Pompano restaurant's claims to fame. The briny little neck clams are served in a white wine broth alongside garlic, shallots, andouille sausage and fresh herbs alongside grilled French bread. It's a light, salty pleasant dish that pairs perfectly with the view.
Contact: 954.607-6530, beachhousepompano.com
General Tso's Cauliflower
Restaurant: Kapow! Noodle Bar (431 Plaza Real, Mizner Park, Boca Raton)
The lowdown: "Hypothetically, if I had to eat one dish for the rest of my life, it would be the General Tso's cauliflower," one unassuming Yelp review says of this dish. It's just one of a bundle of reviews praising the same, vegetarian-friendly dish. This lightly battered cauliflower comes dressed in chili sauce, Chinese black vinegar, sweet shallots and sesame seeds. The sharable bites are sweet, spicy and extremely flavorful.
Contact: 561.347.7322, kapownoodlebar.com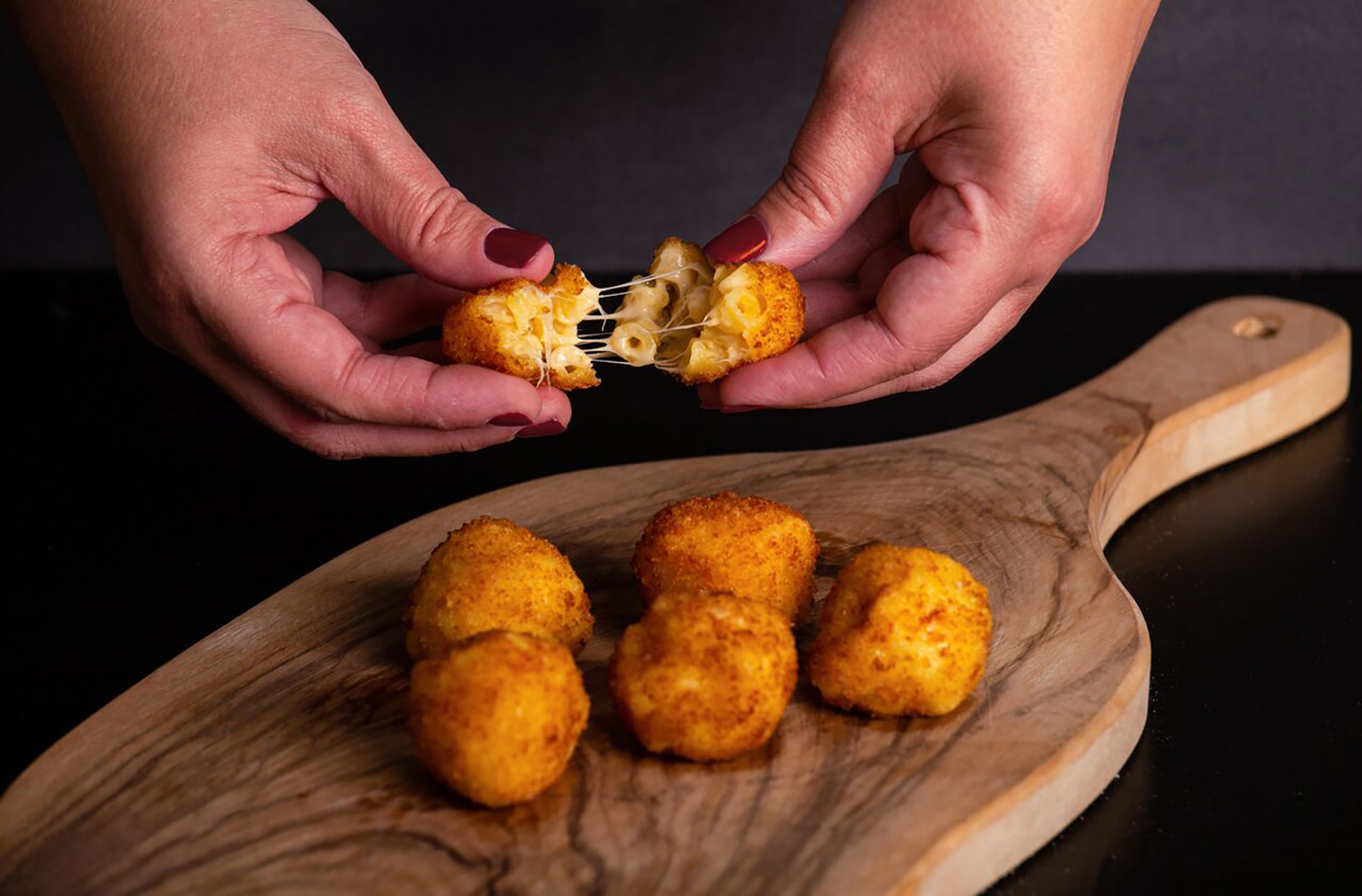 Mac Bites
Restaurant: I Heart Mac & Cheese (1489 SE 17th St., Fort Lauderdale and additional locations)
The lowdown: The only way to make comfort food better is to make it easy to eat on-the-go. Last month, I Heart Mac & Cheese debuted mac bites. The perfect, snacky way to enjoy a cheesy favorite, mac bites are a baked, bite-sized portion of the restaurant's five signature macaroni and cheese flavors: original, bacon cheeseburger, buffalo chicken, Cuban and lobster.
Contact: 954.533.4195, iheartmacandcheese.com
Kettle-cooked Chip-chos
Restaurant: Jimmie's Cafe 47 (148 N. Federal Highway, Dania Beach)
The lowdown: Birthed from the longtime Dania Beach chocolatery that opened in the late 1940s, Cafe 47 is the adjoining bistro serving tapas and wine. One of its signature items are the nachos, which use a baked kettle chip instead of traditional corn chips. It's a pleasant, yet familiar, surprising take on the dish, served with chicken, black beans, pico de gallo, cheese, greens and sour cream.
Contact: 954.922.0441, jimmieschocolates.com
Avocado Toast: Greek Style
Restaurant: Press and Grind (474 N. Federal Highway, Fort Lauderdale)
The lowdown: There are only so many ways to reinvent the millennial special: avocado toast. But the Victoria Park restaurant has managed to put its own spin on this hipster favorite. The Greek style dish takes a hearty slab of bread and smashed avocado, then elevates it with mixed greens, avocado slices, cherry tomatoes, feta cheese and a velvety drizzle of olive oil.
Contact: 954.909.5316, pressandgrindcafe.com
Yo Soy Brussels
Restaurant: Tarpon River Brewery (280 SW Sixth St., Fort Lauderdale)
The lowdown: Warm, earthy and sweet, the brussels sprouts appetizer is a step above a traditional brewery's pretzels or bag of chips. This plate of pan-seared sprouts is served with a finger-licking soy-Thai glaze and topped with toasted sesame seeds and honey drizzle. They're also one of a handful of vegan options the brewery offers, including the Beyond burger and falafels.
Contact: 954.353.3193, tarponriverbrewing.com
Photo Mia Kain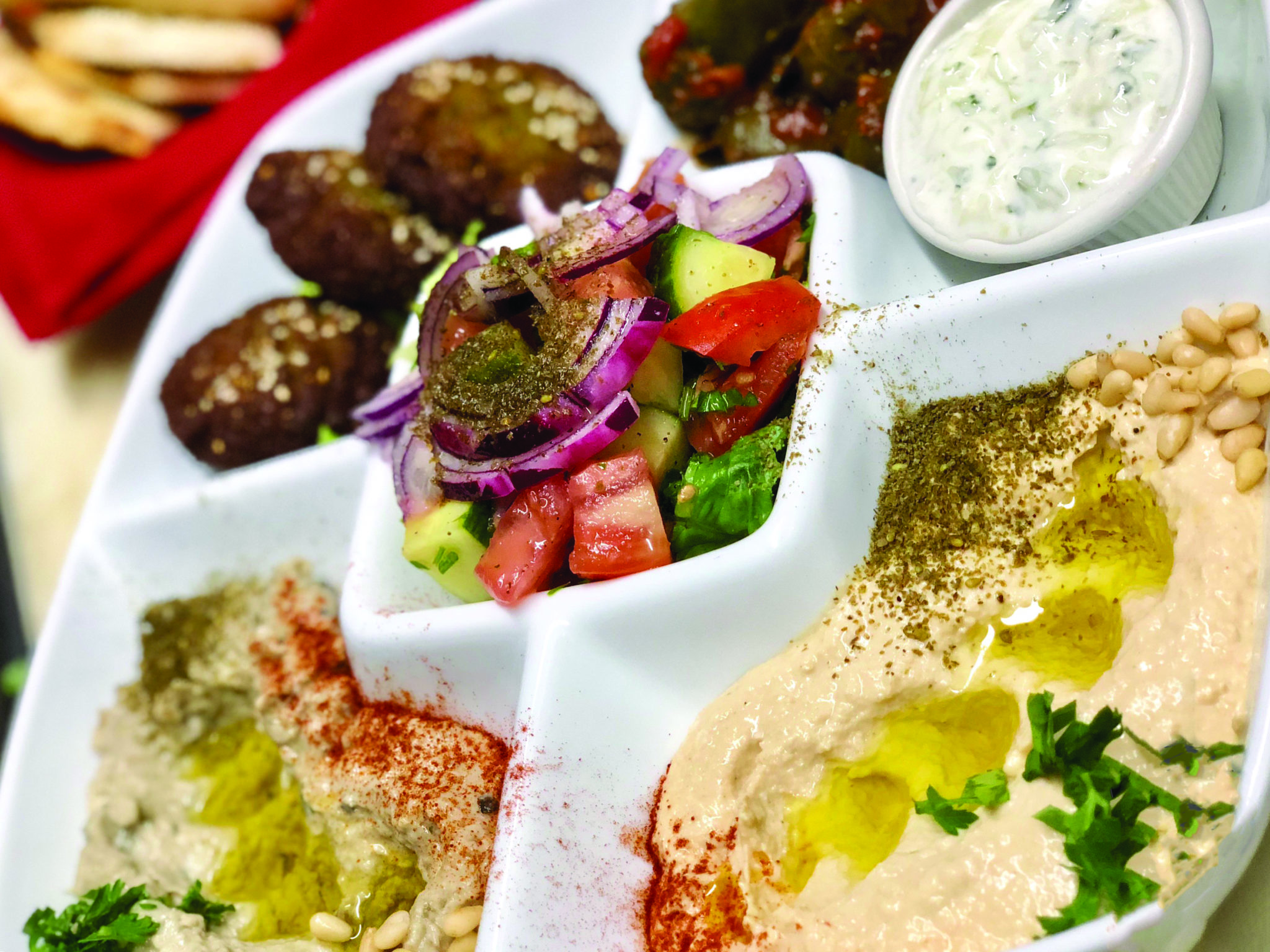 Combo Mezze Platter
Restaurant: Shabo's Barbeque (1840 Harrison St., Hollywood)
The lowdown: At this intimate Egyptian restaurant in downtown Hollywood, the menu overflows with a list of more than 10 types of Mediterranean dips, including spinach hummus and moussaka. For cases where your eyes are bigger than your stomach, the mezze platter allows patrons to try a sampling of six appetizers, including a smoky baba ghanoush and warmed grape leaves served in a rich tomato sauce.
Contact: 954.367.2991, shabosbarbecue.com
Photo courtesy of Shabo's Barbecue