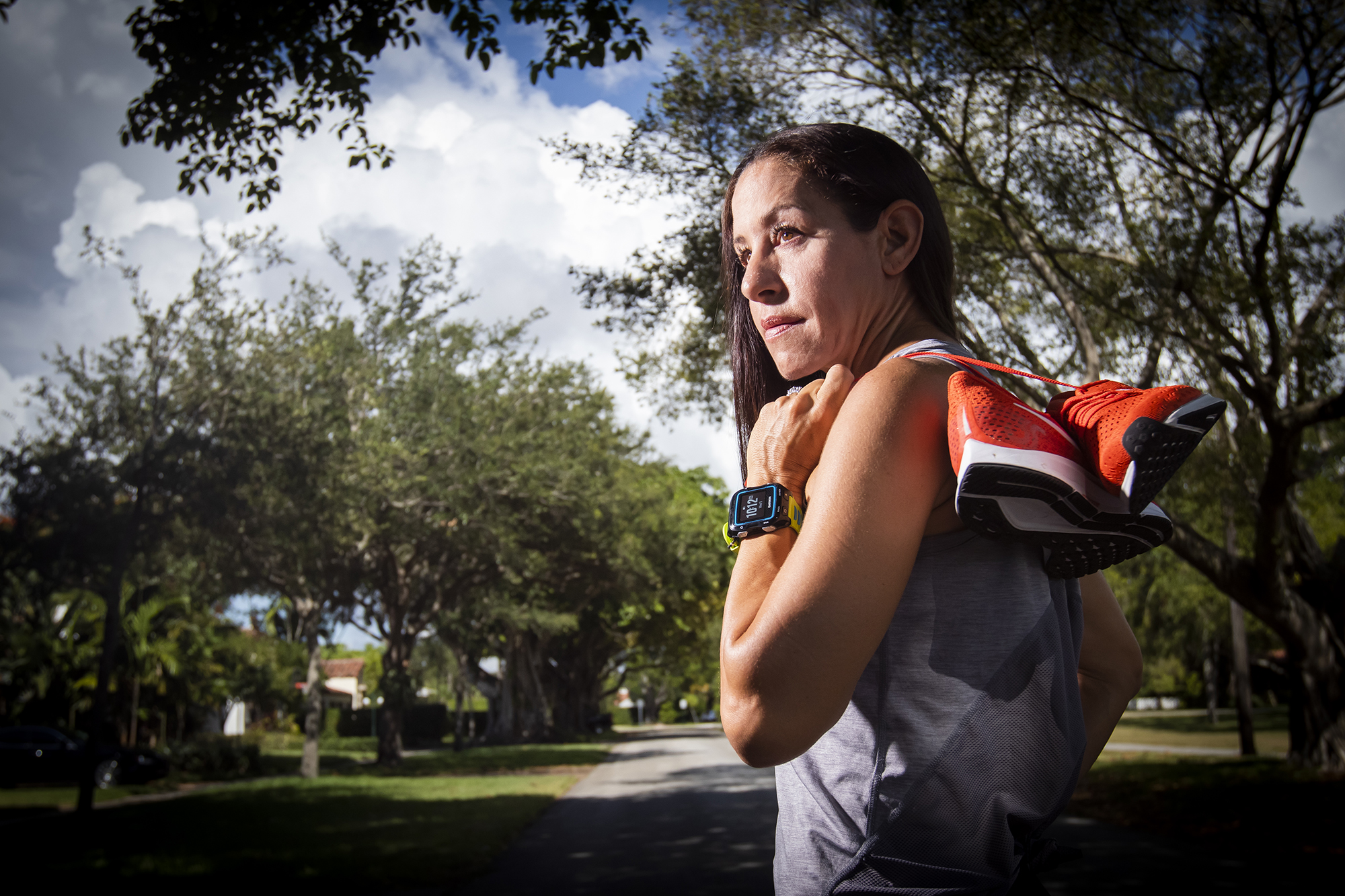 5 Questions with Caryn Lubetsky, marathon runner
Miami-based marathon runner Caryn Lubetsky runs for a higher cause
Lead photo by Eduardo Schneider
While Caryn Lubetsky ran the Boston Marathon in 2013, her husband and three young children eagerly awaited her arrival at the finish line. It was her first race in Massachusetts, and she had spent months training to ensure she would qualify. Once she completed the marathon, her life changed forever. But not in the way she had imagined.
Not long after she reached the end of the course, two homemade bombs, built inside pressure cookers, detonated near the finish line.
"I'll never be the same after that day," she says. "What my family and I went through is difficult to explain. What it did do was show me that running had to be for something bigger. It wasn't enough to do it for just me anymore. For a long time, I felt helpless, so I promised myself I would use my running to make difference."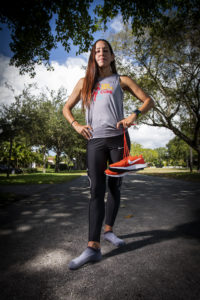 Today, Lubetsky, 48, runs for those who can't. In the past eight years, Lubetsky has completed 30 marathons and four 100-mile ultramarathons, among dozens of other races. In two of the Ironman 140.6-mile triathlons, she pulled and pushed her race partner, quadriplegic endurance athlete Kerry Gruson, through the entire course, and in November 2018 at the Sommer Sports Florida Xtreme Triathlon, Caryn set a Guinness World Record for most triathlons hauling another person.
A lawyer, Lubetsky has always been an advocate for others, founding HELP Inc. (HIV, Educational and Law Project), a free legal clinic for indigent people living with HIV/AIDS. She also runs to raise money for childhood cancer research and awareness for the Childhood Cancer Project, a nonprofit organization close to her heart.
"Running isn't hard," she says. "Cancer is hard. Crossing the finish line never gets old, but inspiring someone to keep fighting is what keeps me going. This is only the beginning."
Up next for Lubetsky, who has participated in every Boston Marathon since 2013, is the Badwater 135, a 135-mile marathon taking place this month in Death Valley, California. She is just one of 100 in the world chosen to participate in what is touted as "The World's Toughest Foot Race." The Miami Shores resident shared what running means to her with Lifestyle.
1. Did you ever think you'd become a runner?
I actually grew up as a competitive swimmer. I was very much an athlete my whole life, but I hated to run. As years went by, I got very caught up with life. I went to college and straight to law school, but as my children grew up and I was approaching 40, I decided to run a marathon. So, a little over eight years ago, I decided on the Miami Half Marathon in January, with my 40th birthday in February. After that, I was hooked. I guess you could call it a midlife crisis, but it's stuck around ever since.
2. How did you become involved with the Childhood Cancer Project?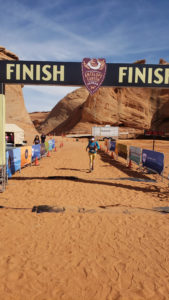 When I started running, I wanted to marry all of my passions together, including athletics and philanthropy. The organization was started by a close friend whose son was diagnosed with osteosarcoma [malignant bone tumors] at the age of 11. When that happened, I had the same exact helpless feeling as I did when I stood and watched the world blow up around me during the Boston Marathon. I knew I had to do more. Now, my friend's son is cancer-free, but most children aren't always that lucky. Childhood cancer is the No. 1 cause of death by disease [for] children, which is why I've dedicated myself to funding research to help find a cure. Cancer came knocking, and we answered.
3. How does it feel to have accomplished so much in such a short period of time?
When the bombings happened, it felt as if I had all this joy and accomplishment stolen away from me and my family. At the time, my children were 4, 6 and 8, and I'll never forget trying to explain to them why someone would want to blow them up when all they wanted to do was watch their mom run a marathon. Now, I run for something greater than myself. I've raised over $200,000 so far and I'm nowhere near finished. Crossing the finish line, whether it's a regular marathon or a 100-miler, never gets old, either.
4. How has your family supported you in your journey?
For the last couple of years, I've put my focus toward the nonprofit and raising my children. I also teach at St. Thomas University when I'm not training. My husband has been by my side since I started, and now my oldest son runs with me. When I started eight years ago, no one would have imagined I'd be doing something like this, gearing up to run 135 miles. But here I am. I can't wait to see where I am in another eight.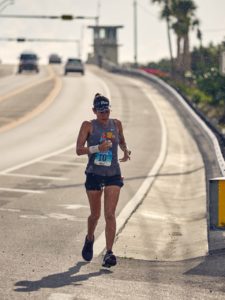 5. What upcoming race are you looking forward to the most?
The Keys 100 is always one of my favorites, because it has a hometown feel even though it's very international. It's 100 miles from Key Largo to Key West, and my entire family can be there. My oldest son, who has run three full marathons himself at 14, paces me throughout the night and keeps me company. It's priceless. But so far, my biggest honor is the Badwater 135. I'm still in awe that I was chosen to participate. … You had to qualify for the race, and I'm lucky enough to be one of them. There's also only 27 women this year. I'm nervous, but I'm ready.