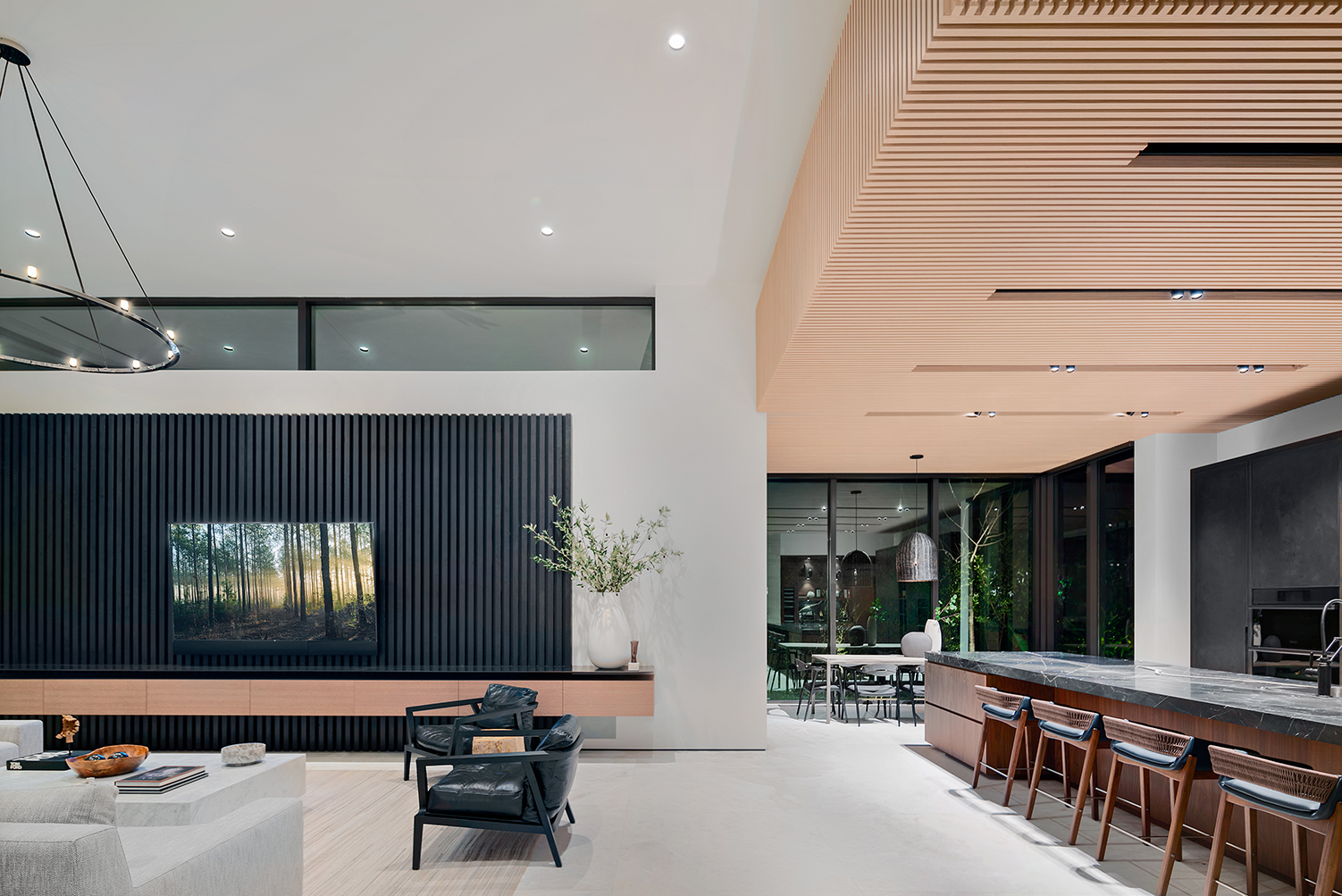 When it comes to residential design, the term "contemporary" means different things to different people. For some, it screams "less is more," subtle sophistication that incorporates clean lines and open spaces. For others, it conjures rooms that can feel cold, detached and overly minimal—and predominantly urban. 
Thus, it's no surprise that while modernist architecture worked just fine for places like downtown Miami, the South Florida suburbs typically gave the look a chilly reception.
That is, until recently—and in no small part thanks to Choeff Levy Fischman, the award-winning, Miami-based architectural and design firm behind numerous private residences in luxurious neighborhoods such as Star Island, North Bay Road and the Venetian Islands. Its three partners—Ralph Choeff, Raphael Levy, and Paul Fischman—put their creative minds together to pioneer "tropical modernism," a take on contemporary architecture that thaws the icy white box by adding natural stone like travertine and limestone, and tonal hardwoods (typically sourced from South America) such as ipe, teak and peroba, to bring warmth and contrast.
About five years ago, homeowners outside the city began warming to the idea. "Modernist architecture was, for the most part, exclusive to Miami and it took awhile to take off," Levy says. "The white boxes were a turn off, but tropical modernism made it more relatable, leading others to start embracing it."
Soon, Choeff Levy Fischman was approached by a couple (who were already fans of the firm's work) to create a bespoke residence in their hometown of Weston. "The owners wanted a one-story home, which lent itself to a pod concept, heavily immersed in landscaping and water features," says Levy, describing what has come to be known as CLF's signature style. The result is the inspired 5,986-square-foot layout pictured on these pages—a four-bedroom residence situated on an expansive waterfront lot. It was Choeff Levy Fischman's first residence in Weston.  
"From an aesthetics point of view, tropical modernism is very conducive to South Florida," Levy says. "It's a place where people want to be connected to the outdoors, so the tendency to go from a plain white stucco box to something clad in natural materials makes sense. We live in a natural environment, so tropical modernism speaks to where we are."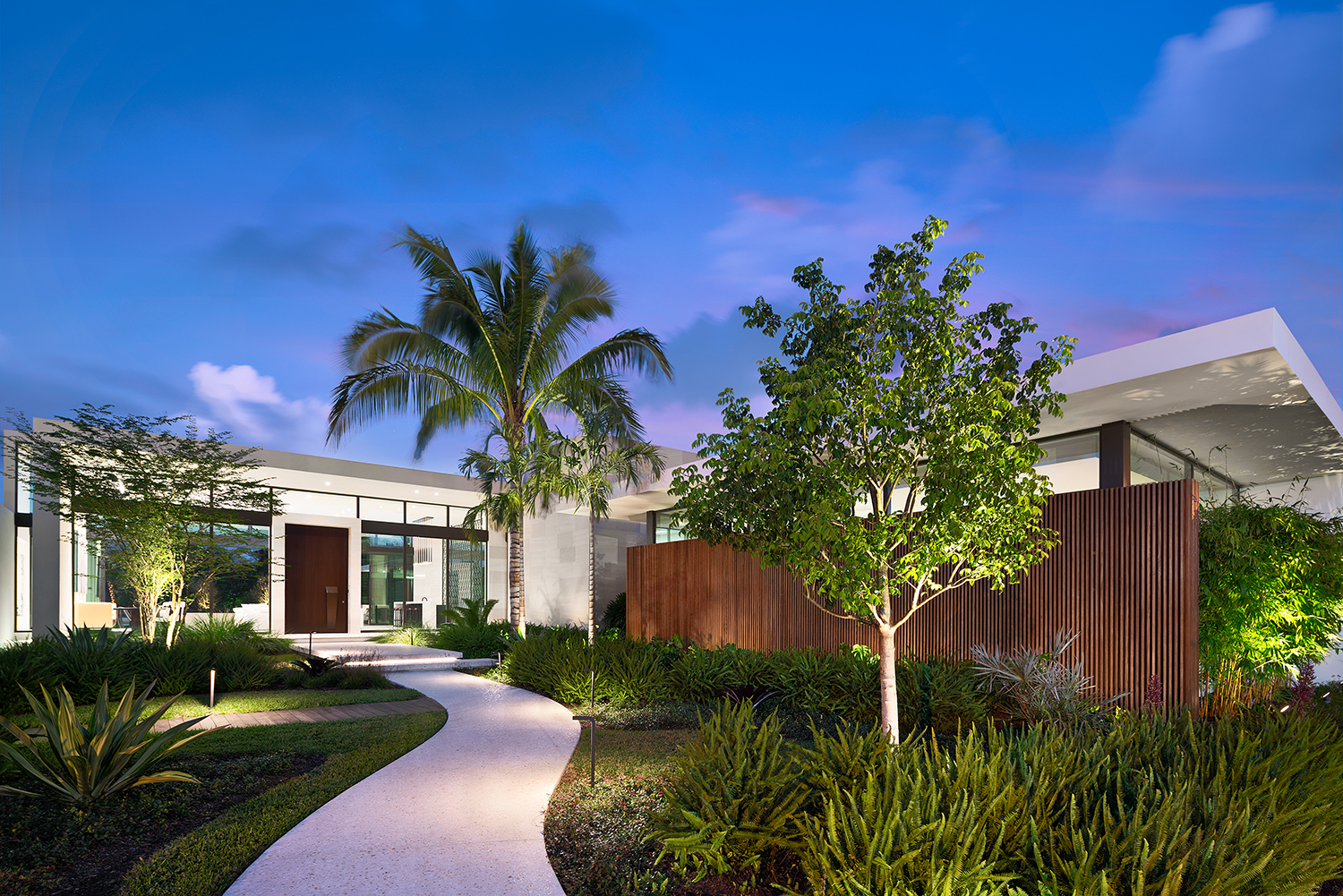 To fully understand tropical modernism, one needs some familiarity with mid-century modern—the design era where much of the style originates. Characterized by flat roofs, clean lines, lower profiles, and natural materials, mid-century architecture flourished in Palm Springs during the middle part of the 20th century when renowned designers like John Lautner were leaving their marks in the desert; at the same time, iconic architect Oscar Niemeyer was changing the landscape of Brazil. 
"Mid-century modern can easily be translated to many regions. We've imported it here by using some of its sensibilities, but also by building in a language of our own," Levy says. 
Aside from the linear silhouettes and warm tones, another aspect that tropical modernism derived from mid-century is the open floor plan, where spaces flow effortlessly into one another as opposed to being compartmentalized. "[From there], how you choose to furnish the spaces dictates how you live in them," Levy explains.
Which raises the question: Does tropical modernism architecture necessitate modern interiors? "If you talk to me as the 'orthodox modernist architect,' I would say yes," Levy says. "On our projects, we mainly work with interior designers whose work we think complements ours to ensure continuity from the outside in. But, really, it comes down to personal preference. Many clients desire a transitional look, and that's perfectly acceptable."
The good news: You don't have to switch out all your furniture to go "trop mod," nor do you have to tear your house down and start from ground zero to get the look. "Stripping away corbels, cornices and capitals, and then going back in and cladding select areas with ipe or limestone is a fairly easy way to incorporate these modernist elements in an elegant way," Levy advises.   
He and his partners are finding that interest in the tropical modernism style is growing in the suburbs and beyond, and that communities that had been resistant are now less so. The firm recently completed additional homes in the Harbor Beach area of Fort Lauderdale, and in Southwest Ranches. Projects near Las Olas Boulevard and on Key Biscayne are on the drafting board. 
"A neighbor of our Weston client has also shown interest, so it seems our style is infectious," Levy says.
Robin Hodes is founder of The Design Raven.