Photos by Eduardo Schneider
A casual observer of the group of teens who were gathered on a Tuesday night at the Coconut Creek public services building might mistake them for a Harry Potter fan club.
But a closer look would reveal the black T-shirts the teens were wearing are only inspired by the aesthetics of the novels. In the familiar Harry Potter lightning-like font, the shirts say, "Coconut Creek and the Teen Political Forum." The crest on the back of the shirt is inspired the franchise's Hogwarts coat of arms and features the mascots of four Creek schools.
The most important part is the Latin phrase "Et nostra voces audiri," which means "Our voices will be heard."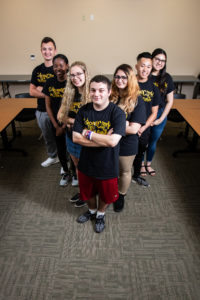 Sixteen students from Monarch High School, Coconut Creek High School, North Broward Preparatory School and Atlantic Technical College and High School make up the forum, which is organizing a panel event in May where Creek high schoolers can talk to elected officials to ask them about issues that are important to them.
The Coconut Creek Teen Political Forum was inspired by the Coral Springs version, which the city has hosted annually for more than 10 years. Coconut Creek Vice Mayor Sandra Welch, who was keen to bring the concept to Coconut Creek, says she wanted to "jump with joy" when the commission approved the initiative.
"I think with students, the same as with the rest of our community members, we constantly look for ways to bring them into the community, interact with the community, and help be a part of community decisions," Welch says. "And what better way to do that than with the students themselves?"
Welch joined forces with Bernadette Hughes, assistant to city manager Mary Blasi, to form the Coconut Creek Teen Political Forum. They met with Coral Springs commissioner Larry Vignola and Coral Springs community relations manager Joyce Campos to gather insight into logistics and planning. They also contacted the principals of Coconut Creek's high schools, who recommended student leaders.
The group held their first meeting in October, when they established their mission statement: "to provide teens in Coconut Creek with a platform to be heard by our elected officials." Since then, they've been working on the logistics of the event. Welch and Hughes are quick to say that the students, though guided, are "building and leading" the forum. In meetings held every two weeks, the students chose the venue, date and time, and who to invite to the panel. They're also designing the program, which is scheduled for May 6.
The work has allowed the students to explore politics as well as gain experience relevant to their positions as student leaders and their futures. For Jaanai Scott, a junior at Atlantic Tech, where she is president-elect of the student government association, chairing the forum's sponsorship committee has given her a glimpse of the finance field, where she hopes to work.
"Every decision has to be decided on by us," Scott says. "That gives us a lot of responsibility, which in turn, helps prepare us for our future careers and our work field."
The Teen Political Forum provides an education for the students to learn about the role of government and what elected officials do.
"I think that we're opening their eyes to something they may have never [experienced]," Hughes says. "If some of these amazing students show up and want to be on our boards and our committees and want to be in [Coconut Creek's] Citizens Academy and apply for jobs here, that would be, I think, the ultimate goal for the program."
That rings true for Lincoln Le, a Monarch High junior, who attended last year's Coral Springs Teen Political Forum and was eager to join Coconut Creek's forum.
"I'm actually interested in getting into political science and going to school for political science," says Le, secretary of Monarch's SGA. "I want to represent Florida when I grow older, so taking a small step and getting involved in teen political forum, I think is definitely going to help me."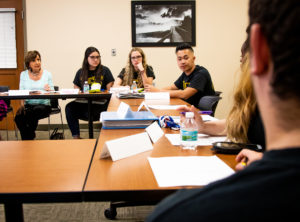 The students are also reaching out the community to make the event a success. They created a promotional teaser inspired by the Harry Potter theme and are reaching out to local businesses to sponsor raffles and charitable donations. The students also ran a booth at the Butterfly Festival where they spoke to potential sponsors and encouraged fellow students to attend.
Among the officials they've invited to participate are Rep. Ted Deutch, Florida Sen. Kevin Rader, Broward County School Board Vice Chair Nora Rupert, Florida Rep. Kristin Jacobs, Broward County Mayor Mark Bogan, and Broward County Sheriff Gregory Tony. The panel discussion will have prepared questions and questions from the audience.
And that audience will, of course, include forum members themselves. Le is looking forward to discussing school safety as well as Broward County's voting system. Scott would like to hear officials' stances on the costs of going to college.
"In this day and age, people don't think teenagers have anything to say …" she says. "But we have to deal with the decisions that adults make. With that being said, it's important for us to know how those decisions affect us, and [at the forum] give the officials a chance to see what our problems are and what our concerns are and hopefully get a way to fix them."
The Creek Teen Political Forum can be followed on Instagram (@Creek.TPF), Twitter (@CreekTPF) and YouTube (search for Coconut Creek Teen Political Forum). All high schoolers are invited to the Coconut Creek Teen Political Forum on May 6, 6:30-9 p.m. at Monarch High School (5050 Wiles Road).
Coconut Creek Lifestyle asked a few of the students participating in the Teen Political Forum about their involvement in the event and what they're looking forward to on May 6.
Kearstin Schiaffo, senior, Atlantic Tech
"I've never really been that politically active, so I think that this is such a cool opportunity. I'm really happy to be a part of it. … My favorite thing was to design the crest on the back of the [TPF] shirt because I love to design. Just seeing it and knowing that people are relating to that and that's bringing them to the event is just really great.
"I'm looking forward to everyone being able to have their voices heard. I would definitely love to hear more about school safety. It's still on everyone's mind from last year."
Rocio Colado, senior, Monarch High
"[My favorite part has been] networking with the other schools in Coconut Creek and getting to know them more. Also, just the fact that, besides all of our differences and how we don't go to the same schools, I think it's awesome that four different schools can come together for one purpose—to provide a platform for teens in Coconut Creek to be heard by our elected officials. So I think that's definitely the most amazing part: that we're a part of something so big, that's going to really push our generation to do great things."
Andras "A.J." Futo, senior, Atlantic Tech
"I'm looking forward to seeing a lot of my friends there expressing their views. I hope it's like a judgment-free zone where kids can talk about whatever they want, whether it's a light subject, like why does their school lunch taste bad, or even something heavier. So I'm looking forward to hearing the thoughts of my peers being expressed to the elected officials."
Robert Conti, junior, Atlantic Tech
"I'm interested in hearing about what teenagers think about the divide in our country right now between Democrats and Republicans. … We're trying to make it the best event possible for teenagers and young adults to get involved in politics, and I encourage people to come out and definitely voice their concerns because it's the best way to get change done."