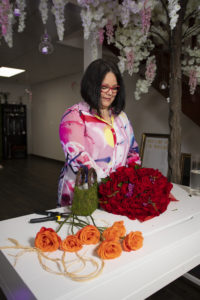 Photos by John Hartzell
Like most girls growing up, Chasity Laugier had Barbies. But the self-described tomboy didn't exactly play with them the way most girls did.
"My mother laughs, because she does say … I never really played with the Barbies," Laugier says. "I put the [doll]house together and I would go around my house and take things that belonged to my mother and I would make furniture and stuff."
Her small-scale creations during playtime proved to be a harbinger of the large-scale stagings synonymous with the Coconut Creek resident's work today. A partner of event-planning company My Wedding My Style, she plans and designs events such as bat/bar mitzvahs, quinceañeras, sweet 16 parties and, as the name suggests, weddings.
"Every time I walk into a room or into an event venue, it can be something different every single time. And that's what my passion is. We'll walk into a space and [a client] will say, 'Oh, I don't like this because this is positioned here or there.' And I can tell them, 'Close your eyes.' And then I start talking them through what can be done and they start seeing the vision."
The idea of "vision" permeates My Wedding My Style's new office, which is set to open this month at Zoe's House of Flowers in Tamarac on Commercial Boulevard. Laugier and her business partner, C. Harley, have run My Wedding My Style since 2012 when they met while working at an event venue in Margate.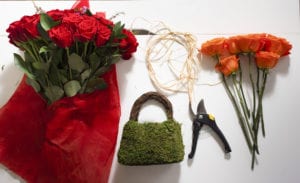 New partner Xiomar Frietas joined this year, bringing the flower shop with her.
"We don't want to be your typical flower store where you walk in and everything looks so cluttered," she says. "We want to make sure it gives that upscale vibe. It's a little more welcoming."
To help clients imagine their events, the space features a flower wall as well as vases and linens and swatches that clients can choose from. There's also a mood board to help clients create the look of their event. Upstairs, the team keeps its craft supplies and tools to make clients' dreams a reality.
Laugier first had a taste of the event-planning life working at a flower shop while living on a military base with her former husband, who was in the Marines. (The military connections extend in the business: Frietas is in the Army Reserve and Harley was in the Navy.)
After moving from the base, she became a paralegal. As her four children grew older, she found more time for the passions she was discovering. She went on to eventually earn a bachelor's degree in interior design from the Art Institute of Fort Lauderdale. Along the way, Laugier decided to go into event planning full time. She quit her job and started out by working on the weddings of different friends. Before meeting Harley, she handled everything alone, putting in late nights at home.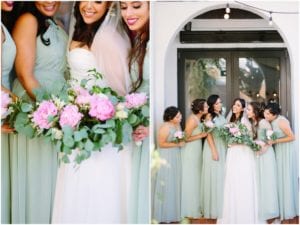 As it turns out, her paralegal training has come in handy. She manages contracts to make sure clients are getting the most (and best) for their money. The training also helps her to stay organized even when last-minute changes happen.
But the highlight for Laugier, a wedding consultant certified by the Association of Bridal Consultants, is stretching her creative muscles as she enjoys "getting her hands dirty." For one bat mitzvah, the client wanted an ice cream shop vibe. Laugier created giant ice cream cones from foam and clay. Another couple married at the Palm Beach County camp where they met as children and Laugier was able to create wood hearts, and signs designating where they first met. A wedding at the Old Davie School Historical Museum for a couple who both loved to read included books and book mementos as their centerpiece. Recently, she created an area guide for guests in town for a Miami wedding.
"My dining room table right now has newspaper and plastic all over it because I'm actually creating two 2-foot papier mache elephants."
Laugier and her colleagues' efforts have been rewarded with starred reviews and two Couple's Choice Awards (2016 and 2019) from WeddingWire, a website that helps its millions of users find wedding vendors around the world. For the My Wedding My Style team, recognition reflects not just a successful business but also their connections with clients.
"We created someone's 'happily ever after,' their fairy tale," Laugier says. "I've had clients who told me, 'I've thought about this—what my wedding was going to be like—since I was a little girl.' To know that you can do that and to have parents come up to you, happy because their baby had the perfect day—that means everything to us. That right there is the best part."
Trends and More
Laugier speaks to current and upcoming wedding trends. For more tips and inspiration, follow My Wedding My Style on Pinterest (@myweddingmystyl) and Instagram (@myweddingmystyle).
Sparkles and flare. Why do a farewell sparkler, when you can have a sparkle show during your first dance or your introduction? It gives a whole new meaning to "let love sparkle."
Experience instead of favors. Today's couples are opting out of traditional favors and are creating experiences for the guest. Weekend weddings can become three-day vacations with activities and fun leading up to the wedding (or after the wedding as a continuation of fun).
Stations vs. plated meals. Try giving guests several options, or serve plates without the traditional chicken, fish and meat. Maybe, add a twist like cultural food. Or during cocktail hour, opt out of traditional hors d'oeuvres for grazing tables presented like art with different cheese and meats.
Metallics are in! Titanium, gold, platinum, copper, silver and, our favorite, rose gold—no matter which metal is your favorite, use it as a statement. You can add them to your flowers by opting out of the traditional vase and using metallic structures to hold your flowers or as simple pops of decor.
Low centerpieces and estate tables. Both are a great way of providing a warm family feel. Runners or clusters of low centerpieces allow guests to have open conversations without having to peek around a vase or try long estate tables where everyone can sit together family style. Create grazing tables and use your food as centerpiece art.
Remember: No matter what your style is, the greatest trend is to make it your own.
Setting an Example
A mother of four, Laugier started working on My Wedding My Style once her children got older. Her family saw her put in late nights when she was just starting out working from home.
"[Working] allows [kids] to know that they can do what they want to do," she says. "[They think,] 'OK, my mom's doing this. She's striving and she's pushing forward.' It gives them something to look at."
Recently, one of her sons decided to travel the world before attending college, a decision he credited to Laugier's advice to "go out there and see, because if you don't see, you won't know what you want."
"We put so much into our kids, making sure that they're going to have a future they want and the life that they want, and we forget about meeting our dreams, our goals, our expectations.
"Them seeing us strive and move forward and do things—that gives them more than anything else. We need to remember that we need to take care of ourselves first because if we're not OK, they're not going to be OK."