After eight years of working together as paralegals, and then leaving corporate America to run a mobile espresso café, LouErik and Desirée Ambert know the secret to entrepreneurial success: friendship. The Coconut Creek couple, who have been together for 12 years and married for five, founded Cool Beans Espresso Café on Wheels in 2015 after buying an espresso truck from a couple. Together, the Amberts, who lovingly refer to themselves as best friends, have created the perfect recipe for co-working: "Everything is a partnership with us," Desirée says.
While Desirée focuses on the truck's design aesthetics and handles administrative tasks, LouErik creates mouthwatering coffee concoctions with coffee sourced from a private purveyor in Miami. Specialty flavors include red velvet with cheesecake whip, and their signature caramel coconut latte, which is a customer favorite as well as their own. Their whipped cream topping is homemade as well.
"I get really excited when I make something for somebody and it makes them happy," LouErik says. "For me it's an art. I really like putting my all into it."
Building a business came with its share of entrepreneurial pains.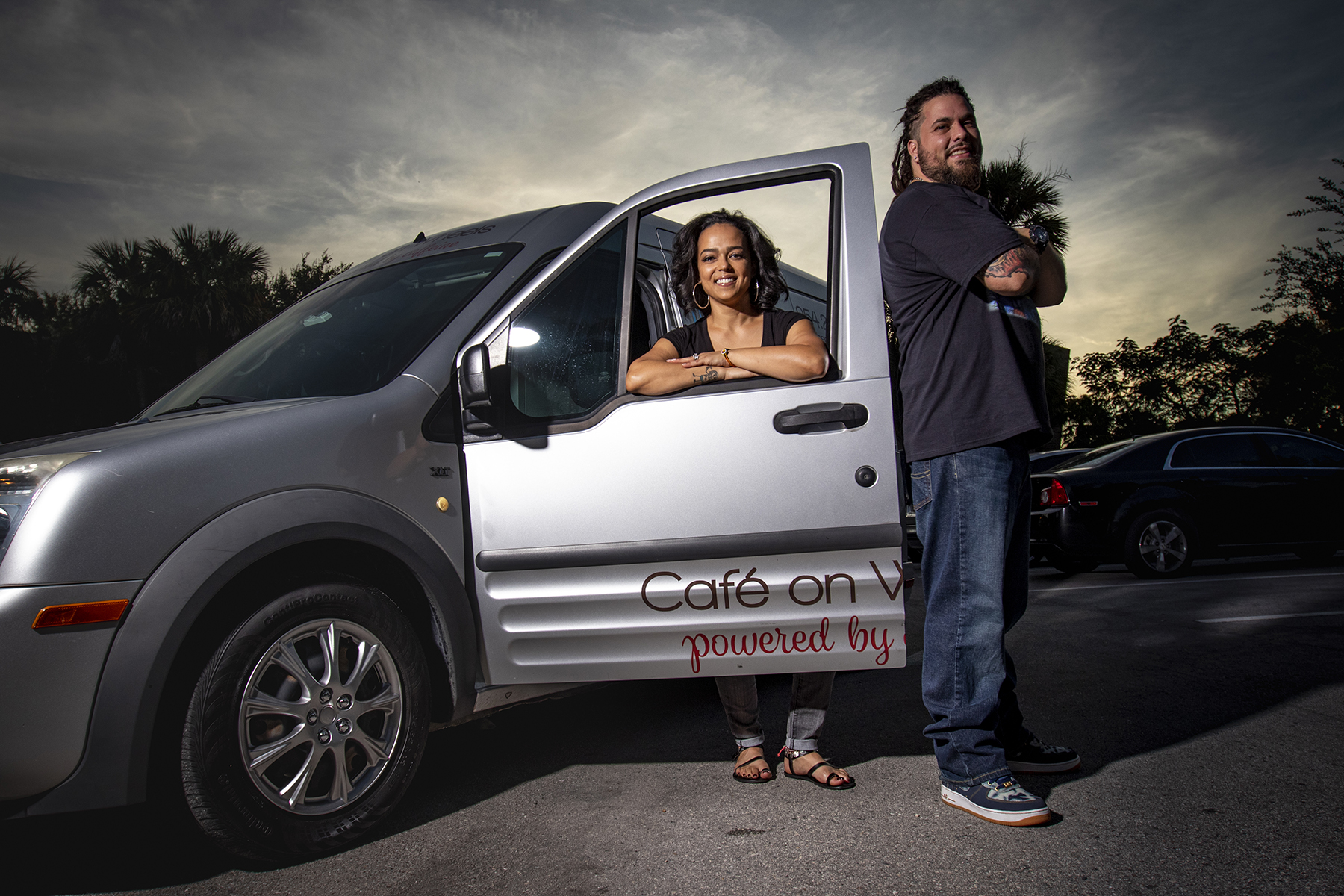 "My character is very structured and organized, so the shock of managing my own time and doing everything in the business—figuring out together what works, what doesn't work—was a challenge," Desirée says.
LouErik adds, "When we first started, we would go to five or six stops a day. Then, we finally figured out after a couple of years that it was better to go to one spot that had enough customers and spend most of our day there."
Landing the right spots has led them to serve at a variety of places such as the Taylor Swift Reputation concert at Hard Rock Stadium; the set of an independent film; and Sheridan House Family Ministries, a Davie-based organization dedicated to helping families and single mothers. Recently, they've also parked the truck at Bailey Contemporary Arts in Pompano Beach and Coral Springs' Savor the Notes Jazz Brunch.
Desirée, who was born in Florida to a Cuban family, and LouErik, born in New York to a Puerto Rican family, are proud parents of two young adults in their early 20s, one of whom made a literal mark in the truck's menu offerings. Their 20-year old son Zion's involvement in the business expanded from lending a helping hand to adding a menu item: Cool Breeze, the fruit smoothie he created alongside his parents to add his own rendition of a refreshing drink and serve customers who avoid caffeine.
While they celebrate almost five years of success in South Florida, Desirée and LouErik are looking forward to taking their wheels to the road in the future.
"One of our dreams is to expand and have a few trucks that can generate income here, and for us to take one of the trucks and do a nationwide tour promoting our coffee and, at the same time, live on the road for a year or two," LouErik says.
The Amberts also are looking forward to growing their business through Uber Eats and partnering with local businesses. In the meantime, Cool Beans Espresso has joined the second season of the Coconut Creek Farmers Market, offering a unique flair to the market.
"We live in South Florida, so we bring that flavor and Latino vibe to our truck," LouErik says. "We have music playing in the background and we're able to bring our culture to our community in Coconut Creek as well."
Coconut Creek Farmers Market
Find Cool Beans Espresso Café as well as fresh produce, handmade goods and more at the 2019-20 season of the farmers market.
When: 9 a.m.-1 p.m. on the first and third Saturday of the month through April. January dates are Jan. 4 and Jan. 18.
Where: North parking lot at the Township Plaza, located on the southeast corner of Sample Road and Lyons Road
Phone: 954.545.6682
Web: coconutcreek.net/parks/events/farmers-market
Cool Beans Espresso Café
Contact: 954.299.8080
Social: @coolbeansxprsso on Snapchat and Twitter;
@coolbeansespresso on Facebook and Instagram
Photos by Eduardo Schneider