Crazy for Closets
Think big when it comes to one of the smaller spaces in your home—and renovate in style
By Mallory Evans Jacobson
The renovation fever that started during the early months of the COVID-19 pandemic is still running hot. People continue to reevaluate their interior and exterior living spaces, leading to full-blown makeovers for areas of the home that no longer incite joy.
Apparently, one such source of unhappiness remains the primary closet/dressing area. Six months into the pandemic, with people spending more time at home than ever, The Wall Street Journal published a story about custom closets and how they were suddenly the ultimate status symbol. According to South Florida interior experts, little has changed. Closets remain one of the leading candidates for a design reboot.
To uncover the best way to tackle your own closet if you're in the market for a revamp, Lifestyle spoke with several local designers who are seeing no slowdown in the popularity of this trend.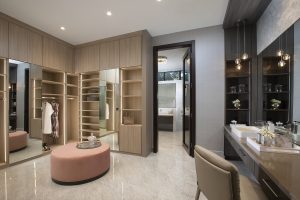 Extending the Bedroom: If you have the opportunity to convert an underused bedroom or ancillary space to a luxury closet, incorporate design elements such as coordinating finishes and light fixture styles to allow the room to blend seamlessly with the rest of your home.
While you may choose to go in a direction that is more modern or glamorous than your primary bedroom and other living spaces, it should still follow a similar design aesthetic.
Get Your House in Order: For Fort Lauderdale designer Alena Capra of Alena Capra Designs, the chief goal is creating a plan for organization.
"You have to strike a balance between aesthetically pleasing and accessible, and that's not always easy," Capra says. That is why she likes to design each closet as she would any other room; Capra considers elements like floor coverings, wallpaper, light fixtures, accent furnishings and window treatments when starting a project.
"I always inventory the scope of belongings we will be storing in the closet and find out which items will be in full view and which will be stored behind closed doors," she notes. "This process allows for a more streamlined approach, and we don't encounter any surprises."
Capra also has a penchant for color-coordinating, as illustrated in the featured photo of her own closet, which she lovingly refers to as her personal "glam room."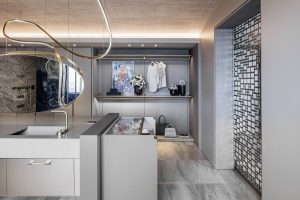 Go Vertical: Whether you live in a suburban single-family home or a beachside condominium, maximizing space is important when embarking on the design of a closet. Therefore, when North Miami Beach's design firm DKOR Interiors was recruited to engineer an expansive closet and dressing area for a newly constructed home, every inch of wall space was used.
"The client requested a combination of open and closed storage so that she can showcase purses and shoes and keep less frequently used pieces like luggage and off-season clothes stowed away," says studio director Marianna Cerullo Di Bella.
Function and Style: According to Claudio Faria, the founder and co-principal of the Miami Design District outpost of the custom cabinetry and furniture designer Ornare, envisioning the ideal dressing area is not just about showcasing clothing and accessories.
"Bespoke closets signify aspiration and make the home feel complete; when you're getting dressed, you should feel energized, like you're in your own private boutique," he says.
For the design of the featured project, interior designer Sandra Diaz-Velasco of Miami's Eolo A&I Design engaged Ornare to outfit the spa suite—which incorporates both the primary closet and bathroom—with custom wood laminate cabinetry accented by a floating mirror and a geometric silver screen.