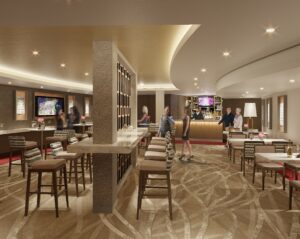 After decades of hosting legendary entertainers and thousands of guests, Parker Playhouse in Fort Lauderdale needed an upgrade to continue providing excellent entertainment to South Florida audiences. Thanks to a massive $30 million renovation that adds bars, lounges, restrooms and a new luxurious lobby featuring a 30-foot ceiling, the art and entertainment venue will reopen in September with a new name, The Parker.
"When the Broward Center began managing The Parker in 2005, it was immediately clear that the performers and audiences loved the hall but that it was in need of upgrades after so many years," says Broward Center president and CEO Kelley Shanley, who manages the venue. "As a reflection of the important role The Parker has had in the cultural development of Fort Lauderdale, the City of Fort Lauderdale provided the initial funding to jumpstart the campaign for The Parker. Thanks to the City of Fort Lauderdale's early support and that of many generous donors, we are now ready for The Parker's revival as a vibrant, contemporary home for outstanding cultural and educational programming that honors its history as it forges its own place in the cultural landscape of South Florida for generations to come."
The $30 million restoration was made possible by the Broward Performing Arts Foundation, which led the fundraising effort. To highlight the entertainment center's changes, performers set to grace the renovated venue for the 2021-2022 season include singer Bruce Hornsby, comics Lewis Black and Patton Oswald and actor Alan Cumming.
For more information, visit ParkerPlayhouse.com or email [email protected].