Photos by John Hartzell
On a Monday night in late January, it's 54 degrees in Pompano Beach. Inside the Glacier Ice & Snow Arena, it's even colder.
About 11 women change into hockey gear in a locker room, laughing and catching up and talking. The group—which includes a chemist, a teacher and a headhunter, among others—dons blue and white uniforms with a green three-leafed clover, emblazoned with their team name: Lucky Pucks.
This is one of the team's weekly "Girls Nite Out" events, something of a practice skate. But for Lucky Pucks founder Karen Ota-O'Brien, tonight isn't routine. It's the Coconut Creek resident's first time on the ice since she injured her back in December. Wearing a back brace under her uniform, she sits on the bench, chatting with teammates and some of the men who have joined their game.
Ota-O'Brien, 54, keeps telling everyone that she doesn't think she'll go out on the ice. But after several minutes of swinging open the bench-area door for teammates, she's unable to contain herself. She charges onto the ice and races toward the puck.
After an intense minute or two, she comes back to the bench, lamenting that her back has started to hurt.
"I wanna get out there," she says through her teeth with mock intensity.
Ota-O'Brien, president of the Florida Women's Hockey League since 2014, has been injured before. Her logical side wants to heal properly before the league's final tournament of the season in February. But at the end of the day, nothing can keep her from the ice.
"I was always thinking when I was in my 20s and 30s, 'There's no way I'll be playing in my 50s,' and I still am," says Ota-O'Brien, who works as a sales rep and space planner at an office furniture company by day. "I got a back brace on today—it takes longer to heal when you get hurt. But I just love it."
STROKE OF LUCK
Hockey always has been near her life. Ota-O'Brien, who is of Japanese and Simpcw First Nation heritage, grew up on a farm in the town of 100 Mile House in British Columbia, about 300 miles from Vancouver.
"The daffodils will be coming out, and then all of a sudden, it snows and it's minus-20. The fields would melt, and then at night [there would be a cold spell] and they would freeze. So I'd have acres and acres just to skate," she says.
But despite the informal practice—and the fact that a nearby boys' hockey team did have two girls—Ota-O'Brien wasn't too involved in sports.
"We had chores to do, cows to feed. They [her parents] weren't sticking around or going back to town to pick me up for hockey practice or basketball practice. So I kind of wasn't able to join any sports. It just wasn't in the plan for the ranch," she says.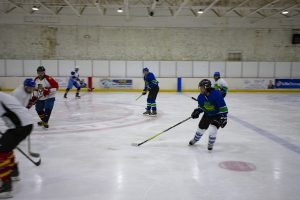 Ironically, it wasn't until she left Canada that hockey found her. After working as a stewardess on a private yacht, she moved to Fort Lauderdale and started working at Cafe Maxx in Pompano in November 1989. Around two years later, some male friends she knew from the restaurant business invited her to a shinny, or informal pickup, hockey game. She was hooked and eventually joined a men's team.
When her hockey community heard a women's team from Montreal was visiting for a tournament, Ota-O'Brien was approached about forming a team to play against them. She brought the women players she knew together with some men and formed a team in 1996.
The Canadian team "smoked" them, Ota-O'Brien says, but word spread about the new team and more and more women joined. They became the Fort Lauderdale Freeze. While their numbers steadily grew, they still didn't have enough women to play against, so they joined a men's league.
"It was fine until we started winning," Ota-O'Brien remembers. "When we started winning, there were instances when there were tampons thrown on the ice and just poor sportsmanship by a bunch of dudes that were [upset] because we were beating them. But some loved us. Some [would say], 'Good for you guys. You made it to the playoffs.' "
Eventually, the success of local teams and statewide games led Ota-O'Brien and other Florida women players to formalize their tournaments. In 2002, the Florida Women's Hockey League was born when Ota-O'Brien, Debbie Danneman (now general manager of Palm Beach Skate Zone) and former Freeze member Linda Belanger met at a bar to figure out how to unite players across the state. Today, the league has more than 10 teams that play monthly from September to February.
In South Florida, more success followed. The Freeze played at the USA Hockey Women's and Girls' Southeast District Championships in 2004. Then, in 2005, the team, renamed the Florida Beaches, became the first women's team from Florida to qualify for the Women's National Ice Hockey Championships. In 2007, Ota-O'Brien formed the Lucky Pucks Ice Hockey Club from the Beaches' C team. That same year, they won their first Florida Women's Hockey League tournament.
Today, the Lucky Pucks have three divisions, spanning from beginners to former college players: 40-plus National, C and Recreational. And they haven't slowed down. The 40-plus division won silver at the USA Hockey National Championships in 2010, gold in 2011 and silver in 2012 and 2018. And the Recreational and C divisions have won several state championships (including one in 2016 for the C Division).
With all their accomplishments, a point of pride for Ota-O'Brien is the the Lucky Pucks' annual golf tournament, which gives back to charities such as Women in Distress, the Humane Society, Defenders of Wildlife and more. Last year's 13th event raised $3,500.
"It says in the Bible that the more you sow, the more you reap, and I tell the girls that we are a testimonial, because every year we give a little bit more [and] the next year, we make more money," she says. " … We're pretty proud of that."
JOY AND FRIENDSHIP
The Lucky Pucks' website states that the team's focus is "the joys of hockey" and "the friendships we have made and continue along the way."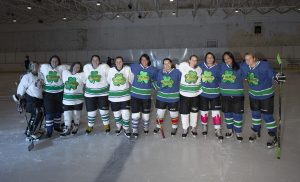 Both are evident on the ice on Monday night as players encourage each other—and also express concern when Ota-O'Brien says she's not skating. Keeping up that camaraderie is part of the reason she started "Girls Nite Out," which also welcomes beginners. In fact, the group of women that she befriended in the 1990s are still her "hardcore girlfriends" to this day.
"I always call the Lucky Pucks a sisterhood. Once you're a Puck, you're always a Puck. There's been solid friendships that have bonded from it," Ota-O'Brien says. "Over the years, the hockey program has helped and possibly [gotten] women in bad relationships out of that relationship in a good, positive way."
As for the joy, it comes back to Ota-O'Brien every time she's on the ice.
"I've gone through some tough times—personally or work-related. … You get out there—maybe it's because I'm from Canada—and that fresh, crisp air is awesome. It just clears your head," she says. "And you chase around that stupid black puck for an hour and that's all you think about: getting that puck. So your troubles, everything that happened that day, or what's going on in your life—you forget about it."
Now in her second term as president of the Florida Women's Hockey League, she's looking to promote the league to players outside of Florida and grow the girls' night to three teams—and start a 60-plus division.
"I'm not quitting any time soon," she promises.