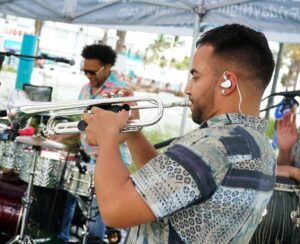 The LOOP (Las Olas Oceanside Park) was recently launched in the Central Beach area of Fort Lauderdale to provide public green spaces along with the Intracoastal Promenade, Las Olas Beach Garage Sunset Terrace and DC Alexander Park. The four locations will offer a bevy of year-round activities and oceanfront entertainment, including food events, fitness classes, art shows, live music and environmental causes.
"Our goal with The LOOP was to give it a place and purpose," says Arianne Glassman, Fort Lauderdale's contracted consultant and Open Spaces coordinator. "I spent a lot of time before assuming this role in February 2021 learning about the needs, wants and desires of this community, with the goal of providing locals and visitors a variety of experiences that spoke to who we are as a destination and what would help create a vibrant community in the city's backyard." 
The four pillars of The LOOP are "FAME":
F – Families, Fitness, Food, Friendly, Fun

A – Active Adults, Art, Adventure, Approachable, Authentic

M – Millennials, Music, Mix & Mingle, Memorable, Mindful

E – Everyone, Educational, Environmental, Entertaining, Easy Going 
The project's final phase entails completing the renovation on the complete redesign of DC Alexander Park. The park sits off 5th Avenue South and A1A and is estimated to be completed in late 2022. Once finished, the park will feature a multi-level signature play area surrounded by a 25-foot sweeping observation deck with a 42-foot-tall shade canopy and restroom facility.
Some of The LOOP's signature events include: