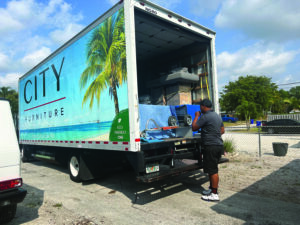 The United Way of Broward County's MISSION UNITED program and community leader and philanthropist Susie Levan partnered to surprise Army veteran Takela Mensah and her family with a home refresh makeover in Fort Lauderdale. Levan established Operation Refresh to thank military service members by turning a house into a home for local Broward County Veterans served by MISSION UNITED.
Takela, an Army Staff Sargent who served for 20 years, was referred to the MISSION UNITED program by the VA due to homelessness. She was living in a hotel with her two children at the time. The program has since assisted Takela with finding an affordable apartment and subsidized her rent for 12 months until she became financially stable. Takela is also receiving case management and ongoing support through MISSION UNITED services.
Levan worked with Andrew Koenig and the team at CITY Furniture (CITY) provided furniture and additional décor, including bedding, pictures, curtains, rugs and lamps specifically for Takela's home refresh. CITY graciously offered highly discounted rates on all furniture and additional items to help make this refresh successful. The refresh process took a whole day to complete. Once completed, Takela was joined by her daughter Takoyiah and son Zion where Levan revealed their newly decorated home.
Several deserving veterans throughout this year will receive a home refresh courtesy of Operation Refresh and Levan. Operation Refresh is part of the year-long celebration to commemorate the 10th Anniversary of MISSION UNITED, which will be recognized at United Way of Broward County's Mayors' Gala on Saturday, April 29, at the Seminole Hard Rock Hotel & Casino. To purchase tickets, visit UnitedWayBroward.org/MayorsGala.
Photos courtesy of MISSION UNITED