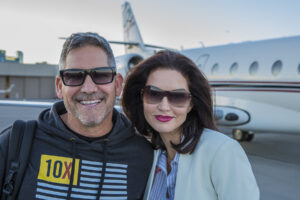 His first charitable donation, at age 25, may have been small in scope, but it was still significant to Grant Cardone—and not just because of his struggling financial situation at the time.
"I remember how good I felt about giving back," says the self-made real estate mogul, speaker, sales trainer, influencer and CEO of Cardone Enterprises and Cardone Capital.
Grant didn't know it then, but he was taking the initial steps in an entrepreneurial journey that would reconnect him, philanthropically, to the feelings he had in his mid-20s.
Today, Grant owns and operates seven privately held companies to go with a portfolio exceeding $4 billion in multifamily properties. Along the way, he's emerged as a New York Times best-selling author—including his page-turner on sales strategies (If You're Not First You're Last in 2010) followed by his book on how to accomplish your business dreams (The 10X Rule in 2011). Six years after its publication, the latter best-seller spawned the 10X Growth Conference, one of world's premier business and entrepreneurial events.
That same year, 2017, also marked the debut of Grant's namesake charity foundation, one with a mission that speaks to his own complicated and troubled childhood. Grant was 10 when his father, Curtis, also a hard-working entrepreneur, died of a sudden heart attack at 52. Six years later, Grant began smoking pot; by age 18, he was an everyday user of drugs—a period that, overall, lasted nearly a decade.
After trying and failing to get clean on multiple occasions, he stumbled into his mother's business under the influence. She told him, in no uncertain terms, not to return unless he was sober—for good. He soon entered a 30-day treatment program and, slowly, charted an improbable course that's resulted in financial security, global renown and a beautiful family with wife Elena and their two daughters (Sabrina and Scarlett).
Grant launched his foundation for at-risk youth because he recognizes the hurdles they face, especially children without a father figure.
"[We're] providing mentorship and examples to at-risk kids with modern, easy-to-consume, bite-sized practical alternative education involving financial literacy, communication, confidence building, sales, marketing and investing," he says of the Grant Cardone Foundation. "[From there], we start to connect these kids through my massive network of business owners to future opportunities for work and business and internships.
"Our programming really took off in 2021, and since then we've expanded our mission to incorporate all kids who are at a disadvantage in life. This includes kids who are falling below the poverty line, who live in homeless shelters, who are in the foster care system, and even those who are victims of gun violence or domestic abuse."
Both Grant and Elena talk about philanthropic influences and the foundation's ongoing pursuits in this interview with Lifestyle.
Grant, you've been candid about your dad's death and the impact that not having a father figure had on you. How does that thread extend to your foundation?
When my father died, my entire life—my personality, my outlook on life, everything—changed. [That's no] exaggeration. I remember being in a state of shock for what seemed like a year. I'd be doing a task, like mowing the lawn, and I'd be in a dream state—a sort of trance, fantasizing that Dad had not died, that he would come home any day.
For many years after that I hoped one of my uncles would mentor me. I went to school, secretly hoping the older boys, a teacher, the principal, the high school coach—someone—would show up and take an interest in me.
No one showed up until the local drug dealer took an interest in me. I wanted a mentor in my life so badly that I would have taken attention from any man.
This resulted in the worst nine years of my life, starting at age 15. I lost my self-respect and became a daily drug user for the next [decade], until I finally went to a treatment facility.
I think this experience with missing a dad is why I spend so much time today trying to help others—men and women—because I know it is real that people are looking for attention and guidance.
This is why I created the Grant Cardone Foundation—to help kids that don't have a father influence in their lives.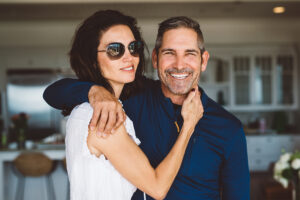 Elena, was there an episode that helped to accelerate your interest in philanthropy?
I remember when this very philanthropic friend of ours made a million-dollar donation to an activity we were supporting. Grant and I, as well as [the other attendees] in the room, were so inspired by the generosity.
On the way home, we made it our goal to be able to do the same one day.
A year later, we were in Miami for a fundraiser, and the group was short of their goal by $1 million. There were only a couple of hundred people in the room, and it was clear there was no way they going to hit their target.
I nudged Grant to do it. He immediately stood up and [donated] the $1 million needed. We drove home, and we were both so happy that we were able to do this. Grant was so excited that he started and finished an entire book that night, The Millionaire Booklet.
Can you describe how the Cardone Foundation works as far as identifying which organizations/initiatives to support?
Grant/Elena: The foundation's philosophy is to network with organizations and partners that focus on serving at-risk youth through financial literacy and entrepreneurship education. Our network of partners has grown to over 35 organizations, and we plan to double that amount by the end of 2023. Our foundation will continue to work with partner organizations across the country and around the world to maximize our positive impact on kids everywhere.
Are there specific initiatives through the foundation of which you're particularly proud?
Grant/Elena: With the launch of our 10X Kids education platform last year, our partners, who integrate this program into their own curriculum, provide key feedback on how we can best support our youth. [Note: The 10X Kids curriculum teaches financial literacy and the 10X mindset to students ages 12 to 17.]
Recently, the Grant Cardone Foundation implemented a new initiative called the "10X Kids Pitch Off," in conjunction with our Washington, D.C., partner, Tumaini DC. This contest was a Shark Tank-style business pitch competition for the ambitious young entrepreneurs of Tumaini, who had used the 10X Kids program this past summer to develop their business ideas.
Our foundation flew the students from Washington, D.C., to Miami and awarded $25,000 [combined] to four fantastic young entrepreneurs whose business plans can now become a reality. With the incredible success of this event, our foundation will be implementing this program again next year with more national partners. … This is extremely gratifying; we're able to show these young men and women a way to succeed in business as an alternative to life as a gang member or drug dealer.
2023 also will bring a new campaign—the 10X Entrepreneurship program. Students who are alumni of any of our partner organizations—and who can prove that they can save at least $500—can receive up to a $5,000 match from GCF toward achieving their entrepreneurial goals.
As you've learned more about underserved and at-risk populations, what are some of the realities and ongoing challenges that would shock people?
Grant: Life is hard no matter who you are, but it's 10-times harder for these communities where the father is unavailable or missing due to death, work, jail, addiction or other circumstances. It's an undeniable fact that when the father is gone from the family unit every major negative statistic skyrockets—suicide rates, incarceration, drug addiction.
Money is not the only solution. These communities don't need handouts. They need real people providing successful examples, continued support, easy-to-access online education—and then opportunities in real life that will allow them to flourish and prosper.
Those that have and can must help those who don't have.
How has your philanthropic work affected the way you view the world or live your life?
Grant/Elena: The most valuable asset we have in our lives is the ability to help and serve others. No one will remember Grant Cardone and Elena Cardone for the money they made, the jets they owned or the houses they lived in.
They will remember us because of the help we offered.
To learn more about the Grant Cardone Foundation, visit grantcardonefoundation.com. For details about Tumaini D.C., visit tumainidc.org.