By gridiron standards in western Palm Beach County, theirs was a forbidden love. The star quarterback at Pahokee High School dating a member of the marching band at neighboring rival, Glades Central? In another era, it might have lit up social media along the shores of Lake Okeechobee.
Then again, there's something about the coal-black soil in the farming communities of Pahokee and Belle Glade that ultimately binds more than it divides. The fertile ground, affectionately known by locals as the "Muck," yields bumper crops of sugar cane, citrus and vegetables. It's a hardscrabble life for those who tend to the fields and labor in the mills, but it's work that has sustained generations of families in the Glades.
Anquan Boldin and his then-girlfriend, Dionne, were on opposite sides of the Muck in a football sense—a line in the mineral-rich earth even more pronounced in 1998, when both Pahokee and Glades Central entered their annual showdown undefeated.
Still, there's something bigger in those towns than fall Friday nights, even if it doesn't always seem that way during football season. Yes, Anquan, the talk of the sport that year in Florida, led his Blue Devils to a 34-14 victory in the aptly named Muck Bowl—Pahokee's first victory over Glades Central since 1990. And, yes, football was his way out, a path that a combined 60 (and counting) standouts from those two high schools have followed to the National Football League.
But just because one door opens it doesn't mean all the ones behind it close shut. Just the opposite for Anquan and Dionne. There was work to be done in the agricultural towns of their youth. And when the Muck beckons, its natives answer the call.
"Growing up in Pahokee, we'd always say that we didn't know we were poor—because everyone around us was poor," says Anquan, who switched to wide receiver at Florida State University and enjoyed a prolific 14-year NFL career at that position with four teams. "It was more like a family environment. If there was something that you needed, your neighbors would help you out. And vice versa. My house was your house. If I had food to eat, you had it as well. That was the mentality we had growing up there—and it always stuck with me."
"It was very similar in Belle Glade," says Dionne, who married Anquan in 2009 (they have two boys, Anquan Jr., 17, and Ashton, 11). "Those schools are technically rivals during that one week. Otherwise, we all stick together. Anywhere you go in the country, people from the Muck have a way of finding each other. You always have that sense of community."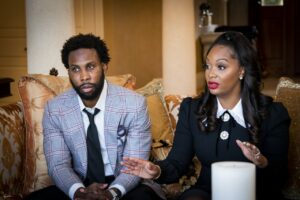 Pouring the Foundation
Anquan earned Florida's Mr. Football Award in 1998, an honor bestowed on the state's top prep player. After turning heads at FSU as a wideout, he exploded onto the NFL scene in 2003 with the Arizona Cardinals (where he spent his first seven seasons), setting a record that still stands for most receiving yards in a debut game (217). His breakout rookie season resulted in 101 receptions, 1,377 yards, and the first of three Pro Bowl appearances.
Anquan was an NFL star. And he had a platform. The question was what to do with it.
A man familiar with Anquan's under-the-radar philanthropy during his rookie year suggested that he put himself out there.
"If you want people to join you, he told me, they have to understand what you're doing and why," Anquan says from his family's home in Delray Beach. "I took his advice."
In 2004, he co-founded the Anquan Boldin Foundation, also known as Q81 (his jersey number for nearly all his NFL career), with Dionne. Although Anquan was playing for Arizona, the Glades remained top of mind. But the couple quickly realized that their big-picture approach wasn't working.
"We wanted to help anyone we could in the underserved community," Dionne says. "But it took us time to narrow that because our hearts were just so big—and we wanted to meet all the needs. We found ourselves exhausting the resources of the organization because we were all over the place."
Anquan and Dionne soon zeroed in on education, understanding how important just that one key could be to unlocking so many opportunities. It's a lesson both learned early. Dionne's parents were immigrants from Jamaica who settled in Belle Glade. Her father took a job cutting sugar cane; 50 years later, he still works at the mill as a mechanic. Her mom, who spent 40 years teaching and working for the school board, raised her daughter with two hard rules.
"It was nonnegotiable with my mom growing up," Dionne says. "You had to perform in the classroom, and you had to contribute something to the community."
Anquan's grandparents were farmers, and his father spent years in the mill (he now works for Palm Tran). His mom cared for the elderly in a nursing home.
"I wasn't going to college had it not been for a football scholarship; my parents couldn't afford it, and I had three other siblings," Anquan says. "When you have parents trying to make ends meet, and then you tack on college tuition? Impossible.
"We realized that so many people in the area had the same challenges that our families had. We wanted to ease that burden on families who want to send their children to college."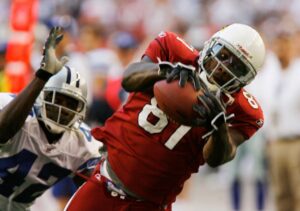 The Q81 Foundation created initiatives like the Summer Enrichment Program, an eight-week session run through Everglades Preparatory Academy in Pahokee meant to reengage high school students in the Glades area who were falling behind, had missed credits—or who had lost complete interest in classwork. The program includes career fairs, field trips and speakers from all walks of vocational life. To date, it has helped some 400 students with academic recovery before graduation.
"We've all seen it. Kids who don't graduate high school, their chance of being successful is slim to none," Anquan says. "Also, your vision can get stifled if you're just in the Glades area your entire life. There are a lot of kids who've never left the Muck. When they see these different opportunities, when they go on a field trip, you'll see their eyes light up and the bulbs go off. We're trying to show them that whatever they want in life, it starts with education."
Separately, Anquan and Dionne personally funded a $1 million endowment in 2014 for scholarships to high school graduates in underserved areas. Each year, deserving recipients in the Glades (and in NFL cities where Anquan played) receive $10,000 scholarships based on need, academic standing and community involvement. According to Q81's impact report for 2021, 18 of its scholarship recipients have graduated from college.
Portrait photos by Eduardo Schneider