W Fort Lauderdale
Address: 401 N. Fort Lauderdale Beach Blvd., Fort Lauderdale
The allure: The 27-floor, 517-room resort has been an ode to contemporary cool since it debuted more than a decade ago on Fort Lauderdale Beach. The fifth-floor scene at Wet East—the art deco-inspired pool hub with daybeds, bungalows, and live DJs—brings a slice of South Beach to Broward. Standard suites run roughly 600 square feet—but the aptly named Extreme Wow, a penthouse on the 24th floor, spans 2,600 square feet. Dining highlights include two Stephen Starr standouts—Steak 954 and El Vez.
Isn't that special: Two curated in-suite amenities speak to the fact that the W never rests on its customer-experience laurels. The SnipTease offering, created by Melodie Blaize, gives participants the opportunity to transform shirts and garments into wearable works of art through creative cuts and ties. For a more traditional artistic experience, the W has teamed with Hector Prado, a painter who will create a graffiti-style portrait of customers. Pick the background color, and Prado will complete the canvas in your suite. Both amenities are bookable for oceanfront suites with balconies. The resort's Away Spa, meanwhile, is offering a free manicure through December for customers who book a pedicure treatment.
Contact: 954.414.8200; marriott.com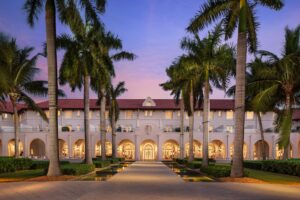 Casa Marina Key West
Address: 1500 Reynolds St., Key West
The allure: A century ago, the resort imagined by railroad magnate Henry Flagler (but not opened until 1920, seven years after Flagler's death) played host to the nation's most affluent travelers on the Overseas Railroad. Today, the Waldorf Astoria property (on the National Register for History Places) continues to honor its past with an experience steeped in sophistication and first-class service. Home to the island's largest private beach, Casa Marina makes full use of its backdrop with an endless array of aquatic activities (jet ski tours, sunset cruises, scuba diving, eco-snorkeling tours, deep-sea fishing charters) and two oceanfront pools. The resort has 311 rooms, including beachfront suites with balconies. Sun Sun Beach Bar & Grill invites travelers to have a "toes in the sand" dining experience.
Isn't that special: The Family Fun Package includes breakfast for two adults and two children (ages 12 and under), and premium Wi-Fi for downloading movies and in-room entertainment. The Long Weekender knocks 50 percent off Sunday nights for those already staying Friday and Saturday.
Contact: 305.296.3535; casamarinaresort.com