Lead photo by Eduardo Schneider
Kristin Beck and Laura McDermott Matheric tend to finish each other's sentences. During a conversation about their goals for the arts community in Coconut Creek, they go on short tangents (one mentions the Muppets; another mentions the importance of art).
Seeing their easy banter, it's hard to believe that Beck, an artist, and McDermott Matheric, an associate professor of English at Broward College who teaches composition and creative writing, first met only a year ago. On social media, Beck sought creative-minded Creek residents to discuss how to promote the arts in the city.
The initial meeting of a group of about 10 people had several ideas, but Beck was looking for something that could last—something that went beyond an informal group of people with something in common. As it turned out, something more organized was just up McDermott Matheric's alley. As executive director of the nonprofit Orange Island Arts Foundation, she has arranged several community art events (such as poetry readings and the publication of a literary journal written by high schoolers) that seek to cultivate community through written and visual arts.
"Laura and I realized that [joining] forces would be the best route as Orange Island already existed in Coconut Creek," Beck says. "This way [a new initiative] could just live in it, and then, we could start where we wanted to start."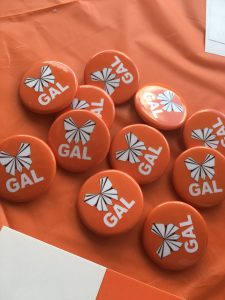 The two Coconut Creek residents sought the support of city commissioners as well as residents to be "aligned with growing the interests of the city," as Beck puts it. At last year's Coconut Creek ArtsFest, they surveyed residents to gather their thoughts on how they would like to support the arts in the community. With this impetus and their own ideas, Beck and McDermott Matheric founded the Guild for Art and Literature in Coconut Creek, which launched in January with the goal to "foster, encourage and facilitate interest in the arts."
"The first step was finding that there is an art community, and we found that there is a need—we're still trying to work out what that need is," McDermott Matheric says. "But now we have the establishments that are getting on board that want to help support such an endeavor."
Those establishments include Swirl Wine Bistro, the North Regional/Broward College Library and the Community Center—all venues where Beck and McDermott Matheric plan to host guild events and meetings. The goal is to partner with two to three venues to meet and three to five venues to show art, celebrate the written word, host workshops and hold demonstrations.
One of these events launched last month: an art exhibit called "Stories and Secrets." Hanging on several walls of the second floor of the North Regional/Broward College Library, the show features 32 pieces from 13 artists (two from Coconut Creek), its theme a nod to how the guild is already working with its partners to further the arts. The theme in part supported the library's Tell Your Story, a March event that featured author workshops and speakers to encourage attendees who are writers to tell their stories.
"The story part [of the exhibit] was an exact leap from Tell Your Story. But if I included the secrets, it opens up a little bit," Beck says. "[The art could feature] something hidden or it could be something not so obvious."
For their next step, Beck and McDermott Matheric are looking for people to be active members of the guild. They want to encourage participation, and the showing of work and new ideas. Plus, they want celebrate the act of creation itself through initiatives still in the works. Up next is a poetry event this month to celebrate National Poetry Month. Another goal is to partner with other local art guilds and provide a platform for positive expression.
"It's really important for people of all ages to express themselves creatively. And, if they don't, have an outlet to find it. … If they can't express themselves positively, it sometimes manifests in negative ways," Beck says. "So I'd rather be on the forefront of the positive end and have this place where that can happen—where they can find something that they never thought of before, or do something that they haven't had time to do."
McDermott Matheric adds, "Hopefully, we can provide a service to those in our local communities that want to feel connected. … It's a social aspect. … There's so many different things: your therapeutic release, your artistic release, a way to meet people and friends. A way to just enjoy art—because you don't have to be an artist to be a part of the guild."
Adds Beck: "You do not. All viewers need art, and all artists need viewers."
"Stories and Secrets" is on display at the library through April 30. The guild also hosts Sunday Salons of South Florida at Swirl Wine Bistro on April 28, featuring author readings. For information on the guild, visit creekgal.org.