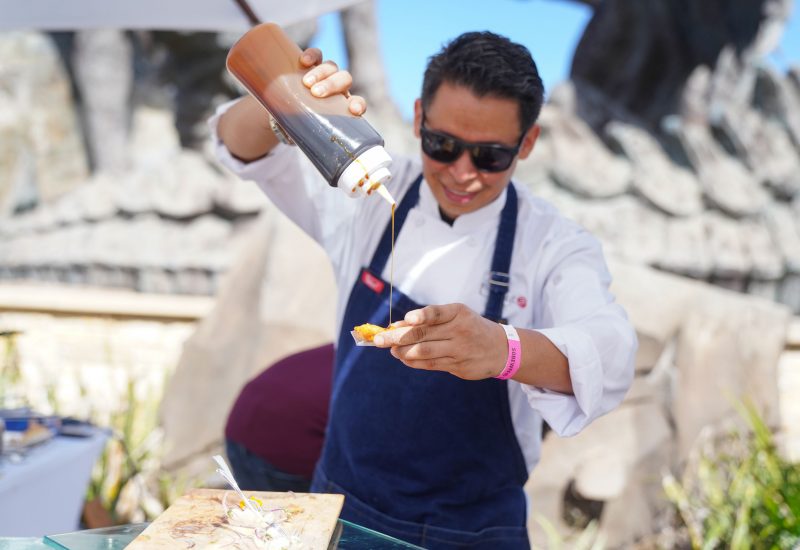 Gulfstream Park to Host Hallandale Beach Food & Groove
The event is part of the South Beach Wine & Food Festival
Gulfstream Park, a premier entertainment, dining and restaurant venue in South Florida, will host the Hallandale Beach Food & Groove: A Wine, Food and Art Experience from 7 p.m. to 11 p.m. on Saturday, Feb. 25, from 7–11 p.m. The event is part of the 22nd annual Food Network & Cooking Channel South Beach Wine & Food Festival presented by Capital One (SOBEWFF®).
"We look forward to welcoming new and return guests to the Hallandale Beach Food & Groove: A Wine, Food and Art Experience," Alex Schreer says, director of Experiential Marketing at Gulfstream Park Village. "This event invites food lovers for an immersive culinary experience, set to the backdrop of Gulfstream Park in a beautiful, open-air environment."
The event, hosted by Southern Glazer's Wine & Spirits and Florida International University, features a variety of international cuisines, including Gulfstream Park Village's Belly Fish and Ten Palms restaurants, El Tamarindo Coal Fired Pizza, Marash Turkish Cuisine, Moises Bakery, Dr. Limon Hallandale, CAO Bakery & Café, The Krazy Vegan, Il Mercato Café & Wine Shop, Matteo's Trattoria, Dunn's River Island Café, Holy Avocado, Ceviche Avenue, Chef Irie, See Thai & Japanese Cuisine, Nana's Sapibon Haitian Restaurant, D's Delights and Mable's Island Kitchen.
All proceeds from the festival benefits FIU's Chaplin School of Hospitality & Tourism Management. Student volunteers help organize all aspects of the event, including planning, logistics and overall execution. It is part of the Hallandale Beach Community Redevelopment Agency's (HBCRA) strategic plan to promote economic development by branding the city as a destination for food, arts and entertainment while attracting international exposure to participating local restaurants. It is the fourth year in a row that the HBCRA is partnering with SOBEWFF to host the Hallandale Beach Event Series.
"We are excited to be a part of this iconic South Florida event that brings the community together to enjoy an unforgettable evening," sDr. Jeremy Earle says, City Manager and CRA Executive Director of The City of Hallandale Beach. "This event spotlights our incredible culinary talent and diversity and brings great value to our local economy."
General admission tickets are $75 plus tax and service fees and can be purchased by visiting sobewff.org/groove.