To kick off the Hallandale Beach Food & Groove event, well-known chefs Jernard Wells and Omar Martinez will host a special celebrity chef dinner from 7 p.m. to 10 p.m. on Feb. 24 at Icebox Café in Hallandale Beach (219 NE 3rd St). The culinary event includes delectable dishes paired with an array of wines. Wells is an award-winning TV host and author of several cookbooks and has appeared on Food Network Star. Martinez is a culinary professional with 22-plus years of kitchen experience and is known for his extensive knowledge of international cuisine. Tickets to this unique dining experience are $200 and available online at SOBEWFF.org/icebox.
The Hallandale Beach Event Series is a collaboration between the City of Hallandale Beach Community Redevelopment Agency (HBCRA) and the South Beach Wine & Food Festival (SOBEWFF). In addition to the celebrity chef dinner, the two days of culinary experiences on Friday, Feb. 24, and Saturday, Feb. 25, will highlight the city's focus on culture and art as well as Florida's eclectic and international food scene.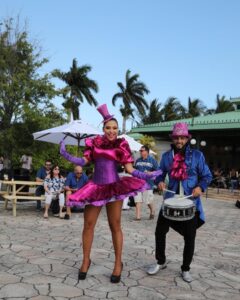 The Hallandale Beach Food & Groove event will offer an exciting wine, food and art experience from 7 p.m. to 11 p.m. on Saturday, Feb. 25, 2023, at Pegasus Park at Gulfstream Park Village. The evening will feature more than 25 local restaurants and celebrated chefs showcasing creative international cuisines. Also, the food, art, and wine experience include delicious Kosher and vegan options for guests. 
Restaurants participating in the Hallandale Beach Food & Groove event include Amsterdam Bar and Grill, Belly Fish, CAO Bakery & Café, Ceviche Avenue, Chef Irie, D's Delights, Don Lolo's, Dr. Limon Hallandale, Dunn's River Island Café, El Tamarindo Coal Fired Pizza & Bar, Flashback Diner, Holy Avocado, Il Mercato Café Restaurant, KAO Sushi, La Piazetta, Mable's Island Kitchen, Marash Turkish Cuisine, Matteo's Trattoria, Moises Bakery, Nana's Sapibon Haitian Restaurant, See Thai & Japanese Cuisine, Ten Palms, The Juicy Seafood, The Krazy Vegan, Urban Thai & Sushi, YardHouse. The Food & Groove event tickets are $75 and available online at SOBEWFF.org/groove.
"We look forward to bringing together talented chefs to showcase the incredible flavors and culture of our city," Dr. Jeremy Earle says, City Manager and CRA Executive Director of the City of Hallandale Beach. "Food and Groove is a unique economic development opportunity to demonstrate all the talent and resources our city offers to businesses, residents, and tourists alike. Every year, we have enhanced event details with more creative dishes, stunning local artwork, and a lively atmosphere for guests to enjoy."