Photos courtesy of Honor Flight South Florida
The singing started about 5:30 a.m., just as the chartered Spirit Airlines Flight 1941 taxied down the runway at Fort Lauderdale International Airport. The impromptu rendition of "The Star-Spangled Banner" began softly, with a few warbled baritone voices rising from the back of the plane. Slowly, more and more people joined in, the volume and fervor building with each passing verse.
For the 71 military veterans and their volunteer guardians traveling to Washington, D.C., with Honor Flight South Florida, the singing of the national anthem struck all the right chords, setting the tone for a day that would be as memorable as it would be emotional.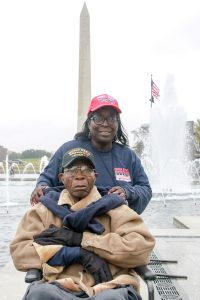 Honor Flight's network of participating programs around the country has been paying tribute for more than a decade to veterans of World War II, and the Korean and Vietnam wars, by affording them "one last mission"—an all-expenses-paid trip to the nation's capital to visit the memorials created in honor of those who served and sacrificed in those conflicts.
After landing at Baltimore-Washington International Airport, the contingent from South Florida boarded buses on a cold, windy and rainy day. Led by a police escort, the buses made their way first to Arlington National Cemetery. The veterans, many of them wearing plastic rain ponchos and swaddled in fleece blankets with an American flag patch, stood silently in a light drizzle during the changing of the guard at the Tomb of the Unknown Soldier.
Though the guards are unable to interact with observers, it didn't keep them from communicating something special to their guests of honor. To thank them, the guards dragged their heels on the concrete—a gesture only done for Honor Flight veterans.
From there, the group visited the World War II Memorial, the Korean War Veterans Memorial and the Vietnam Veterans Memorial. The South Florida veterans, ranging in age from 69 to 99, walked with their guardians in quiet reflection. Those who could not walk were pushed in wheelchairs.
The mix of exuberance and anticipation that filled the plane earlier in the day had been replaced by powerful feelings of patriotism, pride and, at times, sadness.
Almost all of the veterans wore faded baseball caps that referenced their military background or the war in which they served. Many clutched faded and tattered black and white photographs of themselves as young soldiers dressed in uniform. They shared recollections about defending our country and told stories of how they managed to survive. They talked about their friends who did not make it home.
Many could be seen wiping away tears.
In the Beginning
Honor Flight was co-founded by Earl Morse, a physician assistant and retired Air Force captain, and Jeff Miller, a dry cleaning company owner from Hendersonville, North Carolina, the son of a World War II veteran and the nephew of a B-24 pilot who died in the war.
After Morse retired from the Air Force in 1998, the Department of Veterans Affairs hired him to work at a clinic in Ohio. Six years later, following the dedication of the World War II Memorial, two things became clear to Morse. Visiting the memorial was important to his patients who served in that war—but, because of financial or physical limitations, most of them would never see it.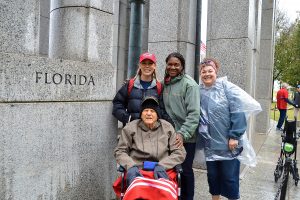 So, Morse, who was a pilot, decided to do something about it. He started small, flying two veterans to Washington, D.C. Later, he asked private pilots from his local Air Force club if they would do the same. On May 21, 2005, six planes flew 12 veterans to Washington, D.C., and Honor Flight was born.
Inspired by Morse's work, Miller, a member of the National World War II Memorial Foundation, formed HonorAir and chartered commercial flights for World War II veterans. By the end of 2006, HonorAir had given more than 300 veterans a chance to visit the memorial.
In February 2007, Morse and Miller merged their passion projects into what is now the Honor Flight Network. By 2017, there were 140 Honor Flight Network chapters across the United States. To date, Honor Flight has escorted more than 200,000 veterans to memorials in the nation's capital, at no charge. The day trip includes bus transportation, meals, wheelchairs and T-shirts.
Each veteran is accompanied by a volunteer called a guardian who serves as a trained traveling companion. Some are paired up with a son or grandson, while others are assigned to people who at the start of the day are strangers but, by the end of the day, feel like family.
Down Memory Lane
Isabella Walker was one of the few women on the trip. A veteran of the Korean War, she enlisted when she was just 18.
"I grew up in Newark, New Jersey. My friend Carol and I graduated from high school in 1950," Walker says. "Money was tight, and I was not able to afford college. One day we were downtown. We walked by the post office. There was a big sign that said, 'Uncle Sam wants you!'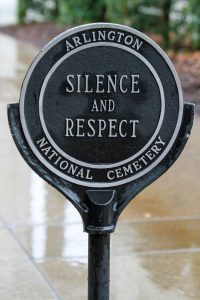 "[I told] Carol, let's go in and see what it's all about. The recruiting officer told us about joining the service and being [part of the Women's Army Corps, or WAC]. He said we would get to travel. That sounded pretty good to me, because I couldn't get a decent job."
Walker's parents had to sign the paperwork because she wasn't 21.
"Carol's parents would not sign the forms, so she was not able to go," Walker says. "I was waiting for her at the train station, but she never showed up."
After basic training in Virginia, she saw a bulletin board notice asking for volunteers to go to Okinawa. She thought it might be a nice place to visit, so she signed up. Walker was one of 75 women who traveled to Okinawa aboard the USS Anderson. Before 1950, there never had been an enlisted woman in a combat area.
"There was nothing there for women," says Walker, who served primarily in a clerical role. "We slept under mosquito nets on the beach. All we had [for entertainment] was radio. There were days I thought to myself, 'Isabella, what have you gotten yourself into?' But I got used to the island and told myself I'm going to make the best of it."
She left the military as a corporal in 1953 and returned to New Jersey after receiving word that both her parents had died in a car accident. Walker went on to work for a decade as a flight attendant with Eastern Airlines before getting married and having two children. Her husband died in 2002.
Gina Spencer, Walker's daughter-in-law and an Orlando resident, accompanied her on the trip as a surprise and served as her guardian. Asked at day's end about the Honor Flight experience, Walker described it as "heartwarming."
"The dedication of all of the people [involved], the response from the … military honoring us, it was just unbelievable," she says. "It meant so much to everyone."
The Return Flight
A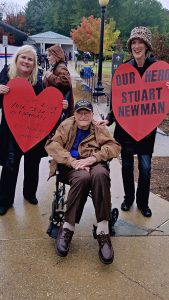 fter a group picture at the Marine Corps War Memorial—and its iconic sculpture inspired by a photo of Marines raising the American flag on Iwo Jima—the Honor Flight group made its way back to the airport to catch a flight home to Fort Lauderdale. There was more reminiscing, and more singing.
Toward the end of the flight, a surprise mail call was announced. Unbeknown to the veterans, their friends and family had written letters before the trip, thanking them for their service. One read: "You are a hero. Thank you for your service. I love you, Dad."
Many of the veterans began to cry.
Back in Fort Lauderdale, participants were greeted with a hero's welcome. A large crowd of supporters gathered at the airport to welcome their loved ones. Others, who had no personal ties to the men and women on the flight, were there simply to salute the veterans.
Cooper City residents Marlene and Alan Klein attend each welcome home event in Fort Lauderdale. "The overwhelming emotions that arise during Operation Homecoming are very difficult to describe," Marlene says. "I've experienced them now as a guardian to a Korean War veteran, the daughter-in-law of a returning World War II veteran, and as a member of the public with no connection to any of the veterans flying that day. Watching their faces as each of them take in not just the enormity of the support and gratitude of the crowd, but each greeting, handshake or hug … it can't help but warm your heart and renew your faith in the greatness of our country. I dare you not to shed a tear."
Children waved flags, and members of local Girl Scouts and Boy Scouts troops passed out flowers and held signs that said, "Thank you for your service!"
Many of the veterans were solemn and silent as their guardians escorted them down a cordoned-off aisle, but others broke down as people in the crowd reached out to hold their hand or pat them on the shoulder.
It was the end of a long day, an emotional journey—and the trip of a lifetime.
Want to be a Guardian?
South Florida is home to one of the largest remaining populations of World War II veterans. According to Ryan Paton, volunteer director of operations at Honor Flight South Florida, there are roughly 7,000 World War II veterans living between Palm Beach County and Key West.
According to The National World War II Museum, more than 16 million men and women served in the U.S. military during the war. Only about 1.2 million remain, and they are dying at a rate of 300 a day.
Paton first volunteered as an Honor Flight guardian in 2011. At the time, there was no South Florida hub, so he reached out to the chapter in Martin County.
"Being a guardian changed my life. After that [first] flight, I raised money and then I started the South Florida chapter with four other guys," says Paton, who notes that there are no paid employees at the South Florida chapter, only volunteers.
Paton never served in the military, but his grandfather served in World War II and taught at the U.S. Military Academy at West Point in New York. "I didn't serve my country, but, in this way, I'm serving those that served," he says.
"We are helping to preserve world history. We are the voices for these veterans. No one should ever forget what they did for our country."
Honor Flight flies four times a year. The next three South Florida flights are June 8, Sept. 21 and Oct. 19. The organization is always looking for veterans interested in making the trip—and donations to make such flights possible.
For more information about the flights or about volunteering, or to donate, visit honorflightsouthflorida.org or call 855.359.1838.