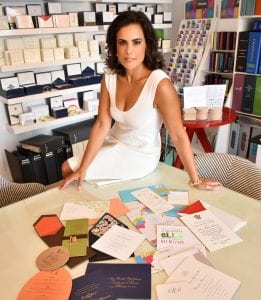 Brenda Moreira remembers putting her 1-year-old son in the backseat of her car to search for a storefront. She wanted to open a local stationery shop near her home in South Miami. About 20 years later, Moreira's House & Paper, an upscale design and paper store, is still busier than ever.
"I honestly didn't know what I was doing," she says. "I saw a store on Sunset Drive, got the lease and signed. All I knew was I liked paper and design, and there were no great stores around for that."
On opening day, Moreira struggled to get the store's cash register to work, but soon, she and her former business partner were overwhelmed with customers. House & Paper quickly became one of the most visited stores on Sunset.
"The store really took off," she says. "And I learned as I went along."
Moreira, born and raised in South Miami, studied business and politics at the University of Miami. She received a master's degree in public administration from American University in Washington, D.C., and spent her early 20s in government work. She never imagined opening a stationery store.
"I had zero design ability," she laughs. "I just knew what I liked, but I never took a graphic design class in my life."
For more than 15 years, Moreira ran House & Paper's Sunset location, expanding her product line from stationery goods to crystal, fine china and other home decor products.
"Running the store allowed me a lot of entrepreneurial flexibility," she says. "I loved running my own business, too, and forging relationships with clients. Many of them are dear friends now."
Most nights, Moreira worked 12- to 14-hour days while raising her three children. "I was just 25 when I opened," she says. "There were a lot of sleepless nights, but it was worth it."
About 17 years in, Moreira closed her Sunset location and reopened in a smaller location nearby. The recession forced her to reinvent herself and her brand, she says.
"It was the perfect storm," she says. "I had recently gotten a divorce and the lease was up for renewal. The world of luxury and retail changed a lot. I didn't want the store to suffer, so I decided to reopen somewhere close by."
It's been about 2½ years since the move, which transformed House & Paper into a more-intimate operation. Moreira says her business is stronger than ever.
"I love that many of the babies I did announcements for are now off to college," she says. "Or the ones who I made birthday cards for are about to get married. That's what keeps me going."
Moreira's children are college-aged too. Though none of them want to join House & Paper, they admire their mother's stark determination over the years.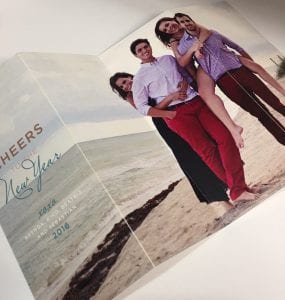 "They always say they want to be as successful as me," she says. "I always say no. I want them to take what I've done and go above.
"With working mothers, you hear a lot that they feel guilty for working instead of always being with the kids," she adds. "But you can't. You have to set an example for them. If you're not there for every single bake sale, it's OK."
Since relocating, House & Paper has focused on personalized design work. Moreira is in charge of all designs, and an in-house graphic designer makes it reality. She recently finished crafting her own line of products, too, which she hopes will be available nationally within the next year.
"My mind is always running," she says. "I really like to push the envelope, and I make it a point to never stop evolving."
She started a personal blog, too, writing about stationery, motherhood and work-life balance. "It's always something I wanted to do," she says. "With the shop turning 20, I thought it was the perfect time."
At 47, Moreira's work is far from over. She says she will continue to pour her heart and soul into House & Paper as long as she can.
"It might sound cliché, but if you're passionate about what you do, and you enjoy getting up every morning to do it, there's no reason to stop," she says.