Deborah Williams
Owner, Chewy Suz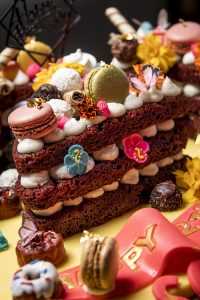 Back story: Though Williams ultimately took the road likely never before traveled to achieve notoriety as a pastry chef, it didn't start out that way. The South Florida native has loved baking since she was a youngster. In particular, she was immensely fond of the peanut butter cookies that her elderly neighbor baked for Williams and her 10 siblings.
So, she tried to replicate them without knowing the recipe, using her brothers and sisters as guinea pigs for her creations. Williams soon developed her own flair in the kitchen. But it wasn't until much later that people other than friends and family recognized her gift.
At Jackson Memorial Hospital, where she worked for 22 years, mostly as an administrative assistant, Williams would bring in baked treats for her co-workers. Soon, she was being asked to help cater holiday parties at the hospital.
"My co-workers would tell a friend, and they'd tell a friend, about my treats," Williams says. "And, suddenly, people were encouraging me to start something on my own. Deep down, that's what I wanted to do."
After leaving Jackson in 2009, Williams later launched an event catering service. But that eventually morphed into Chewy Suz, her online and food truck business that boasts everything from cakes and cupcakes to cookies, doughnuts, brownies, cake pops and much more. She admits she's borrowed some family recipes along the way, "but I've perfected them."
Thanks to social media and word-of-mouth, Williams has developed a following—notoriety that led to her first invite to the South Beach festival for the 21st Birthday Dessert Party on Feb. 25.
"I still feel like I'm dreaming," she says. "I've always wanted to be a part of the festival. To have an opportunity to share Chewy Suz with all these people is just overwhelming."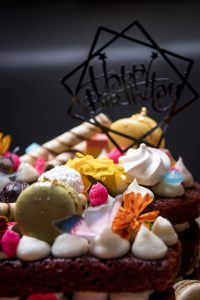 The cake: By her own admission, less is not more when it comes to Williams' creations. She loves to go over the top with her designs—and this 21st birthday cake, in honor of the festival's 21st edition, is no exception.
The foundation is one of Williams' signature red velvet cakes with cream cheese frosting (spoiler alert: the touch of cinnamon in the frosting gives it a delicious something extra). She hand-created all of the sweet celebratory elements—mini doughnuts, mini bundt cakes, macarons, chocolate truffles—out of fondant and gum paste. Even the butterflies, made of wafer paper, are edible.
"The instructions were to have fun with this," Williams says. "That's what I did."
Let them eat (more) cake: "As an independent baker, I'm not answering to anyone but myself," Williams says. "So, I tend to give people more than what they ask for. You want a dozen cookies? I'll give you a baker's dozen. You need a two-layer cake? You may get a three-layer cake. I want to keep customers happy—and coming back."
To that end: "I had to drive and drop off cookies to a client and her husband; they're from California. The wife told me, 'My husband has not found a chocolate chip cookie to match yours, so he wants yours.' So, I baked them fresh cookies and dropped them off. Just the fact that people desire my baked goods? That they're enjoying them that much? That's mind-boggling to me."
Photography by Eduardo Schneider