When online pet supply retailer Chewy had its opening day on the stock market in June, CNBC host Jim Cramer held up paintings of his two dogs, Nvidia and Marley, on his investment/finance show, "Mad Money."
It just so happens those two paintings were the work of Coconut Creek artist Josh Lawson, whose custom pet art has become a Chewy mainstay. The company uses Lawson's works for some of its promotions and also sends them to select pet owners.
Lawson, 32, remembers the day that Cramer showed those paintings during every CNBC segment he appeared on for two days.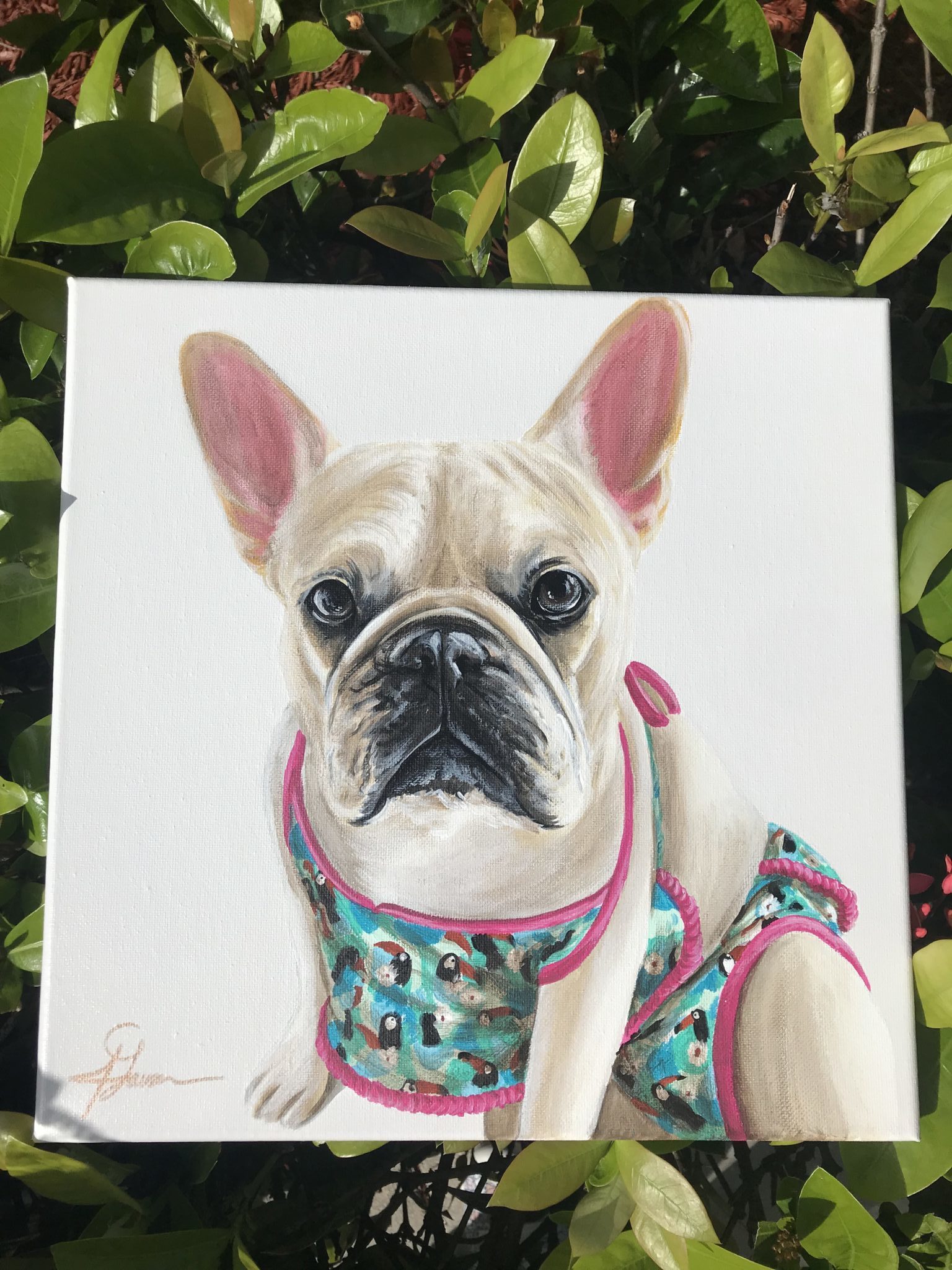 "He was blasting the pictures of him with the dogs on his Twitter page, and it was around midnight, and people I knew started writing to me and asking me, 'How'd you nail that? How'd you get your paintings on TV?'" Lawson says.
He wasn't sure what they were talking about, but then he looked at the photos of Cramer, and recalled recently painting the two dogs.
"Chewy doesn't tell me who the owners of the pets are; they just send me photos and they are labeled or numbered, and then I create the portraits," Lawson says. For Cramer's dogs, they told me, 'We need you to paint these two dogs for a promotion we're doing.'"
While he had sketched portraits of people as a hobby, getting the gig two years ago with Chewy, the PetSmart subsidiary based in Dania Beach, gave him the push he needed to leave his full-time job to do something he never dreamed of—making a living at painting.
Becoming a pet portrait artist for Chewy happened by accident, Lawson says. On a break from his full-time job in the facilities management department of Broward County, he dropped lunch off at Chewy's headquarters for his girlfriend of 11 years, Amanda Garvey, customer appreciation operations manager.
"One of the women who worked there saw me and said, 'I heard you are really good at art. Do you paint?'" And, although he hadn't worked with any type of paint except some oils he played around with when he was a kid, Lawson said, "'Of course, I do.' Then she told me to bring a painting for her to see."
Lawson stopped at a craft store, picked up a $5 canvas, acrylic paint and two brushes. He had the perfect model, his Maltese Yorkie, Koko.
When he returned the next day with the completed acrylic rendering of Koko, he ended up leaving with an offer to paint pet portraits. Today, he works full-time out of his home studio, creating for Chewy and doing portraits for anyone who requests them.
Lawson's interest in art started as a 9-year-old reading comic books and watching Japanese anime on television. He became interested in the comic book cards of artist Nelson Faro DeCastro, noticing that they weren't just drawings but paintings. Then, there was the Japanese anime series, "Dragon Ball Z," which began airing in the United States in 1996.
"I had this small black-and-white television, and I would watch the show and draw the characters," he says. "Kids on the school bus would pay me a quarter for the drawings. I had a few loyal customers; I'd use the money to buy ice cream."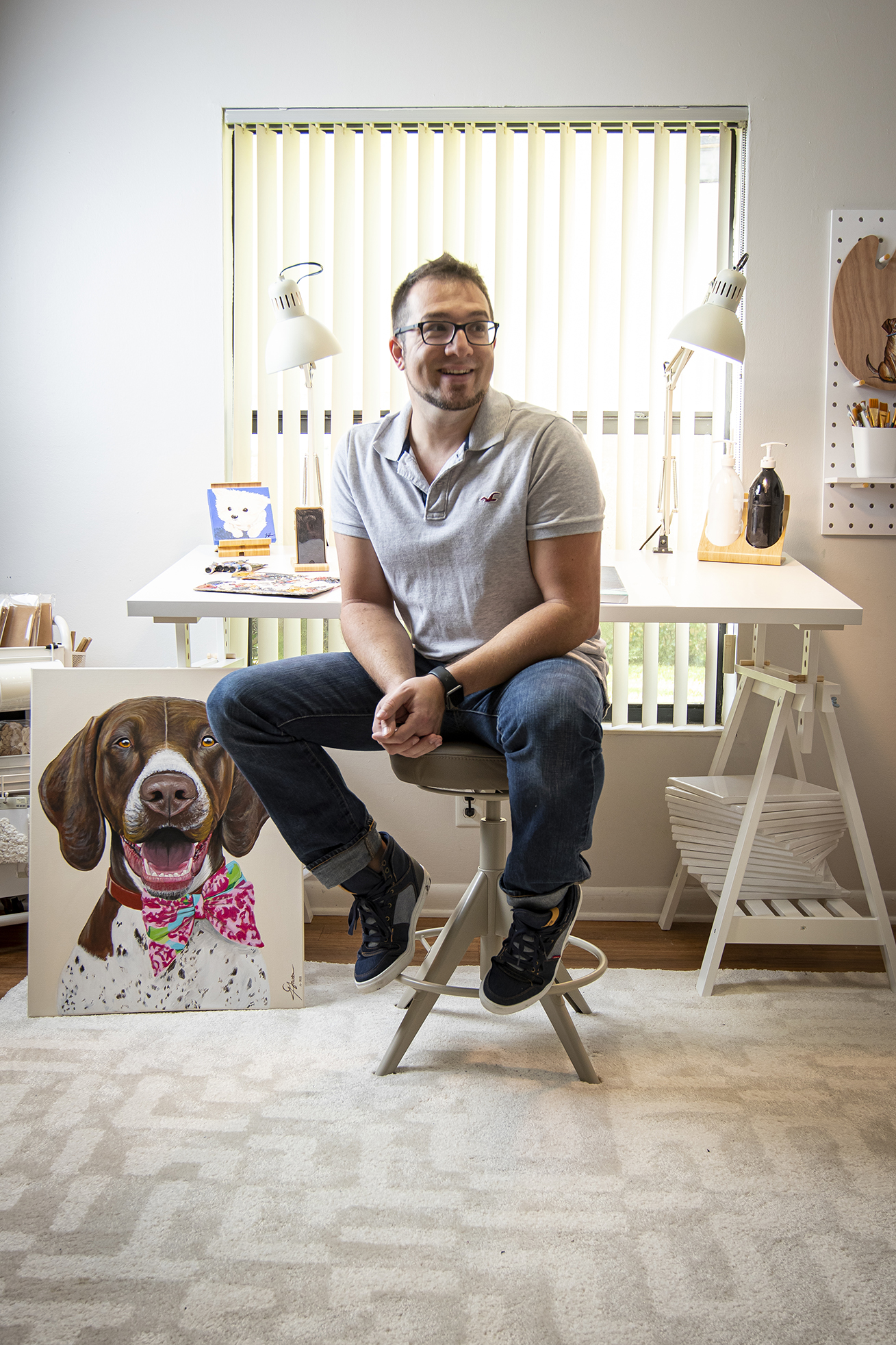 Lawson drew with detail and multiple dimensions. In art class, when classmates would draw people as stick figures, he would be puzzled. "Is that what you see? Stick figures? Because I draw what I see and it doesn't look like that."
Growing up in the small town of Owenton, Kentucky, Lawson didn't think much about a future as an artist. His father, James, a truck driver, left one summer and didn't return. The teenager ended up taking care of his two older sisters. "Dad's gone, so now I'm the man of the house," he remembers thinking. His mother worked full-time an hour away from home and went to college at night. "The aspirations of silly artwork went out the window when the choice was that or go out and make money," he says.
When he was 17 and graduating as one of only 100 students in his senior class, he was ready to get out of Owenton, population a little over 1,000.
"I jumped in the back of a car that drove me 1,100 miles from Kentucky and I didn't look back." He started working construction in North Dakota and South Dakota, then Minnesota.
"I was following the trail of my dad," Lawson says. "When I grew up, he was my best friend, and then he was gone."
Lawson caught up with him in Oklahoma, and they worked construction together. But then James was hospitalized—a staph infection from intravenous drug use.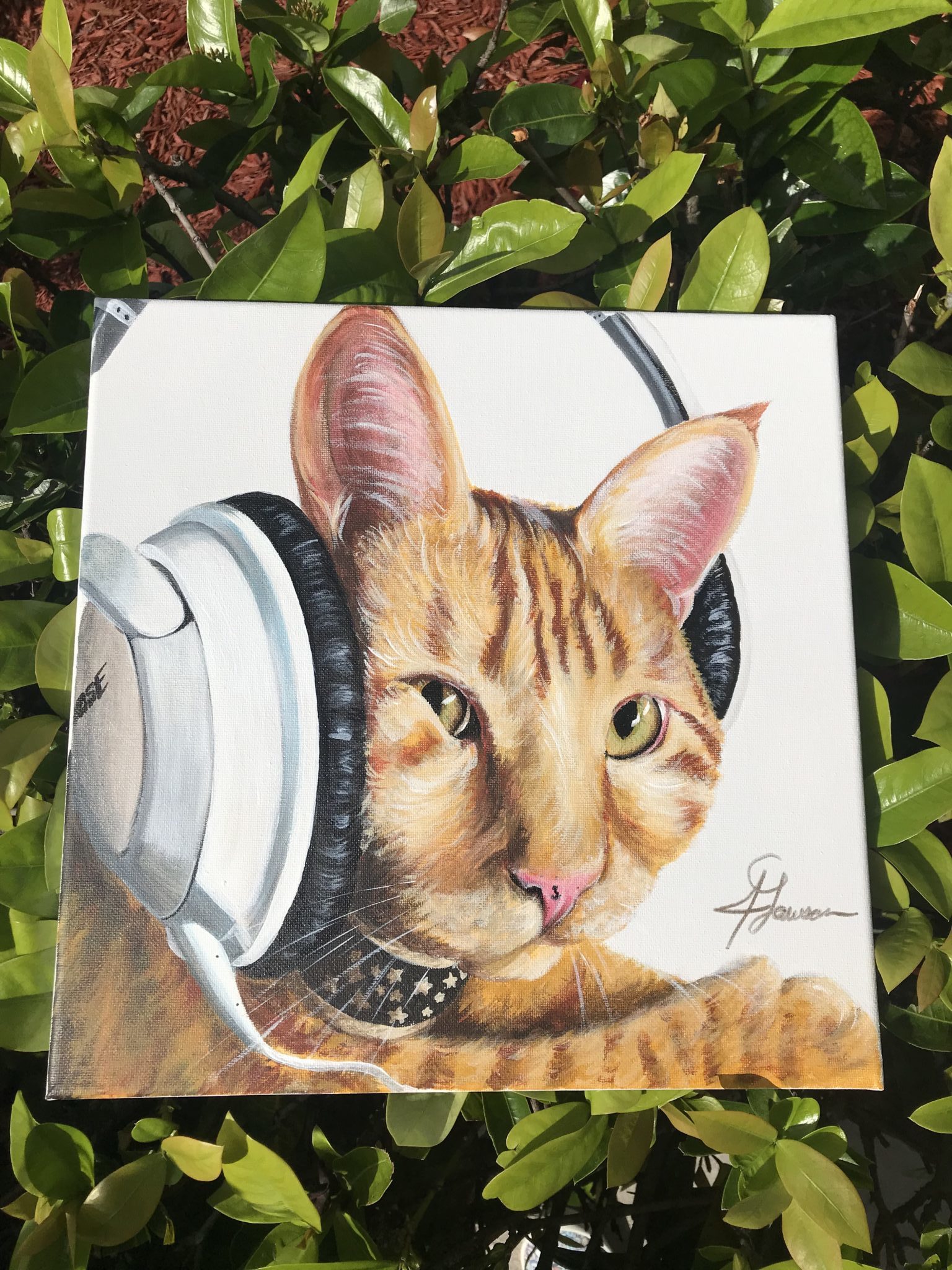 "Without him to run the company, the money ran out,"  Lawson says. "I started sleeping in the streets and eating out of Dumpsters." Then a friend told Lawson there was money to be made in Oklahoma working in the oil fields. At 19, he became the youngest crew leader for an oil company, and he was making "serious money."
Around the same time he was considering moving on, his father called to tell him he was in South Florida. Lawson moved to the area to work with him and started working in commercial maintenance for a real estate company in Coral Springs. It was there he met Amanda, the woman he calls his wife (although he says they don't have an official document). They have a son together, Shane, 9. His stepdaughter, Madi, is 16.
When the two went to Kentucky to meet Lawson's mother, she showed Amanda his sketchpads from high school. Amanda encouraged him to get back into drawing. He started by drawing a picture of Madi for Amanda for Mother's Day. Then, he expanded by doing portraits of other people. After losing his maintenance job in 2008, he tried to make some side money by drawing; he designed a flyer and handed it out at the Swap Shop to drum up business.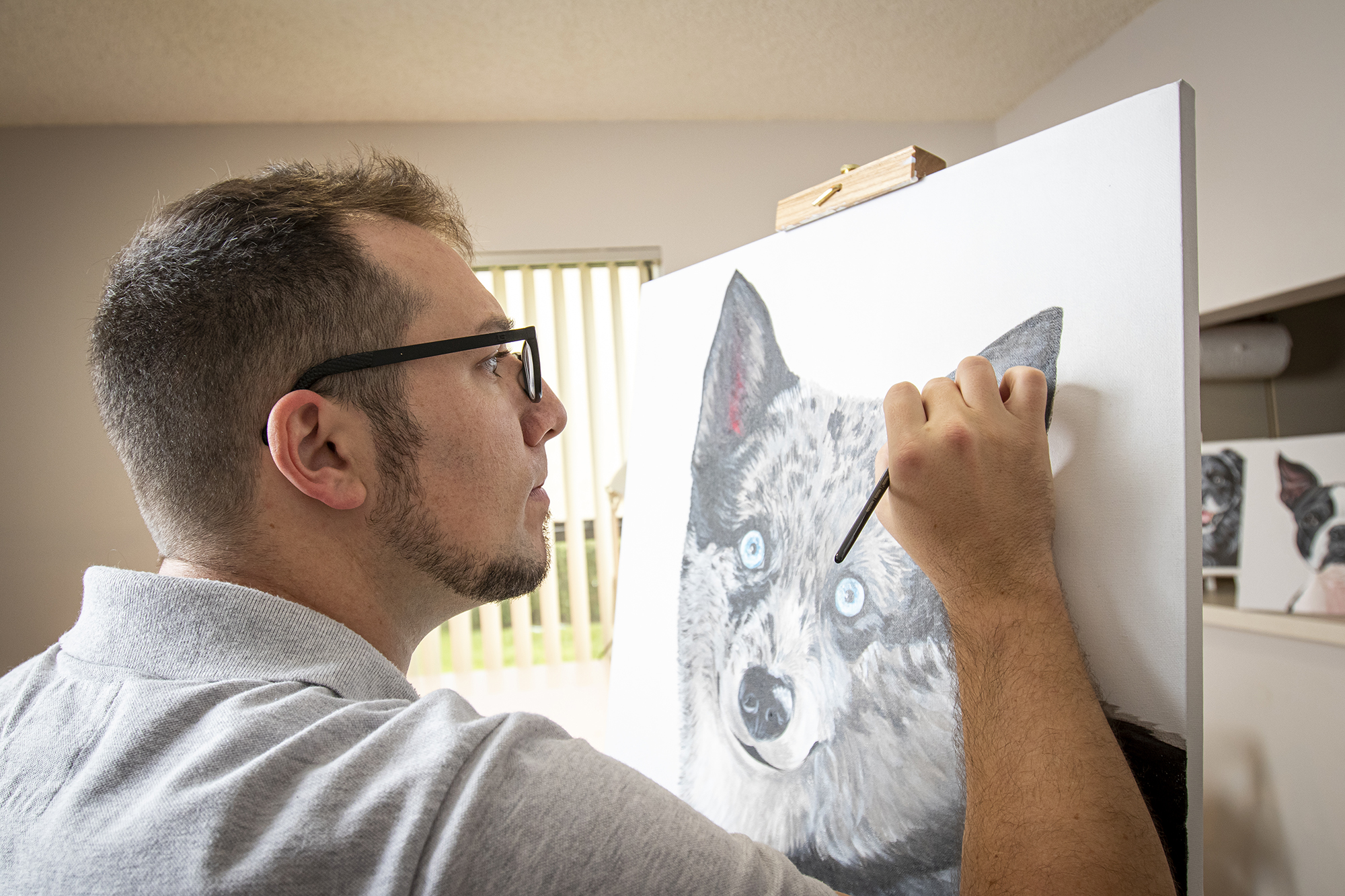 "I was drawing babies. People loved my sketches of babies," he says. Babies and animals are what he says he's best at capturing. "People say those drawings and portraits have something special about them. Maybe I'm just drawn to their innocence because of what I've encountered in my life."
Then came another opportunity that changed his career path. Lawson got a job working in the mailroom of a private law firm. For Christmas, he gave the partners a sketch he had created of them. The firm had a large meeting room, and Lawson thought one of the walls was prime for a mural. The partners agreed, and Lawson realized that he was on his way to becoming an artist who could get paid for his work. He called his father, who had moved to Panama City, for advice. "I told him, I have artwork jobs that I may be asked how much I charge," Lawson says. "And with his expertise in business in construction all his life, I knew he could help."
It ended up being more than just a conversation about practical financial matters. Lawson says the call was "a bonding experience between the two of us." Not long after they spoke, James died from complications of diabetes.
"It was the chance for my father to know that I could make a living with my artwork," he says. "And I know that he was really proud of me."
Lawson will paint on site at Coconut Creek's ArtsFest this month. View his art on Instagram @joshlawsonart.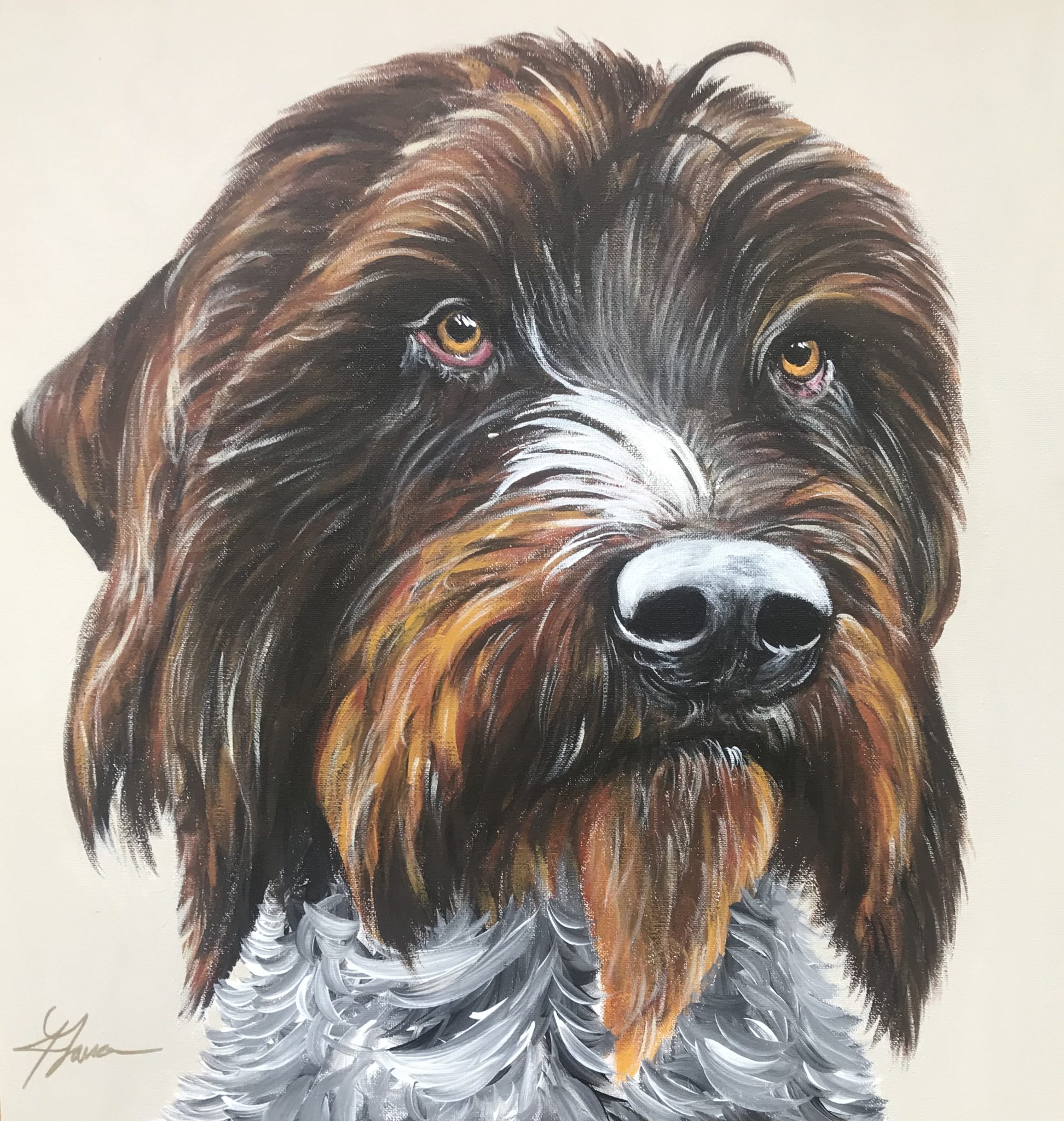 Coconut Creek's ArtsFest
Coconut Creek's annual art festival celebrates all things Germany with a German band as well as traditional dancers from the American German Club of the Palm Beaches. Other features include arts and crafts for kids, a DJ and food trucks. The highlight: displays from South Florida artists, photographers and vendors, including Lawson.
ArtsFest supports the Coconut Creek Multicultural Circle, which sells raffle tickets at the event to support the Coconut Creek Police Explorers. Founded in 2009 by Commissioner Mikkie Belvedere, the group meets regularly to celebrate diversity, learn about different cultures and support the community.
When: Sept. 21, 11 a.m.-4 p.m.
Where: Community Center, 1100 Lyons Road
Info: 954.545.6698; coconutcreek.net/events